Can You Ask Your Co-Worker If They're Vaccinated?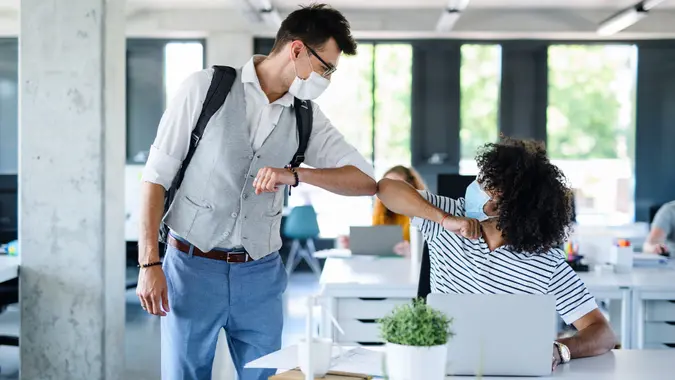 Halfpoint / Getty Images/iStockphoto
As companies roll out a return to the office, many of us will be working in close quarters with colleagues once again. Depending on applicable mandates, it may not be a given that your co-workers will all be vaccinated — and if this is the case, can you ask if they are?
A recent LinkedIn survey found that many professionals will ask their colleagues about their vaccination status — 28% say they'll ask everyone they work closely with and 24% say they'll ask when they feel it's necessary. That percentage is even greater among those with children at home under the age of 18 — 33% of parents say they'll ask everyone they work with.
But is this question OK to ask? Or does it cross a professional boundary?
Follow the Golden Rule
According to etiquette expert Joy Weaver, you should use your best judgment before asking a co-worker about their vaccination status.
"While there are no etiquette rules on this very touchy topic, we must stick to the golden rule as we should in all difficult situations, and ask ourselves, 'How would I want to be treated?'" she said. "After all, half of the population wants to know if their co-worker has received the vaccine, while the other half does not care to know even if they have been vaccinated themselves."
If you do decide to ask a co-worker about their vaccination status, be sure to approach the subject in a way that seems objective and free of any judgment.
Make Your Money Work Better for You
Ideally, You Should Take Your Concerns to HR
Instead of individually asking co-workers if they are vaccinated, consider talking to an HR professional at your company about your concerns.
"My advice is to take any concerns you may have to your human resources department and let them handle questions regarding your co-worker's vaccination status," Weaver said. "They should be prepared and well equipped at this point to answer ongoing questions from a legal standpoint that is not based on their opinion or yours."
More From GOBankingRates