3 Most Common Reasons Employees Don't Negotiate Their Salaries — and How To Fix That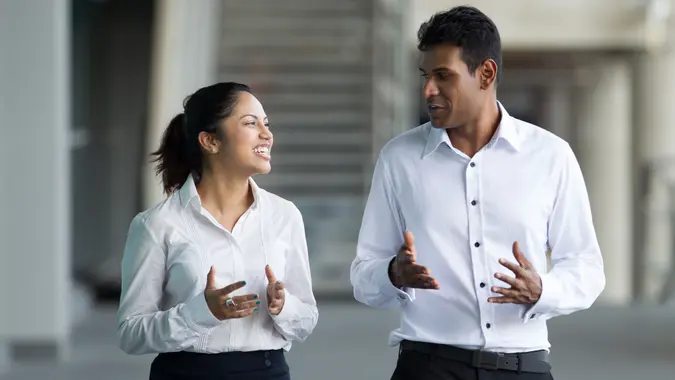 ©Shutterstock.com
How often do you negotiate your salary? While some people may be well-versed in advocating for their financial worth, others will avoid a discussion about a possible salary boost as much as possible.
Do You Have a Money Question? Ask an Expert
With a Recession Looming: Make These 3 Retirement Moves To Stay On Track
There are a lot of reasons to sidestep a salary negotiation, but hardly any of them are good or will help you in the long run. Here are some of the most common reasons why employees don't negotiate their salaries and how to advocate for your earnings instead.
They Don't Know How
Kate Dixon, principal and founder at Dixon Consulting, said most individuals who go through an interview process are exhausted on the other side. They want everything to be done and may avoid salary negotiation because, in addition to being tired, they feel uneasy and uncertain about what to do next.
"Most folks avoid salary negotiation simply because they don't know how to do it, what to ask for or how the process works," said Dixon.
Make Your Money Work Better for You
While it's true negotiating your salary is a discussion that requires confidence to see through, Dixon said the short-term discomfort can have a big payoff for your long-term success. 
They're Scared Their Job Offer Will Be Rescinded
Can a company rescind your job offer because you want to negotiate your salary? While some companies occasionally rescind job offers, Dixon said it's rare for it to happen as a result of salary negotiation. Typically, this practice is only utilized when the company goes through a layoff or in the event the candidate fabricates their qualifications.
"As long as you act collaboratively and in good faith as you're negotiating, you should be fine," said Dixon.
Take Our Poll: How Much Salary Would Buy You Happiness?
They're Pressured To Accept an Offer Without Negotiating
Dixon said this impacts women and people of color the most. Well-meaning relatives or friends will push them to accept a job offer without negotiating. "They've been told they should just be grateful to have the offer in the first place," said Dixon.
Make Your Money Work Better for You
The truth, however, is companies expect to go through some negotiation with new hires. Dixon stressed that giving up your negotiating power as you're starting a new job doesn't make sense.
What Happens if You Don't Negotiate Your Salary?
There's a price tag behind a lack of salary negotiation. Dixon said it can cost individuals upwards of $1 million over the course of their career. 
A lack of negotiation savvy also means individuals miss out on the ability to establish themselves among those who self-advocate. Dixon often tells her clients that salary negotiation is an opportunity to show their future employer who they are and what it's like to work with you.
"When you fail to negotiate your pay, you're missing out on an opportunity to solve a business problem with the company collaboratively and compassionately," said Dixon.
Further, Dixon said most candidates who negotiate do get something for their efforts. It may not be what they set out to get, but they won't walk away empty handed. 
Make Your Money Work Better for You
How To Advocate for Yourself During Salary Negotiations
Ready to advocate for yourself and your earnings? Follow these steps for successful salary negotiation:
Keep in mind that it's not personal, it's business. While this may feel personal, Dixon said what a company offers you says more about how they value the job than about how they value you as a human being. Getting some emotional distance from the conversation can help you feel calmer and improve your confidence.
Do your research. Take the time to review the salary data for your position. Read up on negotiation tips. As you review these tips, Dixon said you can figure out exactly what you want to ask for.
Practice. Don't go into a salary negotiation cold. Practice what you want to say out loud. Say it to yourself several times. This allows you to be more fluent and confident when discussing salary with a recruiter or hiring manager. 
Meditate. Or, you can sit quietly for several minutes before the negotiation conversation begins. Dixon said this can help calm you and regulate your breathing. "It's a perfect way to prepare."
More From GOBankingRates
Make Your Money Work Better for You