Stimulus Deal Lets Some Workers Keep Extra Unemployment Money They Were Overpaid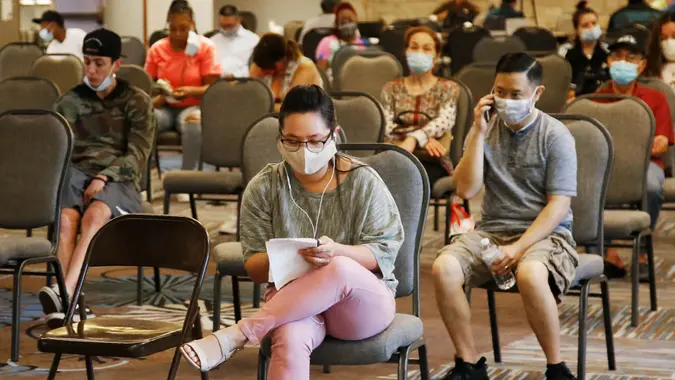 Sue Ogrocki/AP / Shutterstock.com
Thanks to the $900 billion COVID-19 relief package, which was finally (officially) passed today, some freelance and gig workers may not have to return their overpaid unemployment benefits — which is good news for many, as joblessness in America is even worse than the data shows.
Here's the scoop: The first stimulus package, the Coronavirus Aid, Relief and Economic Security Act (CARES Act), passed last spring, contained a new program, the Pandemic Unemployment Assistance (PUA), for self-employed and freelance workers who didn't qualify for traditional unemployment and who had lost income due to the pandemic. In the past few months however, thousands of these workers were notified to their dismay that they had been overpaid and had to return the funds to their state.
See: The Stimulus Check Secret You Need to Know Before You File Your 2020 TaxesExplore: 10 Surprises Congress Snuck into the Stimulus Package
Michele Evermore, of the National Employment Law Project, explained in a blog post for the NELP that this is affecting a huge number of people because as states rushed to get PUA benefits out the door, they may have made mistakes.
"And new applicants may have clicked a button incorrectly or made a mistake somewhere as well. Federal guidance changed three times, and states have gotten guidance from both the U.S. Labor Department's Employment and Training Administration and the U.S. Office of Inspector General that they need to alter how they have been administering the program," Evermore wrote.
Make Your Money Work Better for You
BREAKING: 1.4 million Americans filed *new* unemployment claims last week — the highest level in weeks.

Rising layoffs are an alarm bell that Congress needs to pass more stimulus.

Overall, 20.6 million Americans are on unemployment aid as we head into holidays pic.twitter.com/iuHMK4692L— Heather Long (@byHeatherLong) December 17, 2020
Now, the new $900 billion COVID-19 relief package from Congress attempts to overturn that decision, letting workers keep their benefit overpayments, but the decision will be left to the state.
See: Will You Get Your Stimulus Check in Time for Christmas?Explore: What a $600 Stimulus Check Can Actually Buy You in America
According to the bill's language, "In the case of individuals who have received amounts of pandemic unemployment assistance to which they were not entitled, the State shall require such individuals to repay the amounts of such pandemic unemployment assistance to the State agency, except that the State agency may waive such repayment if it determines that–the payment of such pandemic unemployment assistance was without fault on the part of any such individual; and such repayment would be contrary to equity and good conscience." Still confused? Here's what to do if your unemployment is about to run out.
More From GOBankingRates: