Why Now Is the Time To Go Back to School To Pursue Your Career Goals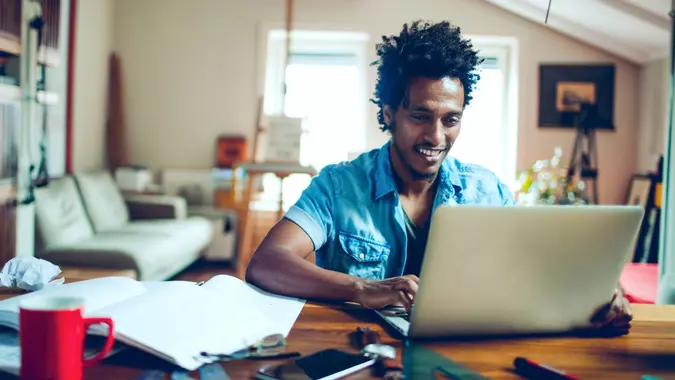 Geber86 / Getty Images
The COVID-19 pandemic has been raging on for a year now, and the changes it forced may have caused you to rethink your career goals. Whether you were laid off or simply have more time to dedicate to school than you did in the past, you're interested in continuing your education.
Read: 20 Jobs That Aren't Worth Their Education Requirements
Follow Along: 31 Days of Living Richer
You're not alone with this sentiment. Student Loan Hero recently surveyed more than 1,500 Americans between ages 18 and 40 and found 43% are thinking about going back to school.
If you're serious about making this move, now could be a great time to get started.
"Due to the pandemic, many of us had to rethink our career paths and decide on career shifts we had never considered before," said Susan Norton, senior director of human resources at LiveCareer, a job search and career management company. "For many people, this sudden change was an opportunity to start new and explore new career possibilities they have secretly dreamed of."
Make Your Money Work Better for You
See: Most and Least Educated Cities in America
She said many people have more free time during the pandemic, which has opened the door to explore new ideas.
"Due to the remote work, many of us gained more time that we don't waste anymore on long commutes," she said. "This new normal gives us a chance to do something for our personal development that we might have dropped many years ago."
Jonathan Roberts, director and co-founder of the Ancient Language Institute, an online language school and think tank, said enrollment has dramatically increased during the lockdown.
Find Out: 94 Money-Making Skills You Can Learn in Less Than a Year
He said the increasing popularity of online learning empowers students to be in control of their education.
"Back when students had to choose between a bunch of overpriced, on-campus programs with lots of hidden fees, they were at the mercy of higher education administrators," Roberts said. "Now, there is more opportunity to shop around and to expect not only competitive pricing and the flexibility of an online program but also the particular academic focus that you are looking for."
Make Your Money Work Better for You
He said he also believes a lot of people are anticipating an economic correction, so they want to be prepared.
More: 20 Hot Jobs That Pay More Than $150,000
"When that happens, lots of people out of work will pour into colleges and graduate schools as they attempt to retrain in order to be competitive for hard-to-get jobs," Roberts said. "If you go back to school now, you can get ahead of that curve."
Adjusting to Online Learning
The pandemic has largely changed the way learning is conducted, as many schools have opted to go online as a safety measure. If you prefer online learning, this is ideal, but Norton said it could be a challenging adjustment at first if you're used to a traditional classroom setting.
"You need to find ways to participate in lectures, take notes, schedule your learning sessions and ask for support when needed," she said. "Also, it's essential to engage in class discussions and interact with your teacher and classmates to get the most out of your learning experience."
Related: Online Classes That Are Worth the Investment
Norton emphasized the importance of giving yourself time to adjust and not being afraid to ask questions.
Make Your Money Work Better for You
"Being open to ideas and learning tricks from your classmates might improve your learning experience and help you build relationships with other students," she said. "The key lies in your openness to something new and remembering that many self-limiting beliefs are only in our heads."
Going back to school isn't always easy, but investing in yourself is always a move worth making.
More From GOBankingRates
Last updated: Sept. 3, 2021
Make Your Money Work Better for You