Only a Third of U.S. Workers Got a Raise Last Year – but Are Things Finally Looking Up for Workers?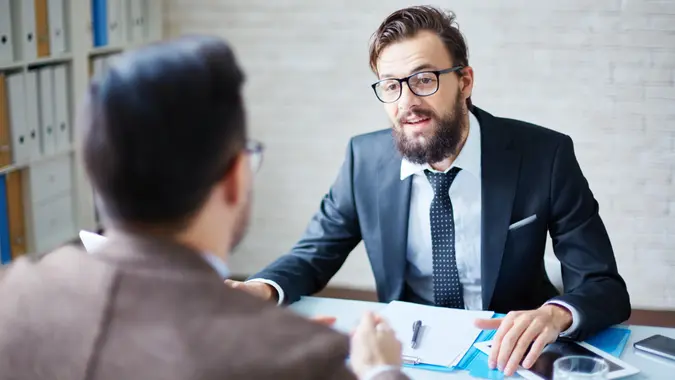 ©Shutterstock.com
2020 time was an abysmal time for many workers across the U.S. Layoffs and unemployment were rampant, and those that kept their jobs were often subject to reduced hours and reduced pay. This meant that for most Americans who were still working, raises were off the table. So it's no huge surprise that a survey of more than 950 workers conducted by LiveCareer found that only 34% received a raise in the last year.
Read More: Here's How Much You Need To Earn To Be 'Rich' in Every State
Find Out: 11 Best Lucrative Side Hustle Ideas
Here's a deeper look at the state of raises and promotions, and whether or not the tide will be turning in the coming months.
Who's Getting Promoted?
The survey found that overall, 88% of workers had been promoted at some point in their careers. Those who held a college degree were more likely to get a promotion (91%) versus those who did not have a degree (76%).
Make Your Money Work Better for You
Your Money: Stay on Track With the Financial Stability Roadmap
Get Started: Make a Debt-Free Future Your Reality
When it comes to how frequently someone had been promoted, gender played a role — 9% of men said they had been promoted five or more times, versus 6% of women. Gender also played a role in how likely someone was to have been promoted over the past year while working from home, especially if they are parents. A study by Qualtrics and the Boardlist found that 34% of men working remotely with children at home said they received a promotion versus just 9% of women in the same situation.
Who's Getting Raises?
Raises and promotions often go hand in hand, but it's certainly possible to get one without the other.
The Financially Savvy Female: 4 Essential Tips for Moms Re-Entering the Workforce
The survey found that most American workers (91%) had gotten a raise at some point in their careers — and the percentage was the same for both men and women. However, men received raises more often — 33% of men reported getting a raise five times or more versus 29% of women.
Make Your Money Work Better for You
Discover: 25 Things You Should Never Do With Your Money
There were also some gender differences in how raises were received, as well as reactions to being denied a raise. Nearly half of men — 45% — asked for their raise, while just more than a third (36%) of women had asked for their raises. In addition, men were more likely to leave a job if they did not get a raise — 44% of men had versus 36% of women.
The Current State of Raises and Promotions
As previously stated, only 34% of workers reported getting a raise in the last year — but will that be changing for the better soon?
Did You Know: 35 Surprising Cities With Low Costs of Living
"We do expect that more people will get raises moving forward," said Jen Pieniazek, career advice contributor at LiveCareer. "As businesses bounce back from the pandemic, their budgets for raises have already recovered. Current figures show a median salary increase budget of 3% in 2021 and into 2022, a return to pre-pandemic levels. In plain language, there's more money for raises, so more people should get them. Of course, the rise in inflation means a bump in pay won't make as big of a difference, but better to get a raise than not."
Make Your Money Work Better for You
How To Get a Raise This Year
Many businesses will be loosening their purse strings this year after a tough 2020, so now may be the time to ask for the raise you didn't get last year. And you should ask rather than expect your employer to just offer one to you — overall, 41% of employees asked for their most recent raise.
Engage: Do You Think the Minimum Wage Should Be $15? Take Our Poll
Modern Money Etiquette: Should You Ask Coworkers About Salary?
"If you think you deserve a fatter paycheck, you should approach your boss," Pieniazek said. "It's a bit intimidating, but if you don't ask, it's much less likely you'll be considered for one."
To prep for your meeting, Pieniazek recommends preparing examples of how you've added value in some way and evidence that others in your industry and region are making more than you.
Economy Explained: Understanding US Productivity and All the Ways It Affects You
"Make sure to prepare what you want to say before going in to see your boss," she said. "Be very specific when articulating your achievements."
You should also schedule the meeting during a period when it's clear that your company is growing and during a time of day when your boss is typically in a good mood.
See: 20 Jobs Where You Can Make $60,000 Out of College
"Try to schedule the meeting when you know your boss is generally more upbeat," Pieniazek said.  "Post-lunch is usually a good bet. You don't want a 'hangry' boss for your meeting."
If you work at a company where everyone receives their annual performance reviews at the same time, Pieniazek said to schedule the meeting a couple of months before the review.
Read: Should Employers Require Workers To Take Time Off?
Discover: 10 Small Changes To Stay on Track With Your Career Goals
"Most budgets are already set a month or two prior to annual performance reviews," she said. "Better not to wait!"
More From GOBankingRates
Make Your Money Work Better for You