Why a Short-Term Job Could Be the Perfect Way to Advance Your Career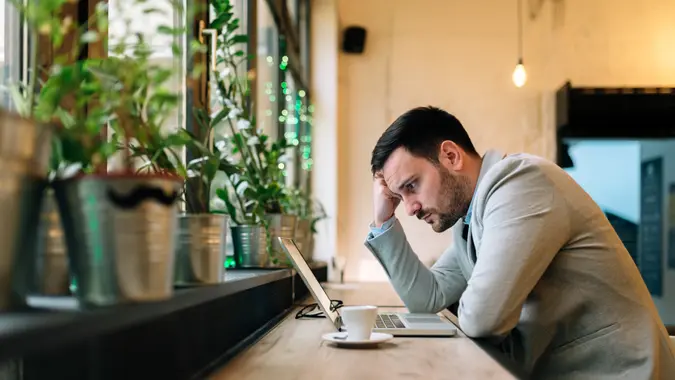 nortonrsx / Getty Images/iStockphoto
If you hate your current job, don't check out just yet. It might be worthwhile to stick it out. Although most people want to land their dream job as soon as they graduate college, the reality is, it takes time and perhaps a few years of job-hopping and some serious self-reflection before you hit the career jackpot. In fact, a recent survey by MidAmerica Nazarene University found that just 25 percent of Americans have scored a job they love. 
Moreover, consider the fact that 64 percent of workers are in favor of regularly changing jobs, according to a survey from the staffing firm Robert Half. At the same time, some American workers regret changing their jobs once they do, and many aren't emotionally invested in the jobs they get. A recent Gallup poll found that 51 percent of employees aren't engaged at work, according to CBS News.
Sure, you likely don't want to cut your precious eight hours of sleep short for a job that doesn't nurture your true talents, encourage mobility, pay well or advance your career, but having a so-called "dead-end job" can be a blessing in disguise. Here are four perks of working a dead-end job that can help you climb the career ladder.
See: 21 Tips to Climb the Career Ladder
It Grows Your Network
While you're in the process of getting the job you really want, this is the perfect time to build your network. Try to develop relationships with your coworkers — whether they're on your team, outside of your team or on the executive level. Don't be afraid to nourish and strengthen these relationships because they could wind up benefiting you in the future, in the form of a much-needed reference or job offer. 
Make Your Money Work Better for You
In writing for The Muse, career coach Abby Wolfe said that by befriending your work colleagues, you can unlock potential career opportunities.
"When you open the door to that guy from the IT department, you also open the door to people he knows," Wolfe wrote. "This could include past coworkers, individuals he met from volunteering or friends he's made through his soccer team. Not to mention his family members, as well as a variety of other people he's met throughout his life."
Learn: 3 Networking Skills to Up Your Job Readiness Instantly
It Builds and Refines Your Skill Set
Although your motivation to perform at work might be low, your job is the best place for you to build the skills you need in preparation for your next job. After all, you're getting work experience so make sure that it's a work experience that counts for something on your resume.
How? When reviewing job applications, take note of the skills you see on the job description. See if you can incorporate any of those skills on that job description into your current job. Perhaps, you're missing or need to hone important technical skills that your dream employer values. Check out what opportunities are available at your job to learn or exemplify those skills.
In fact, many employers offer additional training and free tuition for college courses to help support their employees. For example, Amazon will pay up to 95 percent of tuition and fees towards a certificate or diploma in various fields for eligible employees — up to $12,000, according to the company's website.
"The longer you stay in a dead-end job, the easier it becomes to think of ourselves as dead end, [sic] and then essentially turn off your brain and just show up. Don't do it," speaker and success strategist Carlota Zimmerman, J.D., told GOBankingRates. "Find out about night/weekend courses, workshops, videos, etc., offering a subject that you're interested in. Find a course and sign up. Because taking that poetry, or bartending or birding course, despite having nothing to do with your job, are the first steps in regaining interest and confidence in yourself — and the outside world."
Make Your Money Work Better for You
Check Out: 96 Money-Making Skills You Can Learn in Less Than a Year
It Feeds Personal Interests and Career Exploration
Even if you're just there for the paycheck, invest in yourself and find out what excites you. Use your creative energy and take this time to evaluate what makes you happy and what kind of job you want.
Co-founder of the personal finance and lifestyle blog The Savvy Couple, Kelan Kline spent time as a jail deputy and office manager, two jobs he said he knew were "just stepping stones from the start." But it was at that time he discovered a side hustle that would eventually become his new business.
"My time as an office manager I knew I needed to find my calling," Kline told GOBankingRates. "I took this time to really find myself and realized that I needed to start a business. This is when our blog became a reality. We started it as a side hustle and quickly realized we could turn it into a full-time income."
According to Kline, both jobs gave him the confidence to pursue becoming a business owner.
"It was the best decision I have ever made," Kline said. "Last month alone we earned over $27,000. Life changing would be an understatement."
See: 5 Ways to Make Sure You Stick to Your Career Goals
It Gets You Focused
The famous French writer Antoine de Saint-Exupery said, "A goal without a plan is just a wish." And rarely does anything happen without a plan. Instead of complaining, come up with a plan on how to secure a new job. Perhaps, that means setting aside time every week to scout job boards such as LinkedIn or Indeed and commit to submitting a number of applications each week.
Make Your Money Work Better for You
Click through to see how to set career and financial goals you'll actually achieve.