I'm a Recruiter: Here's What I Look For in Job Candidates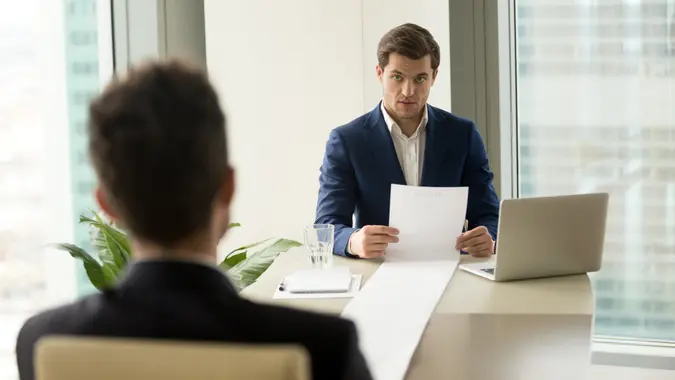 ©Shutterstock.com
You think you're ready for that big job interview. Your clothes look perfect. Your résumé stands out. You've got this one in the bag, right?
See: 26 Highest-Paying Jobs That Let You Work From Home
Learn: How To Build Your Savings From Scratch
Not necessarily. A recruiter or hiring manager will be looking at more than your pressed suit and your paper-perfect credentials when you meet for an interview, whether in person or online. So GOBankingRates asked human resources directors and others well-versed in the recruitment process just which traits impress them when they talk to job candidates. Here's the advice from the experts themselves.
Good Questions
It's a huge eye-opener if a job candidate doesn't ask questions about the job or employer, said Aristida Markauskaite, HR manager at RatePunk.
"It's the thing I pay most attention to when hiring. Almost nothing can be such an instant red flag for the hiring person as a job seeker not asking any questions," she said. "Work is a place where people spend most of their time. How can there be no questions to understand the processes, etc.? Moreover, questions not only show that the person really knows the workplace and is eager to join, but also demonstrates their ability to think critically, and that's crucial for every position."
Make Your Money Work Better for You
Take Our Poll: What Are You Worth to Your Company?
Emphasis on Factors Other Than Money
Asking too many questions about compensation is another red flag, Markauskaite said.
"It's OK to ask questions about money," she said. "However, when the main question of the whole interview is 'How much will you pay me?', it immediately gives a signal that money is the main reason of working in the company. And every company would like to have employees that love the product/vibe or simply feel in their element there — not the ones who do it all for the money. It just sounds iffy.
"I would recommend rephrasing the raise questions in another way, for example: 'How often do you review employees' results? Does my wage depend on my results?'"
Preparation
"As a recruiter, I'm looking for job candidates who can demonstrate enthusiasm for their work, are well prepared and articulate, have done their research on the company they're interviewing with and have unique experiences and skills that will add value to the role," said Travis Lindemoen, a veteran tech recruiter and founder of Enjoy Mondays, an AI job-matching platform.
Make Your Money Work Better for You
"It's important that applicants come into an interview ready to showcase their skill set with confidence and clarity, so be sure to practice thoroughly beforehand. Additionally, applicants should take initiative by introducing themselves beyond just what's mentioned in their résumés, such as any volunteer work or extracurricular activities that could help illustrate a more holistic picture of who they are as professionals."
Communication
"During an interview, I want to see how you communicate your ideas clearly and concisely. Your verbal communication is key to conveying your level of expertise in the subject matter," Lindemoen said. "You should also be prepared to provide concrete examples of times when you've applied your knowledge to various projects or tasks at previous jobs."
Honesty
If you have a career blemish you want to hide or an area where you a little embellishment might make you a better candidate, don't tell a falsehood, experts said.
"Honesty is paramount; don't wear yourself out trying to stretch the truth. We've heard our fair share of fairytales and can spot them a mile away," said Pavel Bahu, the global HR director at Trevolution Group, which works in the travel sector. "The world is small, and the truth always emerges. Share your real qualifications, work experience and skills. We're looking for capable people, not superheroes. Even though your previous experience matters, your eagerness to learn counts most."
Make Your Money Work Better for You
Examples of Success
Hiring managers will want to hear about things that you've done well in previous jobs, and what you can bring to a new employer.
"Selling yourself in an interview involves specific examples and numerical evidence of your past experiences," Bahu said. "When discussing experience, highlight your results and how they could benefit the company. When discussing strengths, give a specific example of when you demonstrated that strength. When discussing weaknesses, be honest, show awareness and indicate steps taken to improve."
Enthusiasm and Coachability
When hiring staff for the company he founded, Touchdown Money, Scott Lieberman follows this guideline:
"I believe in the axiom 'hire the heart and train the brain,'" he said. "In my decade of hiring experience, I've never gone wrong selecting a person who shows a passion for the mission of the company along with an eagerness to learn. Those two character traits should shine in the interview.
"A job candidate can demonstrate passion by knowing the business, industry or role. They tend to do their homework. An interviewee can show they're coachable by telling me how they've grown their skills and how open they are to feedback.
Make Your Money Work Better for You
"In today's world, it's rare that a person will do the exact same thing at their job year after year. Ideally, I want someone who can adapt, grow and become a leader."
Cultural Fit
Fitting into a company's work culture is key, too, Markauskaite said.
"In our startup, that's one of the main aspects when applying to work here. You should determine if the candidate aligns with the organization's values and work culture," she said. "That includes their communication style, interpersonal skills and how well they interact with others. When I'm asking questions, I'm not only focusing on the replies — it's also the manners and the overall vibe of the candidate in front of me."
More From GOBankingRates