Top 15 AI Jobs: How To Get These Remote Work Gigs, According to Experts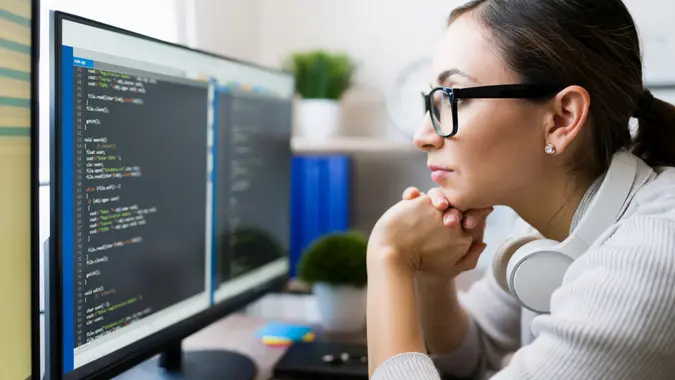 Antonio_Diaz / Getty Images/iStockphoto
The AI industry is growing rapidly and will create an eye-popping 97 million new jobs by 2025, according to a recent World Economic Forum (WEF) report. The AI sector is also part of the expanding computer and IT industry — which topped FlexJobs' 2023 list of the career fields with the most remote opportunities.
"The computer and IT industry saw solid growth in the remote job marketplace last year. At FlexJobs, the career field topped our list of categories with the most remote jobs. At the same time, recent developments in AI have created lots of interest around the industry, and how it may shape the future of work and career opportunities. Fortunately, there are options for today's job seekers interested in a career in AI," said Toni Frana, FlexJobs' lead career expert.
As a first step, Frana advised that candidates research the current landscape, keeping a close watch on the latest news and developments.
"As is the case with any career search, following key trends will help you stay in the loop and more easily target the right jobs," said Frana. "We also recommend familiarizing yourself with popular job titles and AI companies that are hiring or have recently hired remote employees, such as those shared in our latest lists."
Frana added that candidates should also ensure they're reviewing job descriptions for AI-industry roles.
"Especially if you're just starting out, this can help you determine how much experience you need, as well as which soft and hard skills — like coding, critical thinking, problem-solving — are helpful for a successful career in AI," she said.
Make Your Money Work Better for You
FlexJobs compiled a list of 15 remote AI jobs that are actively hiring and allow remote work. These include the average salary range from the job description or Payscale, according to FlexJobs:
Machine Learning Engineering Lead – Nextdoor ($183,000 – $243,000).
Senior Machine Learning Scientist – Freenome ($165,000 – $225,000).
Lead Product Manager – Machine Learning – TaskRabbit ($127,000).
Director, Data Analytics – Plume Hormone Therapy ($132,000).
Staff Principal Data Scientist, Ads Machine Learning – Reddit ($149,000).
Principal Program Manager, AI Writing – Turnitin ($146,000).
Research Scientist, Applied Core ML – Meta Platforms ($143,000 – $196,000).
Principal Software Engineer, Backend – Digital Diagnostics ($140,000 – $165,000).
Senior Machine Learning Engineer – Messari ($135,000 – $200,000).
Principal Technical Product Management, AI – Axon ($130,000 – $250,000).
Senior Data Scientist – Citizens Bank ($129,000).
Applied Machine Learning Engineer – Content Intelligence – Spotify ($113,000).
Data Scientist – Machine Learning – GovCIO ($110,000 – $120,000).
Healthcare Data Scientist – CareCentrix ($90,000 – $110,000).
Designer, Machine Learning Platform – CVS Health ($75,000 – $167,000).
More From GOBankingRates