Retired But Want To Work? Try These 5 Holiday Jobs for Seniors Looking To Make Extra Money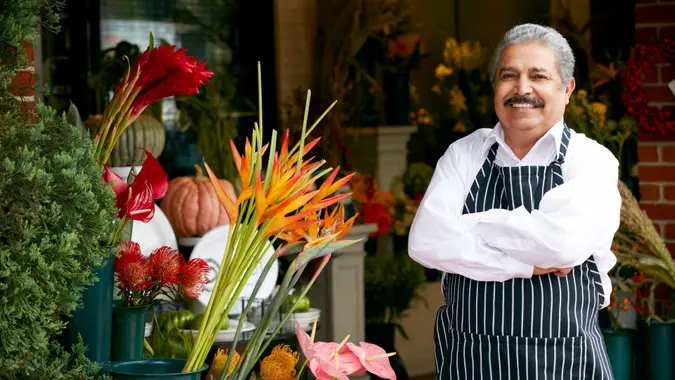 monkeybusinessimages / iStock.com
Retirement doesn't have to mean the end of working. Many seniors find themselves wanting to stay active and earn some extra cash, especially during the holiday season. Here are five great holiday job ideas for retirees looking to add a little more to their bank accounts.
1. Retail Sales Associate
Holiday shopping means a busy time for stores, making it the perfect opportunity for retirees. As a retail sales associate, you can help customers find what they need, manage checkouts, or assist in stocking shelves. The best part? You might get an employee discount, which can be handy for your own holiday shopping. This job is great for those who enjoy interacting with people and can handle a bit of holiday hustle and bustle.
2. Gift Wrapper
If you have a knack for making gifts look beautiful, consider becoming a gift wrapper. Many stores and malls hire extra help during the holidays specifically for this purpose. This role is less physically demanding and is perfect if you enjoy adding a personal touch to presents. Plus, it's a wonderful way to spread holiday cheer.
3. Seasonal Customer Service Representative
With the increase in shopping, many companies look for temporary customer service representatives. This role often involves answering phones, responding to customer inquiries, and helping solve problems. Some positions may even allow you to work from home, offering flexibility and comfort. If you're good with people and have patience, this could be a great fit.
Make Your Money Work Better for You
4. Holiday Decorator
Many businesses and busy families hire people to decorate their spaces for the holidays. This job can involve setting up Christmas trees, hanging lights, and creating festive displays. It's a job that not only pays but also allows you to unleash your creativity and spread holiday joy.
5. Delivery Driver
The surge in online shopping around the holidays results in a higher demand for delivery drivers. Companies like Amazon, FedEx, and UPS often look for part-time drivers to help with the holiday rush. This job is ideal for those who like being on the move and don't mind a bit of physical work. Plus, it's satisfying to be the one delivering holiday packages to excited customers.
The Takeaway
Before jumping into a holiday job, consider what you enjoy doing and what your physical limitations might be. Also, think about how much time you want to commit. Some jobs may require more hours or more physical activity than others.
Remember, the holiday season is not just about making extra money; it's also a chance to meet new people, learn new skills, and stay active. These jobs offer opportunities to do just that, while also putting a little extra cash in your pocket. So, if you're a senior looking for something to do this holiday season, consider one of these fun and rewarding job options.
Editor's note: This article was produced via automated technology and then fine-tuned and verified for accuracy by a member of GOBankingRates' editorial team.
Make Your Money Work Better for You
More From GOBankingRates