Experts: Should You Be Friends With Your Co-Workers?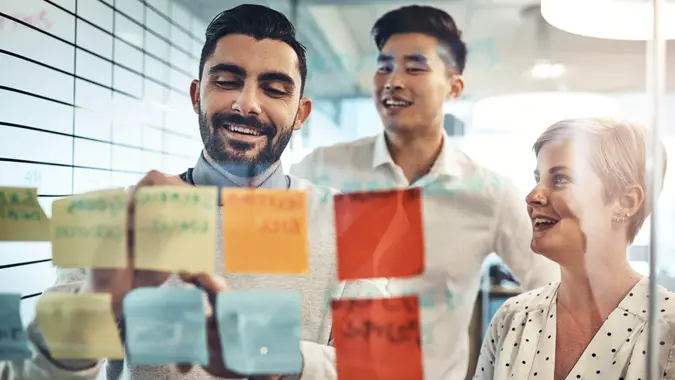 PeopleImages / Getty Images
Did you know the average person spends 90,000 hours at work in their lifetime? This equates to one-third of our lives. As we experience professional growth in the workplace, many work environments allow us to meet new people and become friendly with them. In some cases, we may meet individuals who become our lifelong friends.
However, not everyone makes a BFF at work. The traditional workplace has also experienced radical changes over the last few years with the increase in remote work. Employees may find themselves wondering how close they need to be with their co-workers both in physical and remote settings. Do you really need to be friends with everyone you work with?
Consider Your Work Environment
If you work in an environment described as toxic, career coach Ken Coleman does not recommend becoming friends with people who can contribute to the toxic or negative workplace. Employees must consider their work environment and the people in it with whom they can develop deep, meaningful friendships.
Those in positive, healthy environments actually do need friends at work. "Gallup did a poll on this topic not long ago," said Coleman. "The data shows people who have a work best friend are more engaging with customers, they're more efficient, they're more innovative and they have more fun!"
Make Your Money Work Better for You
Does Mass Appeal Matter?
In the era of social media, it can sometimes feel as though everyone must find ways to be intensely likable with all audiences. This feeling may bleed over into the workplace. Employees, especially those who work remote and experience less face time than those in an in-person workplace setting, may feel pressured to make themselves appealing across all departments.
But Coleman said mass appeal is really not important. What is important is making great connections with the people you spend so much time with.
Ryan Jenkins, co-founder of Less Lonely, cited research on Entrepreneur which surveyed 72% of global workers who said they experience loneliness monthly. Another 55% said they experience it weekly. Loneliness, Jenkins wrote, ensues when a team member feels disconnected from themselves, their team, the work and the work they do. An employee can have all the mass appeal in the world and still feel lonely in the most crowded room.
Reducing feelings of loneliness means focusing less on how to make yourself palatable to all and more on connecting with key team members, like management and other members in your department with whom you work alongside. Connection, Coleman said, is key to healthier, happier and more engaged workers.
It's Okay Not To Be Everyone's Workplace BFF
There is a slight problem which comes from having very close friends at work. Career coach Lynn Berger said it is possible for situations to arise that may jeopardize the relationship.
As an example, an employee could receive a promotion. Their respective close work friend did not. This could cause hard feelings to form between the two individuals if, Berger said, the relationship is not managed properly.
Make Your Money Work Better for You
At the end of the day, employees do not need to emphasize making best friendships with other employees in the company. Being genuinely friendly with your work friends is the more beneficial approach to ensuring everyone gets along and is cordial with one another.
More From GOBankingRates