Should You Go to a Job Interview Without Knowing the Salary First?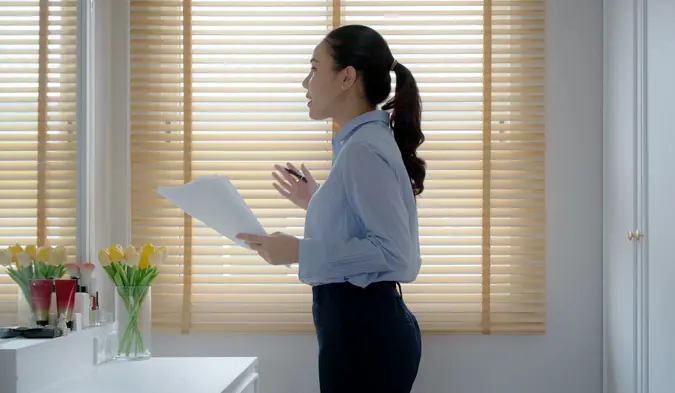 Chaay_Tee / Getty Images/iStockphoto
Salary transparency laws are slowly rolling out across the country; but, as of right now, many job postings do not include a salary range. This is an immediate red flag for a good portion of job seekers, with 33% saying they would not go to a job interview without first knowing the salary the employer is willing to offer, CNBC reported.
Find Out: 2023's Housing Correction Could Be the Largest Since Post-WWII
Read More: 3 Ways Smart People Save Money When Filing Their Taxes
See the List: GOBankingRates' Best Banks of 2023
But is it sometimes worth it to go in salary-blind? Or should you always know at least a range before accepting an interview? Here's what career experts had to say.
Why You Should Consider Interviewing for a Job Without Knowing the Salary
Joseph Liu, career change consultant and host of the "Career Relaunch" podcast, said it's not always necessary to know the salary before accepting a job interview request for several reasons.
Make Your Money Work Better for You
"When a candidate's main criterion for exploring a role is not salary, interviewing before knowing the exact salary may still make sense," he said. "Some other factors like the reputation of the organization, flexibility the role offers or culture within the company may trump salary in the eyes of a candidate."
In addition, taking the interview can be a good networking move.
"Candidates may want to take the unique opportunity to establish a personal connection with a hiring manager," Liu said, "or demonstrate their unique skillset as a way of getting their foot in the door at the organization, even if they later discover the salary isn't right."
Take Our Poll: Are You In Favor of More Inflation Relief in 2023?
The Downsides To Going in Blind
There are, of course, downsides to going into a job interview without knowing the salary.
"Without knowing the salary, both the interviewer and candidate may risk investing unnecessary effort, resources and time when a candidate's salary expectations are misaligned with the salary offered," Liu said. "Knowing the salary from the start can help the candidate determine whether an eventual job offer would be a viable option prior to investing time into the process."
Make Your Money Work Better for You
Can You Ask for a Salary Range If It Isn't Posted?
If you're part of the 33% of job seekers who would simply not accept a job interview without knowing the salary, it is OK to ask for a range before you commit.
"Asking for the approximate salary band for a role is a perfectly reasonable question for a candidate to ask before an interview," Liu said. "Ideally, asking about salary is best done live, either over the phone or a videoconference, so you can strike the right tone of voice when asking, which can often get lost in written communications like email."
If you don't want to ask directly, you can probably get a good sense of what the role may pay by doing some research.
"One way is to simply look at similar companies in the same field that are publishing their salaries for a similar position," said Pavel Bahu, global HR head at Trevolution Group. "You could [also] go to an aggregator, like GlassDoor or SalaryExplorer, that would actually tell how much money people are making in this company. Given this information, you could make an educated guess of what the approximate salary for this particular position actually is."
More From GOBankingRates
Make Your Money Work Better for You