Side Gig: Earn $1,000 Just By Eating Cheese Every Night for 3 Months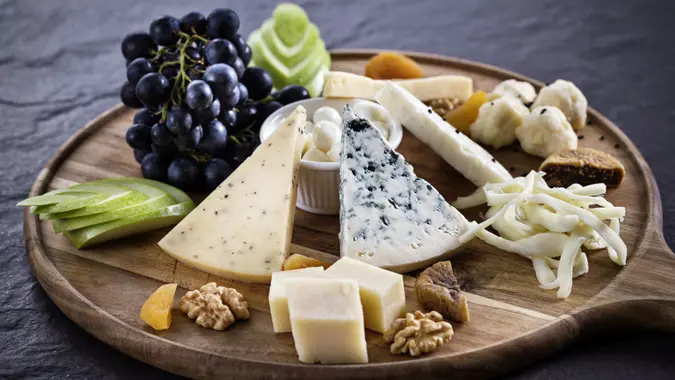 dogayusufdokdok / Getty Images
Talk about an easy (and cheesy) way to earn some money: A handful of lucky foodies will soon be able to earn $1,000 for taking part in a study that looks at the effects of eating cheese before bedtime. Not only that, but participants will be paid to eat a variety of different cheeses to determine if there are any differences.
See: $2,000 Quarter? Check Your Pockets Before You Use This 2004 Coin
Read: Protect Your Financial Future With Gold and Silver
Find: Unplug These Appliances That Hike Up Your Electricity Bill
The study is being conducted by Sleep Junkie, a website that provides reviews of various sleep products as well as research and tips on how to improve sleep habits.
A Jan. 16 blog on the Sleep Junkie website said the study aims to "test out one of the most popular European sleep theories, that eating cheese before bed gives you nightmares." Researchers hope to find out if there's any truth to the theory, and if so, whether different cheeses have more of an effect than others.
Make Your Money Work Better for You
If that sounds like a dream side gig, here's what you need to know.
Dairy Dreamers Wanted
Sleep Junkie will hire a team of five study participants — what it refers to as "dairy dreamers" — to eat cheese and then go to bed. The chosen candidates will be paid for their work and all cheese costs can be expensed and refunded. The work begins in March and will last for three months. Participants will be paid $1,000 upon completion of the study.
Those chosen for the job will be expected to keep a log of their sleep quality on sleep trackers. They must also provide a written evaluation of sleep quality, energy levels throughout the week, and any feedback on dreams and nightmares.
"Our dairy dreamers will become our official cheese testers, providing honest feedback on how eating various kinds of cheese before bed impacts their sleep quality," the Sleep Junkie blog said. "We are looking for people who are self-starters, honest, with good writing skills and enjoy both sleeping and eating."
Make Your Money Work Better for You
Applicants must be at least 21 years old, own a smartwatch or fitness tracker that tracks sleep, have a consistent sleep schedule and be able to sleep alone during the trials. You should not suffer from any current sleep issues or have any dairy or lactose intolerances.
Sleep Junkie's experts will provide a list of cheeses that should be eaten each week. The list will feature a variety of cheese types, such as blue, hard, soft-ripened and processed. The trial will also include vegan and lactose-free cheese selections. Participants will be expected to eat each kind of cheese every night at the same time. There will be a week-long break between each cheese swap to ensure that results can be accurately recorded.
Take Our Poll: What Are Your Financial Priorities in 2023?
More: 8 Hot Side Gigs To Try in 2023
Applications close on Feb. 10, 2023, Food & Wine reported. If you're interested in applying or learning more, you can do so here.
More From GOBankingRates
Make Your Money Work Better for You