6 Social Media Moves To Make After a Layoff, According to Experts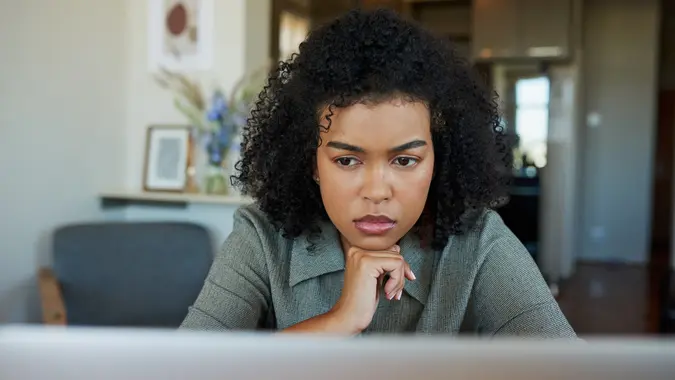 LaylaBird / iStock.com
Unfortunately, many companies have been laying off staff as costs rise and a recession looms. While it's always a jarring experience to lose your job, there are steps you can take to get back on your feet and find your next gig — one of which is utilizing social media to your advantage.
See Our List: 100 Most Influential Money Experts
Advice: 5 Things You Must Do When Your Savings Reach $50,000
I spoke to experts to get their best advice on how to use social media to find your next job after a layoff — here are the moves they say you should make.
Update Your LinkedIn Profile
LinkedIn is the best place to start after a layoff. Keep your profile professional with an updated headshot and keep your recent jobs and skill set public.
"The most important change to your social media profile is to update your header with your current set of skills and let others know that you are open to a new job," said Grace Windsor, product marketing manager at SocialTalent.
Make Your Money Work Better for You
Expand Your Network
After updating your profile, connect with people in your field of work.
"Research industry executives and invite them to your page or to be among your contacts," said LaRita Shelby, author of "The Brand Beside the Brand." "It's a game of odds, but every shot is a shot worth taking."
Take Our Poll: How Do You Typically Split the Restaurant Bill?
Share Your Story
Sharing your layoff might seem counterintuitive, but that piece of information may help you find a new career path. Sharing an update on LinkedIn and other social media platforms lets your network know that you are actively searching for a new job and can help you quickly connect to recruiters and hiring managers.
"Don't be shy," said Jack Appleby, creator of Future Social for Morning Brew. "Tell the world you got laid off on all your social networks, activate that #OpenToHire feature on LinkedIn and publicly share what kind of work you're looking for. It's a scary moment, but people want to help and it can easily turn into an opportunity to take a swing at your ideal job."
"The key is engaging with those who follow you," added Acquania Escarne, wealth strategist and creator of The Purpose of Money.
Make Your Money Work Better for You
While it's OK to vent about your feelings, be sure you do so in a professional manner.
"Share both positive and negative aspects of your previous job, but always remember that a future employer may be able to see what you post," Windsor said.
If you've previously posted overtly negative things about your employer on social media, now is a good time to remove them.
"If you've used social media to gripe and air dirty laundry, you've got some scrubbing to do," said Misty Larkins, president of Relevance. "Most companies I work with have little to no interest in hiring grumblers."
Market Yourself on Facebook and Twitter
In addition to LinkedIn, utilize your other social media pages to share that you are currently looking for new jobs and to market your current skills. If sharing on Facebook, include your current skill set, strengths and weaknesses, and describe what type of job you are looking for. Twitter can be a great place to market yourself when responding to tweets about job openings.
Make Your Money Work Better for You
"Use industry-specific terms as hashtags and keywords in your tweets about a job search so they are easier for recruiters to find," Windsor said.
Appleby said he has personally had success finding a new job after a layoff by utilizing Twitter.
"When I was laid off in June 2020, I tweeted about it, mentioning I wanted to get back to creative strategy jobs," he said. "So many people I'd only chatted with a few times immediately retweeted, getting my post up to 283,000 impressions. Most amazingly, within 30 minutes of tweeting, the creative strategy lead at Twitch DMed me asking if I'd consider working there. Just a few months later I joined the Twitch team."
Consider Creating Separate Professional Accounts
"If you've previously used social media as more of a hobby than a professional platform, consider opening new accounts specifically tied to your job search," said Nate Randle, CEO of Gabb Wireless. "The advantage here is to protect yourself against distraction. It may sound like a cliche, but if you're not careful, you can sit down to spend time looking for work only to lose 20 valuable minutes to amusing cat videos. Dedicated channels can promote better focus."
Get Professional Help
If you are on a tight budget following a layoff, you may not want to go this route, but if you have some financial cushion and/or your company has offered financial help to get you back on your feet, consider hiring professionals to help you revamp your social media profiles.
"You might want to consider updating your headshot using a professional photographer," said Chalmers Brown, former CTO of Due. "You might consider hiring someone to help massage and manage your social media messaging if this isn't an area of strength for
you. You might even decide to take out ads on your social media platform of choice."
Don't Overdo It
As a bonus, one move you shouldn't make involves how much you're doing on social media. While social media can be a valuable tool to help you find your next role, you shouldn't post about your layoff or job search so much that it starts to feel like you are spamming your network's feeds.
"The temptation to flood your social media accounts with the same message day after day is ill-advised," said Yenn Lei, head of engineering at Calendar. "It conveys desperation and contributes to a 'been there, done that' messaging blindness in audiences. The point is to share your situation transparently, but to do so at scheduled intervals rather than create a glut of posts all at once."
More From GOBankingRates
Gabrielle Olya contributed to the reporting for this article.
Make Your Money Work Better for You