Starting Salaries for Gen Z Women Are $6,200 Less Than Male Counterparts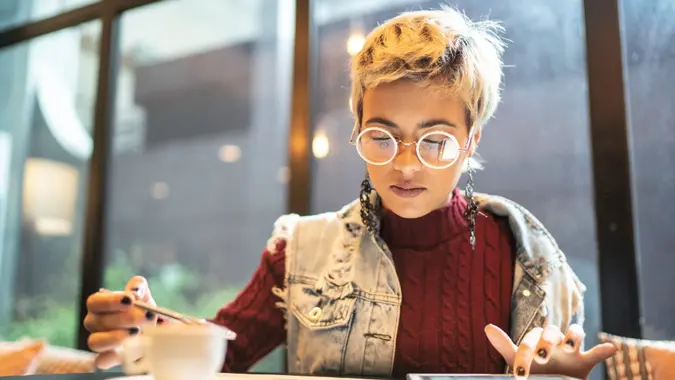 FG Trade / Getty Images
The gender gap may be narrowing, but not fast enough for women in the workforce today. According to the 2022 Global Gender Gap Report, it will take another 132 years for the gender gap to close. And now Gen Z women are feeling the pains of the discrepancy in pay between the sexes. A new report from Handshake, a career platform for college students, found that Gen Z job seeking women expect to earn a salary that is on average $6,200 lower than what men anticipate making.
"I was surprised that women are still asking for less money and have lower salary expectations," Valerie Capers Workman, Handshake's chief legal officer, told CNBC. "I thought somehow, the lessons that the women who are succeeding and are successful have been trying to communicate [were being heard], but there are such societal issues that we are combating that we just haven't conquered yet."
How Salary Transparency Laws Can Help 
Part of combating the issue of the gender pay gap, at least in the immediate sense, could lie in salary transparency laws.
"If a woman comes out of college and does not know what she should be asking for, pay transparency laws remove that stigma of feeling not worthy of negotiation," Workman said. 
Salary transparency law, Workman went on to explain, "eliminates bias throughout the employment life cycle [and allows] candidates to start on an even playing field, then the company doesn't have to pay all this money for outside parties to try and determine whether or not there is equity amongst their employee population. Because they started everybody at the correct salary."
Make Your Money Work Better for You
Salary transparency laws have been enacted in the following states and/or cities: California, Colorado, Connecticut, Maryland, Nevada, New York City, Rhode Island and Washington.    
But there's a lot more work that needs to be done to close the gender gap and bring equality to the workplace, and some of that work can be done by women, including: 
Don't Be Shy About Negotiating 
Women can be more averse to negotiating than men because they are raised to take less risk (or face more consequences for taking risks); however, knowing your worth and negotiating for it in the workplace is imperative. 
Promote Your Knowlege and Your Wins
Boasting about one's self may be perceived as impolite and obnoxious. But what about self-promoting your skills and hard-won achievements? Get used to advocating for yourself to your superiors. They're paying attention and will appreciate that you are, too. 
Network Like Crazy 
Networking isn't just something to do when you're looking for a job; it's something to do all the time in order to keep working your way up the ladder of your career. Keep your LinkedIn profile up to date and sparkling and be in touch with colleagues from the past, as well as friends from college. You never know when you may need a professional favor; or when another woman may need one from you.   
More From GOBankingRates
Make Your Money Work Better for You