Layoffs 2023: Almost 1/3 of Americans Are Worried About Losing Their Jobs — Here Are the 5 Safest Industries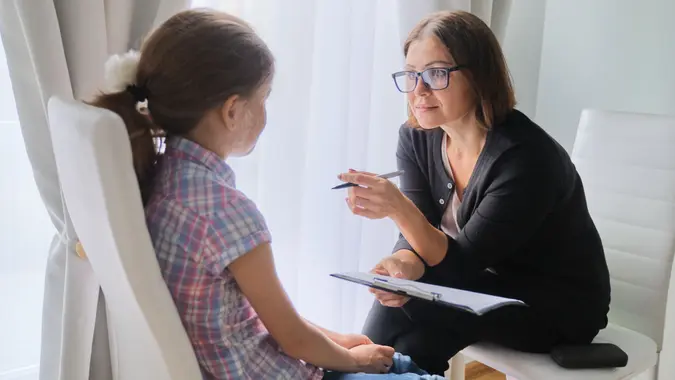 Valeriy_G / Getty Images/iStockphoto
Although the unemployment rate remains low in the U.S., warning signs are on the horizon. Major companies from Twitter and Microsoft to Goldman Sachs and Google have all announced major layoffs. Meanwhile, the inflation rate remains persistently near 40-year highs and the Federal Reserve is continuing to aggressively raise interest rates. Put it all together and many economists are predicting the U.S. will fall into recession sometime in 2023.
Mortgage Interest Rate Forecast for 2023: When Will Rates Go Down?
With a Recession Looming: Make These 3 Retirement Moves To Stay On Track
Americans seem well aware of this. According to a recent survey of 1,002 adults by GOBankingRates, nearly one-third of Americans fear losing their job this year, a staggering amount in an environment with a low unemployment rate. If you're concerned about job security, you might consider working in an industry that has high job stability. Here are some of the safest.
Make Your Money Work Better for You
Teaching
If you want to work in an industry that is constantly hiring, consider teaching. Not only are good teachers always in demand, but there is such a shortage these days that even requirements to get hired are being lowered.
Recent data shows that more than three-quarters of states are reporting a teacher shortage, thanks in part to the fact that the national teacher count fell by a whopping 233,000 from 2019 to 2021. Generally speaking, if you're working as a teacher, there's more risk of being overworked than there is of losing your job.
Healthcare
Healthcare is usually considered to be a "recession-proof" industry. This is because its products and services are of critical importance and are likely to be purchased or used even during bad economic times.
Think about your own life and spending patterns — if times get tough, are you more likely to stop taking your life-saving medication or to postpone buying that sports car you've had your eye on? In most cases, Americans will choose critical medicines and medical procedures over any discretionary purchases.
Make Your Money Work Better for You
If you work in the healthcare industry, this helps protect your job from economic recessions as well. Doctors, nurses and pharmacists are in need in all economic environments. While this doesn't mean that there won't be occasional layoffs, it does mean the healthcare industry is better protected from downturns in the business cycle.
Live Richer Podcast: How To Leverage Your Investments
Public Safety
Public safety is an essential service. No matter what is happening in the economy, society still needs police and fire personnel, EMTs and correctional officers. Certainly, budgets get trimmed and there are boom and bust periods when state and local services can fluctuate in their staffing levels. But widespread layoffs are highly unusual in the public safety industry.
This is particularly true for more senior workers in fields like fire fighting and law enforcement. Older workers may be enticed to retire early on occasion, but they're not as likely to be fired outright as brand new recruits, for example.
Social Services
Workers in the social services industry have some definite advantages in terms of employment status during economic downturns. For starters, the need for therapists, counselors and social workers actually tends to go up during times of economic turmoil, as financial stress deepens among a greater percentage of the population.
Make Your Money Work Better for You
Social workers have another layer of protection from layoffs in that they are usually government workers, whether at the federal, state or local level. Although some private therapists might find that some of their clients can no longer afford them after a job loss, government payrolls are often among the last to shrink during economic recessions. As a governmental social worker, your job may have some additional staying power.
Building Equipment Contractors
Building equipment contractors is a fancy industry title that incorporates many different types of jobs. However, one of the most secure jobs in that entire industry is the plumber. No matter what's going on in the economy, drains are going to get clogged and pipes are going to burst.
In fact, in a slowing economy, more people are likely to try to repair things rather than to buy new ones, and this is just another plus in terms of demand for plumbers. Combined with the already existing shortage of plumbers — a study from John Dunham & Associates estimates the shortfall at 577,000 by 2027 — this industry is very defensive even if mass layoffs hit other sectors. In other words, there's no crack in the plumbing industry.
More From GOBankingRates
Make Your Money Work Better for You