5 Thoughtful (Yet Inexpensive) Ways To Show Employee Appreciation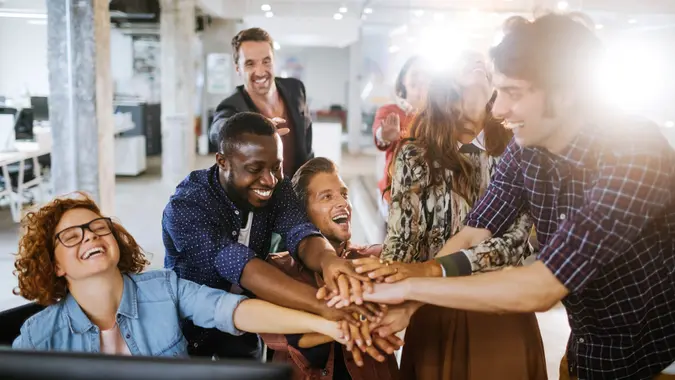 Geber86 / Getty Images
Unappreciation is, unfortunately, rising in the workplace. Nearly half of American workers (46%) have left a job because they feel unappreciated according to findings in a recent study conducted by OnePoll on behalf of Bonusly.
Find Out: 22 Side Gigs That Can Make You Richer Than a Full-Time Job
See: The 26 Highest-Paying Jobs That Let You Work From Home
Feeling unappreciated by management is an issue many employees face throughout their career. Some even feel it daily. 63% of respondents said they feel unappreciated by their employer on a daily basis. Leadership can combat these feelings by making positive moves that show employees how much they are valued in the workplace. Here are a handful of ideas.
Show Recognition With Handwritten Notes
Douglas R. Conant, former CEO of Campbell Soup Company, sent 30,000 handwritten notes to the company's employees. In an article with the "Harvard Business Review," Conant said that writing these notes showed employees that he was personally paying attention and celebrating their accomplishments. By picking up a pen and writing these notes, Conant was able to build goodwill and higher productivity.
Logan Mallory, VP of Motivosity, recommends showing your genuine appreciation for an employee in the form of a handwritten note or a personalized email. 
Make Your Money Work Better for You
What should you write about? Personalize each note or email by highlighting some of the employee's outstanding achievements and fantastic qualities they bring to the workplace. Celebrate a work anniversary and recognize other individual occasions where their contributions made a big difference. 
If you're unable to write a note or email, consider meeting for a face-to-face heartfelt chat. You can tell the employee in person (or over Zoom) how much they matter in the workplace. Handwritten notes and personalized emails help increase recognition and ensure employees feel appreciated in the workplace. Plus, it costs nothing to shout out your hard-working team. 
"Good old-fashioned recognition goes a lot further than you might think!" said Mallory. "Employees are happiest when they feel appreciated at work, and recognition is free, so be generous with your praise."
Compare: The Best (and Worst) US Cities for Work-Life Balance
Encourage Peers To Uplift Employees 
Beyond a handwritten note or personalized emails, leaders may further recognition efforts by publicly applauding employees and encouraging other team members to share motivational sentiments. 
Peer recognition plays an increasingly important role in employee retention. Nearly two-thirds of respondents (65%) said they would stay at a job even with an unappreciative manager — as long as their coworkers and peers recognized their work.
Make Your Money Work Better for You
Elisabeth Duncan, VP of human resources at Evive, recommends creating a "Hall of Fame" internal to the company and its employees. "Create a 'Champions Board' or virtual kudos section of the website recognizing employees who made an extraordinary contribution to the organization or experienced team or client success," said Duncan. "Allow employees to share an encouraging message to their fellow team members."
Leaders can take the Champions Board to the next level by creating special, in-house awards. "One-of-a-kind departmental awards or recognition like the Solution Queen, Gold Medal Manager and The Learning Lion are all great ideas," said Duncan.
Invest in Subscription Boxes
From cooking to crafting, there are hundreds of gift boxes that cater to a wide variety of hobbies and interests. Duncan recommends employers offer employees a menu of quarterly subscription boxes to choose from and let them subscribe to the gift box of their choice.
"The average cost of a quarterly box is $50 per employee," said Duncan. "Not a bad investment for a hassle-free, happiness-boosting way to say thank you." 
Offer Support in Tough Times
Valentin Hinov, CEO of Thankbox, said one way to show employee appreciation is to consider moments when the chips are down. If a team member is going through a difficult circumstance, get the whole company behind them to offer support.
Make Your Money Work Better for You
Hinov recommends creating a personalized group card from the rest of the team just for this team member. "This will strengthen the whole team and bring them together," said Hinov.
Discover: Workers Seek Healthier Relationships With Jobs as Offices Reopen
Think Outside the Box
The rules for what it means to support employees may be rewritten to reflect the changing economic times. 
Rachel Blank, CEO of Allara, recently implemented a work benefit where the company gives every employee a new iPhone and pays for their cell phone bill. Since the benefit has been implemented, it has been a major hit with employees in helping manage their personal expenses.
"Taking a major expense off of our employees' plates does not go unnoticed," said Blank. "Who says employee benefits should stop at paid vacation, health insurance and a 401(k)?"
How much does it cost a business when an employee leaves their job? Studies from the Society for Human Resource Management (SHRM) show that on average it costs a company six to nine months of an employee's salary to replace the employee.
As recruiting talent gets more competitive, it's essential to come up with out-of-the-box ideas to show employee appreciation.
More From GOBankingRates
Make Your Money Work Better for You