Top 3 Expert Tips for Salary Negotiations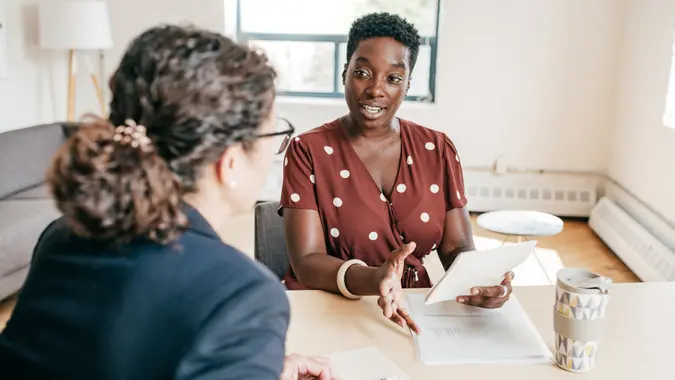 kate_sept2004 / Getty Images
Day 19: GOBankingRates wants to help you Live Richer. Throughout the month of July, we'll be sharing daily tips for how you can do just that, with advice on budgeting, saving, investing, making the most of your career and managing debt — plus money advice for every phase of your life. Check back each day during our 31 Days of Living Richer to learn everything you need to know to set yourself up for financial success and live the richest life possible.
Whether you are starting a new job at a new company or have been offered a promotion at work, it's always in your best interest to negotiate your salary — chances are, there is some wiggle room in the company's budget for your role, but you won't know unless you ask. Of course, this is much easier said than done. Negotiating your salary can be uncomfortable, so it's best to go into the conversation totally prepared so that you can be confident with your ask.
Go Back to Day 18: How To Achieve Better Work-Life BalanceAnd Day 17 of Living Richer: Top Perks To Look for When Searching for a New Job
Here are a few expert-approved tips for your next salary negotiation.
Don't Be Afraid To Negotiate
Negotiating a job offer can be intimidating, but the truth is that your employer is likely expecting you to do so.
"Many people are afraid that negotiating their salary will cause them to lose their job offer," said SoFi career expert Ashley Stahl. "This is simply not true. Employers expect a counteroffer, so negotiation is low-risk. Remember that you deserve the optimum salary, so don't underestimate yourself and be afraid to ask for a number that matches your value."
Read Day 16: How To Find a New Job That Fits Your Life
Know Your Worth
Make Your Money Work Better for You
Sharlene Mohlman, a financial empowerment coach, successfully negotiated her salary for one of her previous jobs by researching the typical pay for the role.
"It's really important that you research the going rate for your role in the industry," she said. "If not, you are not likely to get the higher salary that you are looking for. I researched the going rate for my role and negotiated it for $5,000 more than they initially offered. This is because I knew what the going rate was and I was able to expand on what I brought to the table, including the past experience and connections I had."
Here's Day 15: How a Side Hustle Can Help You Achieve Your Financial Goals
Focus on What You Bring to the Job
It's hard to argue with cold hard facts. Go into negotiations prepared to talk about how you can make your company more money or lower their expenses based on what you've achieved at previous companies or in your prior position.
Go Back To Day 14 of Living Richer: 3 Side Jobs To Consider If You Need Extra Income
"Quantify your potential contribution to the bottom line," said Peter Yang, CEO of the resume-writing service ResumeGo. "Show that you deserve the salary you're asking for by helping the firm understand how much you can increase their profits and lower their costs. Do this by giving quantifiable examples of how you drove revenue, boosted sales, improved efficiency and decreased overhead at your previous jobs [or roles]."
Day 20: Join us tomorrow for our Living Richer series when we look at the signs that you've found your dream job.
More From GOBankingRates