There's an Unexpected Job Benefit to Learning More Than One Language — and as Many as 42% Earn More Money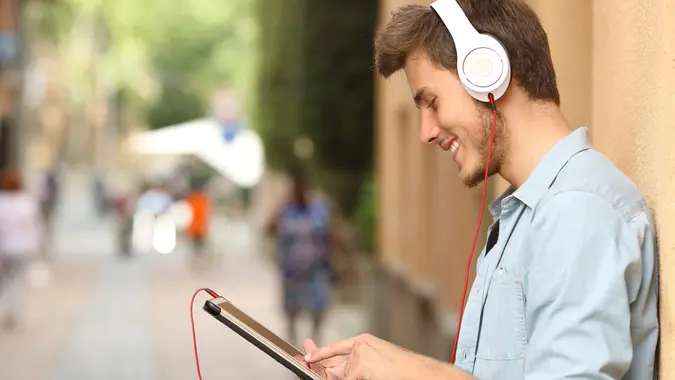 AntonioGuillem / iStock.com
If you habla espanol or parle français — or better yet, can speak Portuguese, Russian or Vietnamese — you could be in position to earn a bigger paycheck. Being multilingual is a highly valued skill that many employers are willing to pay extra for, according to a new study from the Preply language learning platform.
The study, released in August, found that 42% of multilingual employees said they received a raise in the last year, making them about 5% more likely than single-language speakers to get a pay increase.
Employees who spoke more than one language also earned around 19% more money, on average, than those who can only speak one language for the same or similar jobs. About four in 10 multilingual employees say the skill helped them get their job.
For the study, Preply gathered data from more than 9,000 job ads for bilingual workers in the most populated U.S. cities. Researchers also surveyed 1,002 full-time workers about their career experiences.
The results revealed that while being multilingual can help you earn more money at your current job, it doesn't necessarily mean you'll earn more than the average worker.
Preply found that the national average salary for full-time multilingual employees is $51,833 a year. That's below the median U.S. wage of $57,200 a year, according to U.S. Labor Department data. However, because median wages represent the midpoint between the highest and lowest incomes, they can skew higher when the top income is especially high.
Make Your Money Work Better for You
Multilingual workers earn a lot more money in some cities than others — and it's not just because those cities pay higher salaries in general. Here are the top five highest-paying cities for full-time multilingual workers and their average yearly salaries, according to Preply:
Fremont, Calif.: $67,804
San Francisco, Calif.: $66,468
Jersey City, N.J.: $66,338
Newark, N.J.: $66,292
Reno, Nev.: $65,020
Here are the top five highest-paying cities for part-time multilingual workers, and their average hourly wages:
Philadelphia, Pa.: $47
Greensboro, N.C.: $47
Anchorage, Alaska: $39
Chula Vista, Calif: $38
St. Louis, Mo.: $35
So which languages command the highest pay?
Spanish might seem a logical choice since it's far and away the most popular second language in the United States. An estimated 41 million Americans speak Spanish — 12 times more the other most common second languages, the Voice of America reported. Other languages rounding out the top five are Chinese (mostly Mandarin), Tagalog, Vietnamese and Arabic.
Although Spanish is in high demand, it ranks only 10th in pay by language at an average of $25 an hour, according to the Preply study. Here are the top five languages by average hourly rate:
Portuguese: $32 an hour
Russian: $31
Vietnamese: $30
French: $29
Mandarin: $27
If you're looking for a job, however, the ability to Spanish is definitely an asset. Preply found that 86% of bilingual job postings mentioned Spanish as a language. The next highest non-English languages weren't even close: Mandarin came in next at 2% of job postings, followed by nine other languages at 1% each.
More From GOBankingRates
Make Your Money Work Better for You