UPS Drivers Score $170k per Year: How It Compares to the Top Union Deals in History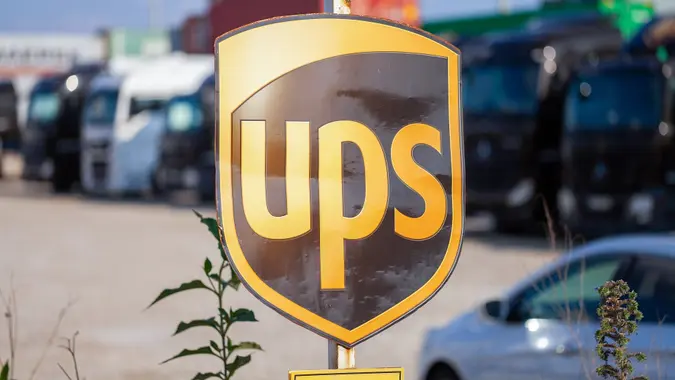 huettenhoelscher / iStock.com
UPS drivers and the Teamsters Union achieved a significant victory this week when UPS CEO Carol Tome announced an agreement with drivers to avoid a labor strike. At the end of the five-year contract, drivers will average a salary of $170,000, including pay and benefits. That's up from the current average of $145,000.
In an earnings call on Tuesday, Aug. 7, Tome said the new labor contract should be ratified within two weeks. The increase is far beyond the average wage boost across all civilian employees for the past year. The latest Depart of Labor jobs report showed pay increasing by 4.5% for all workers between June 2022 and June 2023.
"This contract sets a new standard in the labor movement and raises the bar for all workers," said Teamsters General President Sean M. O'Brien in a statement reported by multiple news outlets.
The raise also served as a powerful recruiting tool for UPS. Searches for UPS delivery-driver jobs increased by 50% following the announcement, Business Insider reported.
But how does it compare to other historic union deals?
In August 2022, to avert a labor strike, Congress intervened and passed legislation to provide railroad workers with 24% pay increases over five years, retroactively beginning in 2020.
That wasn't the first time the government intervened to keep a crucial industry in operation. Historians might recall the great anthracite coal strike of 1902 in Pennsylvania, in which former President Theodore Roosevelt called both sides (via telegraph, incidentally!) to Washington to discuss the matter, according to a report from the Department of Labor website.
Make Your Money Work Better for You
Roosevelt failed to bring both sides to an agreement. Eventually, with the intervention of businesspeople like JP Morgan, the 163-day strike ended.
Coal miners requested a 20% pay increase, but most received only 10% more. The Anthracite Coal Strike Commission, a group established to act as an intermediary between coal miners and the mine owners, also granted the miners a 9-hour workday. Miners had requested an 8-hour day which would have been a reduction from their 10-hour shifts.
If you do the math on this week's UPS pay increase, drivers will earn an extra $25,000 over five years — an increase of just under 15%. That's better than the miners but not as good as the railroad workers.  
This summer, Delta Airlines reached a four-year agreement with union pilots, providing a pay hike of 34% over four years.
Shortly after, United Airlines agreed to a contract worth roughly $10 billion, increasing pilots' salaries by up to 40.2% over four years, depending on the type of aircraft flown.
American Airlines also boosted pilots' salaries with a 40% increase over four years.  
It's clear from these deals that the workers who keep our country moving hold immense power, especially when they have the knowledge, experience, and collective bargaining power of unions to back them up.
Make Your Money Work Better for You
It remains to be seen if the latest pay hikes will set the stage for an agreement with the Writers Guild of America, whose workers just surpassed day 100 of a labor strike in Hollywood.
More From GOBankingRates