Washington State Workers Will Now Earn the Highest Minimum Wage in the US — How Does It Compare With Other Increases?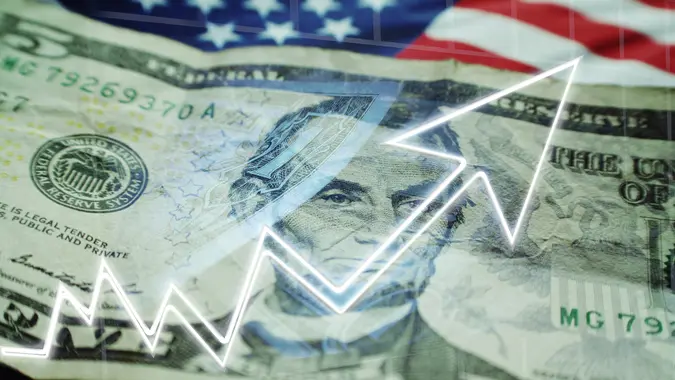 Darren415 / Getty Images/iStockphoto
Last year's sky-high inflation rate took a huge bite out of paychecks for American workers, but 2023 should bring some relief in the form of higher pay. Around half of U.S. states will raise their minimum wages in 2023, with workers in the state of Washington poised to earn the highest minimum.
More than 8 million workers got a raise on New Year's Day, according to the Economy Policy Institute (EPI), with 23 states and the District of Columbia implementing minimum hourly wage hikes that ranged between 23 cents and $1.50.
A total of 26 states are set to increase their minimum wage at some point in 2023, according to Wolters Kluwer, a provider of professional data and information. Several other states have hikes set to take effect in coming years.
The increases were prompted by automatic inflation-linked adjustments, state law triggers and legislative action, the EPI noted. Most of the affected workers (54.9%) are age 25 or older, and nearly half (44.8%) work full-time.
"There's quite a few states across the country that will be seeing quite big jumps in the minimum wage because of the higher rate of inflation this past year," Deirdre Kennedy, senior payroll analyst at Wolters Kluwer, told CNBC.
Workers in Washington state stand to earn the highest minimum wage in 2023 at $15.74 an hour, according to data from Wolters Kluwer Legal & Regulatory. The lowest minimum wage will be paid to workers in Montana, at $9.95 an hour.
At the national level, President Joe Biden last year signed an executive order raising the minimum wage to $15 an hour for federal workers and contractors, but efforts to extend that to all workers have failed to make it through Congress. As it stands, the federal minimum wage is $7.25 an hour.
Make Your Money Work Better for You
For now, it's up to the states to raise the minimum wage. Here's a look at the states set to pay a minimum wage of $15 or higher in 2023, according to Wolters Kluwer:
California: $15.50 an hour for all employers regardless of size.
Connecticut: Scheduled to increase to $15 an hour on June 1, 2023, from $14 an hour.
Massachusetts: $15 an hour, up from $14.25 in 2022.
New York: Tiered rates that vary by region, with the minimum set at $15 an hour in New York City and in Nassau, Suffolk, and Westchester counties.
Washington: $15.74 an hour. Workers under 16 years old can be paid 85% of the adult minimum wage in 2023, or $13.38 an hour.
On the other end of the spectrum, here are the states set to pay the lowest minimum wages in 2023:
Michigan: $10.10 an hour, up from $9.87 in 2022. There's a chance the minimum could increase to $13.03 on Feb. 19, 2023, but the Michigan Court of Claims would have to approve it.
Minnesota: $10.59 an hour (up from $10.33 in 2022) for workers at large employers with an annual gross volume of sales not less than $500,000. Small employers must pay employees a minimum wage of at least $8.63 an hour.
Montana: $9.95 an hour for businesses with annual gross sales of more than $110,000.
Nevada: $10.50 an hour for employees who don't receive health benefits, but that's expected to increase to $11.25 on July 1, 2023. Otherwise, the minimum is $9.50 an hour for employees who do receive health
benefits, which will increase to $10.25 on July 1, 2023.
Ohio: $10.10 an hour, up from $9.30 per in 2022. The minimum wage applies to employees of businesses with annual gross receipts of at least $372,000. For employees at smaller companies – and for 14- and 15- year-olds – the state minimum wage is $7.25 an hour.
Make Your Money Work Better for You
More From GOBankingRates