7 Ways Taking a Job With a Pay Cut Could Help You Live Richer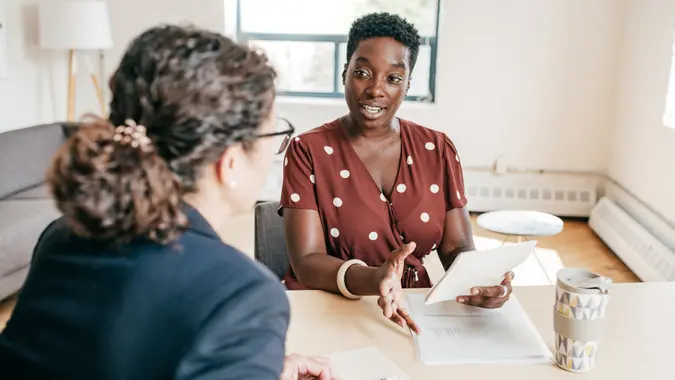 kate_sept2004 / Getty Images
Taking a job with a pay cut can seem counterintuitive. That's especially true in the U.S., where people sometimes think the most important part of any job description is how much it pays.
In reality, there's a lot more to consider than that top-line item. Taking a job with a pay cut can seem counterintuitive and even counterproductive, but it can sometimes be a great decision.
Reasons To Take a Job With a Pay Cut
To be clear, adequate pay is paramount to job satisfaction. However, some of these reasons could indicate that taking a job with a pay cut is exactly the career move you need to make.
Escaping a Toxic Work Environment
While we don't always love going to work, there's a difference between tolerating it and absolutely dreading it. It's nice to be paid well, but many of us have been in a situation where it wasn't worth it due to a hostile work environment.
Make Your Money Work Better for You
Vicki Salemi, Monster career expert, shared some staggering statistics about how people feel about their work environments. "According to Monster polling data, more than three quarters of workers (78%) say they would quit their job if they felt the workplace was toxic (and 4 in 5 workers, essentially 79%, say their current workplace is already toxic)!"
Reducing Stress Levels
Closely related to the previous point, jobs can sometimes be quite stressful, and avoiding that stress can be reason enough to leave a job. Discussing reasons to leave a job, Salemi said, "Another reason is intense stress and anxiety that's creating burnout as well as mental and physical health issues." She said this is reason enough to leave a job, even if you take a pay cut.
The Company Doesn't Align With Your Values
Something that is increasingly important today, both for employees and consumers, is that companies align with your personal values. Consumers might choose not to do business with companies that don't align with their values; employees might decide they no longer want to work for them. Salemi said that deciding to leave your job because of your values is perfectly valid.
Taking a Lower-Paying Job Temporarily To Advance Your Career
Taking a job with a pay cut can be tough no matter the circumstances since it means you'll have less money for the things you want — and need. But in some cases, it can be a strategic decision that may help advance your career in the long term.
Make Your Money Work Better for You
"I've seen countless people make career moves whether it was lateral or a temporary step back on the ladder (and pay decrease) knowing this strategic move can better position them to reach career goals and soar to new heights! And in turn, command a higher salary," Salemi said. In other words, the pay cut is only temporary and is a means to advance your career.
Spending Less Time Commuting
You've probably heard the phrase "time is money" before, and it's true. So, if the new job you are considering has a shorter commute, it might be worth considering. "Perhaps you would take a pay cut by $10k, but your commuting time is no longer 90 minutes each day and instead, it's only 45 minutes three times a week. That's valuable," Salemi said.
Once again, it doesn't have to be a tangible, monetary value. Yes, spending less time commuting could mean you don't have to leave your kids at after-school care, which provides a direct, financial benefit. But also, it could mean you are able to spend more time with your kids. While the latter is priceless, it still carries enormous value, albeit of a different kind.
Better Health Benefits
Health benefits are a critically important part of any job — at least in the U.S., where health insurance is closely tied to employment. Perhaps the job you're considering has a lower salary but much better health benefits that would allow you to save thousands in premiums and out-of-pocket costs.
Make Your Money Work Better for You
Salemi recommends taking a closer look at this part of the job offer. "Another opportunity may have a lower salary, but perhaps the employer will pay 100% of benefits for you and your entire family?" Hence, it's important to understand the complete picture beyond how much the job pays.
Can a Pay Cut Pay Off?
You might think taking a job with a pay cut would never pay off. It's a legitimate possibility, though — especially when you consider the costs that aren't purely dollars and cents, such as stress and your values. Because there is much more to consider beyond salary, Salemi recommends consulting a financial advisor before making your financial decision.
"Be careful and strategic when making moves in any economy that will impact your financial well-being, consult with your financial advisor as well as family who this decision is also impacting." Once you carefully evaluate every piece of the puzzle, you might find that taking a job with a pay cut could be worth it — or not. You will have to take everything into consideration before deciding whether it is the right move for you.
More From GOBankingRates
Make Your Money Work Better for You