What Does a Hybrid Work Model Really Mean for Working Parents?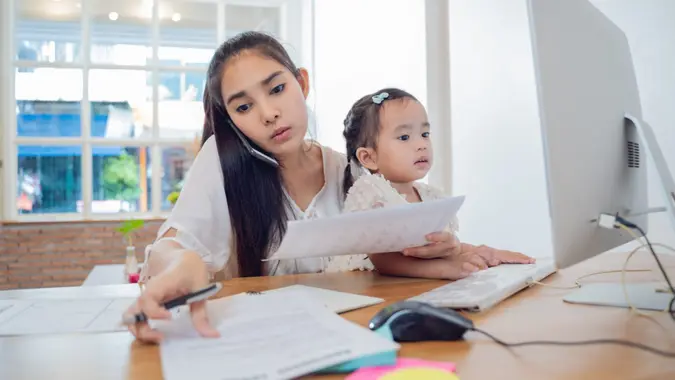 cofotoisme / Getty Images/iStockphoto
As companies plan for an eventual return to office, many have announced that they will be allowing for a hybrid work schedule. For parents, navigating this new way of working may be tricky. With a lack of affordable child care options, some parents will likely opt to continue working from home more days than not, which has them fearing that they will miss out on opportunities to advance and the social aspects of in-person bonding with co-workers.
Check Out: 11 Best Lucrative Side Hustle Ideas: Earn More
See: 26 Highest-Paying Jobs That Let You Work From Home
To get a better sense of how parents feel about hybrid work environments, LinkedIn surveyed nearly 3,000 U.S. workers — and here's what they found out.
A Quarter of Parents Are Worried About Missing Out on Advancement Opportunities While WFH
The LinkedIn survey found that 25% of parents fear they'll miss out on opportunities for advancement if they continue to work remotely while others return to the office — and this fear may be warranted.
Make Your Money Work Better for You
"Having concerns that if you're working remotely, you'll be 'out of sight, out of mind' and miss out on advancement opportunities is certainly warranted as a lack of visibility can sometimes translate to a lack of inclusion," said Andrew McCaskill, a career expert with LinkedIn. "This is known as a proximity bias. With no in-person face time with colleagues and managers, your along-the-way work — all the time and effort you put into projects — can go unnoticed, and you might also have less opportunity to demonstrate your unique skills. Plus, less in-person time could also mean less of a chance to develop relationships (and trust!) with supervisors and colleagues, and this lower level of visibility and connection could in turn mean you're not top of mind when promotion time rolls around."
But if you're a parent in this situation, don't panic just yet.
"The good news is you're not alone in this shifting world of work, and your colleagues and managers are learning to navigate this just as you are," McCaskill said. "There are ways you can stay connected and in the line of sight for advancement opportunities."
Find Out: Is a 'Great Resignation' Coming When Workers Go Back to the Office?
Parents Are More Concerned About Being Left Behind Than Non-Parents
While 25% of parents say they fear they'll miss out on opportunities for advancement if they continue to work remotely while others return to the office, only 14% of non-parents have this same fear.
Make Your Money Work Better for You
"Even before the pandemic, in March 2020, 52% of working mothers surveyed by LinkedIn reported feeling 'concerned' or 'very concerned' about being judged for taking leave or asking for flexible hours," McCaskill said. "The same share told us that they feel mothers who return to work after a break are not taken as seriously as their peers."
"Now, this has been exacerbated," he continued. "Parents have been dealt a raw deal during the pandemic — they're being pulled in so many directions by so many people every day while working remotely. They need not just flexible locations, but also flexible hours. Given the choice, we'll likely see working parents opting for the most flexible work situation they can get. They will disproportionately be at home, not in their workplace, so will also have a higher likelihood of falling behind."
Discover: 10 Risky Career Moves That Can Pay Off
How Parents Can Continue on an Upward Career Trajectory While WFH
Although parents' fears about falling behind are warranted as non-parent colleagues may return to the office with more regularity, there are steps that parents can take to continue on an upward career trajectory. McCaskill offers the following tips.
Make Your Money Work Better for You
Be Proactive About Maintaining a Presence Virtually
"Touch base with your manager and other key colleagues and supervisors regularly to offer help with plans or brainstorms," McCaskill said. "If you're managing a team, make sure they know they can come to you with a problem, or proactively create space for those conversations via standing meetings and check-ins. A recent poll of nearly 14,000 professionals on LinkedIn found that 'communicates well' is the most appreciated quality in a remote co-worker, so don't be afraid to reach out thoughtfully and often."
Dream of Living Abroad? These 8 Countries Make It Easy To Work Remote
Own Your Wins
"Don't just check in when there's a problem — share good news as well," McCaskill said. "Everyone is busy with their own jobs, so your boss may not be as conscious of noting and elevating your work. As you create value, make sure you track those accomplishments and share them. You might ask your boss how they're communicating the success of the team to their superiors so you can put your accomplishments in context for easy inclusion."
Know How Your Company Is Measuring Success
"Have a clear conversation with your supervisor or HR around what expectations are for you in your current role, and in your next role too, so you can be working towards that next level," McCaskill said. "If they're not already scheduled, ask for regular check-ins to discuss your performance so you can flex in real-time to work towards meeting or exceeding expectations."
More: These 10 Career Fields Are Adding the Most WFH Jobs in 2021
Find Creative New Ways To Connect
"Time spent together in the office leaves more space for impromptu conversations and chit-chat — what we used to think of as 'watercooler chat' — about last night's hot TV show, or those quick conversations with colleagues while waiting for a conference room to open up," McCaskill said. "Make an effort to make space for those moments as well, whether it's leaving extra time for casual chat in your 1:1 meetings, inviting colleagues for virtual 'coffee dates,' or making the effort to attend in-person meet-ups, off-sites and events when possible as offices begin to plan them again."
More From GOBankingRates
Last updated: Oct. 13, 2021

Make Your Money Work Better for You