What Every Professional Can Learn From Taylor Swift's Career Evolution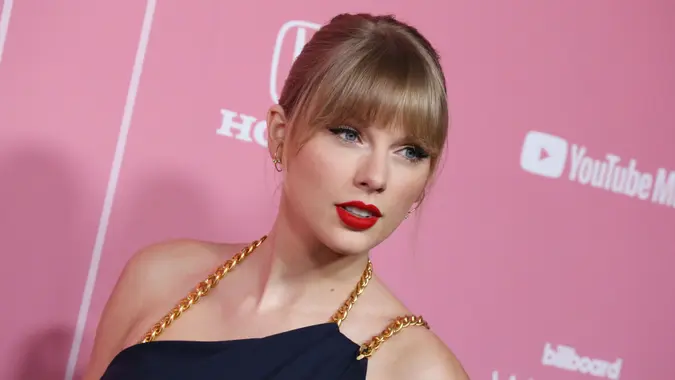 Matt Baron/Shutterstock / Matt Baron/Shutterstock
Oct. 21 was the release date of "Midnights," the 10th studio album from Grammy Award-winning musician Taylor Swift. Since then, I have found myself thinking about her career evolution. 
Over the last few years, Taylor Swift has taken life's lemons and made some pretty incredible lemonade out of them. Since the cancellation of "Lover Fest," Swift's sixth planned tour in 2020 due to the COVID-19 pandemic, she has released two new albums — "folklore" and "evermore." She has also re-recorded two of her studio albums — "Fearless (Taylor's Version)" and "Red (Taylor's Version)" — following the dispute regarding ownership of the masters to her first six studio albums.
Cash App Borrow: How To Borrow Money on Cash App
Here It Is: Our 2022 Small Business Spotlight
The amount of hard work it takes to write, record and release this much music, both new and re-recorded, in such a short timespan is genuinely incredible to me. It reaches the next level of creative progression if one considers she made this music during a global pandemic. As a fan, this teaches me if you love what you do your passion will light the way forward even amid dark, difficult times. (And I thoroughly anticipate "Midnights" and the concept of turning sleepless nights scattered throughout your life into art.)
Make Your Money Work Better for You
Of course, I'm not the only person influenced by Swift. Here are some of the major career decisions Taylor has made which resonate with other professionals and fellow Swifties. 
Advocating For What You Really Want
Adam Jacobs, managing director at Bubblegum Casting, has always admired Taylor Swift as an artist and person. What really resonated with Jacobs was Swift's decision to re-record her early studio albums. 
"There will always be a point in a person's career when they have already gained enough bargaining power to start advocating for what they really want," said Jacobs.
This is something that's easy to forget. Most people go through their careers thinking they will always be at the mercy of their employers or other people who are more powerful than them. Jacobs said Taylor showed this isn't necessarily the case. "In a powerful way that is, in some ways, unprecedented in her industry," added Jacobs.
Take Our Poll: Are You Struggling To Keep Up With Your Utility Bills?
Moving Up in Your Career Is All About Small Improvements
Flynn Zaiger, CEO of Online Optimism, cites these lyrics from the song "Look What You Made Me Do" off Swift's album "Reputation" as emphasizing constant improvement to oneself: "I got smarter, I got harder in the nick of time." 
Make Your Money Work Better for You
Moving up in your professional career, Zaiger said, is all about making small improvements. These gradually add up as one continues to play the long game.
It's also a good mantra to keep handy if you start to doubt your own abilities or feel unworthy of your successes.
If you're suffering from imposter syndrome, Zaiger recommends reminding yourself of these lyrics in a mirror after moments like earning a promotion you worked hard for.
Your Fans Are Your Greatest Champions
Throughout her career, Taylor Swift has always expressed gratitude for her fan base. She often surprises fans with letters and gifts. Over the years, she has paid off student loans for one superfan and helped a pregnant fan buy a house. Her songs and music videos are also full of Easter eggs and hidden messages for avid fans to decipher and decode the meaning therein. All of these efforts, and kindness, has only endeared her further to her fan base.
Most of us may not have millions of fans, but we are not without our own fans. Think about a supportive parent, grandparent, sibling, best friend, mentor or cousin. They will always cheer for you when you're experiencing your wins and lift you up when the going gets tough. 
Look Ahead to the Next Big Thing
Nobody knows what genre of music "Midnights" will be. The speculation is it could be an edgier album than most since Swift is seen on the cover holding a cigarette lighter. 
Make Your Money Work Better for You
In a Nylon interview, Taylor Swift superfan Elizabeth Lyle shares theories on TikTok about the lighter potentially representing "playing with fire" and the 1970s inspired style behind Swift's public appearances lending itself to a potential disco vibes album. But, Lyle also said the aesthetic of Swift's albums doesn't always align with the sound. Swift's album "1989" was originally a 1980s themed cover, but Lyle points out she didn't end up doing an '80s album.
Zaiger said Swift's albums have always reflected the next big trend in music, allowing her to develop a sound which matched where the industry was heading. It's equally as important for professionals to think ahead throughout the course of their careers.
"Developing a professional career over decades is going to require you to look ahead at what's going to be the next big thing in your industry, whether it's adding on technical skills, or soft skills like staying motivated while working from home," said Zaiger. "Every professional should be thinking about what skill set will be necessary two years from now when considering what capabilities to work on today."
More From GOBankingRates
Make Your Money Work Better for You