What the Job Market Looks Like for 2021 Grads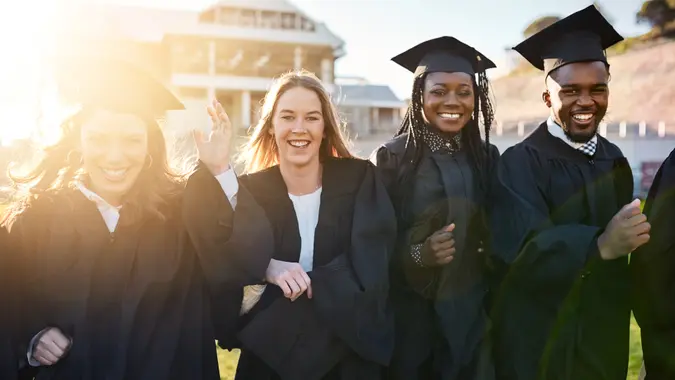 PeopleImages / Getty Images
The coronavirus pandemic changed daily life for all Americans over the past 15 months, but one of the most impacted groups, undoubtedly, was college upperclassmen.
A year ago, as businesses in nonessential industries all but shut down, the Class of 2020 faced dimming job prospects. Internship opportunities for rising seniors plummeted.
Read: What Income Level Is Considered Middle Class in Your State?
See: 20 Jobs Where You Can Make $60,000 Out of College
Now, with the number of Americans vaccinated to fight COVID-19 increasing — 52% of the population 18 and over is fully vaccinated, according to the Centers for Disease Control and Prevention — and the decline in local restrictions, companies are getting back to business, adding jobs and hiring.
In fact, the Class of 2021 Report from iCIMS, a talent cloud company, says nearly 60% of human resources professionals have indicated new entry-level jobs will be available for this year's grads. Another report, the Job Outlook 2021 Spring Update from the National Association of Colleges and Employers, said employers anticipate they will hire 7.2% more new graduates this year than they did in 2020.
Make Your Money Work Better for You
But members of the Class of 2021 are entering a work world far different from the one their recent peers entered. For starters, jobs increasingly are based remotely, and while seasoned workers might have enjoyed working from home during the pandemic and will continue to do so, new grads are eager to immerse themselves in the culture a physical workplace provides, the iCIMS report said. And no matter where they work, it isn't enough anymore for new hires just to demonstrate proficiency in their field.
Check Out: The World's Most In-Demand Jobs That Don't Require a Degree
More: 15 College Degrees That Won't Make You Money
"The Class of 2021 is entering the workforce at a time when the traditional aspects of the workplace experience are being called into question," said Jewell Parkinson, chief people officer of iCIMS. "On one hand, the desire for flexibility is paramount for all, but on the other hand, this up-and-coming generation also wants and needs the experience of social connection and ingraining themselves within an inclusive learning culture where physical space matters. As businesses consider their next steps, they cannot ignore the impact of how and where they work will have on their ability to attract, engage, hire and advance talent and be successful."
Make Your Money Work Better for You
As a result, nontraditional skills are attracting hiring managers. A study by PSI Services, a workforce solutions provider, showed seven skills that employers are looking for, and they included critical thinking, adapting to change and embracing diversity, said Dan Hughes, the company's director of international research and development.
"While it's important to have experience, employers will be looking for hints that candidates have these soft skills as well," he said. "It's hard to put these on your résumé, so new candidates should take time to prepare for the interview and have some comments, stories and questions ready that demonstrate their ability to think critically or to adapt to change."
Learn: The Top Company Hiring Now in Each State
Discover: 20 Hot Jobs That Pay More Than $150,000
And that change could be switching up an anticipated career path. Kevin Harrington, the CEO of Joblist, said the pandemic also has brought new opportunities to the forefront, and new grads should think about different fields where their education and skills could translate.
"While certain legacy industries have struggled in the past year, others have boomed," Harrington said. "On a wide scale, the pandemic created an opportunity for job seekers everywhere to take a step back and reconsider their career options. Young job seekers are likely the most adaptable and well-positioned to take advantage of macro trends that were caused or accelerated by the pandemic."
Make Your Money Work Better for You
Emily Viner, the vice president of agency growth and development for Guardian Life, agreed.
"Be open to different industries," she said. "Think about your passions. Can you link a sales career to what you have a passion for?"
Find Out: How Much You Really Take Home From a $100K Salary in Every State
Explore: 10 US Cities With Plenty of Jobs and Cheap Housing
The pandemic hasn't changed some traditions, however. Viner said preparing for a job search through research and networking is essential, as is a personal follow-up after an interview.
"When applying for a role make sure you do your research not only on the company, but also use your personal and professional network to gain insight into the role and organization," she said. "Be prepared with two to three questions for the interviewer that demonstrate thought and intention. You need to keep in mind that there are endless applications, so if you can identify someone within your networks that works for the organization, ask them for an introduction to the hiring team. Social media is a great resource for networking.
"Another tip is to send handwritten thank you cards to employers. It's old school, but very few applicants take the time to do so."
More From GOBankingRates
Last updated: June 7, 2021
Make Your Money Work Better for You