12 Things You Should and Shouldn't Say When Leading a Meeting

6 min Read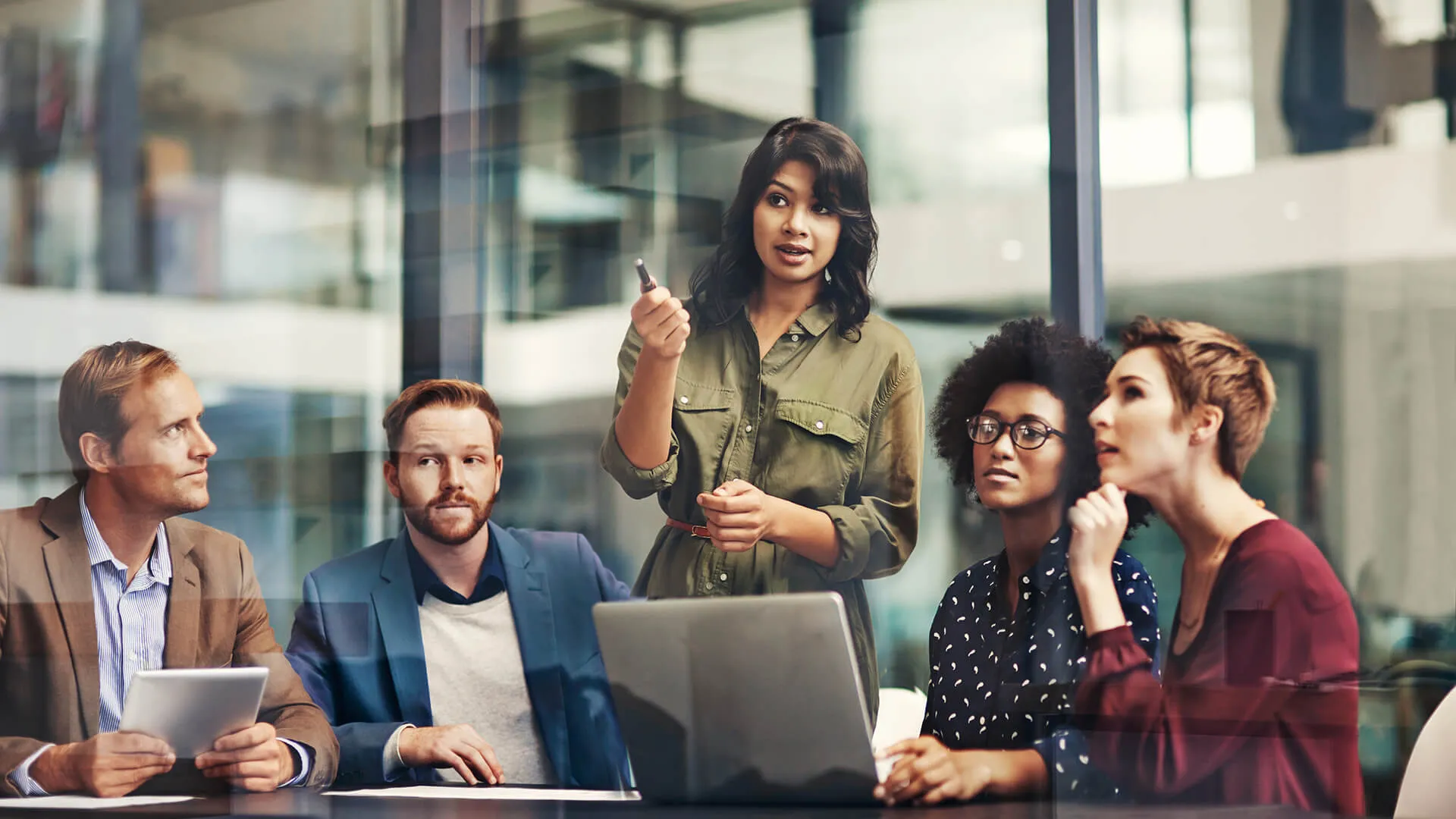 If your energy feels drained at work from spending what seems like hours and hours sitting in meetings, it's because you probably are. According to MIT research, senior managers attend nearly 23 hours of meetings every week, and the amount of time American workers spend in meetings has been on an upward trajectory over the past few decades.
Effective meetings can be a conduit for effective collaboration — but if you're not running a meeting the right way, it's just a waste of time. Whether or not you're conducting effective meetings can depend on simple turns of phrase. I spoke to career experts to find out what to say when leading a meeting to be a better a leader.
Last Updated: Dec 10, 2018.
Make Your Money Work Better for You
Do Say: Let's Get Started
Use this phrase to signal that the meeting is starting and any side chatter should stop — and be sure that you're starting the meeting on time.
"If you get going late, you disrespect attendees' time and make people think they can stroll into future discussions when it's convenient for them," said Michael Steinitz, Sr. Executive Director, Professional Staffing Services at Robert Half.
Don't Say: Let's Stay a Few Minutes Longer to Discuss This
"Unless it's a hyper-critical issue that can't wait, don't let meetings drag on past the scheduled end time," said Steinitz on how to conduct a business meeting. "It shows disrespect for individuals' time and could disrupt the rest of their day."
Do Say: [Name], What Do You Think About This? You Always Have Good Ideas
Calling out people by name is a way to ensure that those who might otherwise be hesitant to speak can get their ideas out there.
"Make sure everyone has a chance to be heard," said Steinitz. "If someone appears hesitant to contribute or is otherwise silent, call on them for their thoughts and to show them you appreciate their input."
Steinitz added that if any person at the meeting isn't expected or isn't able to contribute, there's really no point in including them. In fact, including them is likely a waste of their time.
"Before calling a meeting, think about who really needs to be there," he said.
Don't Say: I Know It's Not on the Agenda, but Let's Talk About [Different Subject] Since We're All Together
To lead effective staff meetings, try to stick to the topic at hand. Bringing up a subject employees aren't prepared to discuss unfairly puts them on the spot.
"Don't take up others' time because it's all of the sudden convenient," said Steinitz. "If an issue is critical and needs to be addressed right away, say so and explain why. If it can wait, let people get back to their day."
Make Your Money Work Better for You
Do Say: You Make an Interesting Point, but It's Outside the Scope of This Project — I'll Set Up a Separate Discussion for That
As a meeting leader, you're responsible for making sure that the meeting stays on track.
"If someone goes off topic, there are two responses to avoid: 1) blasting the person, and 2) delving further into the tangent," said Steinitz. "Instead, acknowledge the point and quickly refocus the discussion."
Don't Say: That Will Never Work
"Don't dismiss ideas out of hand," said Steinitz. "It's rude and ineffective. Rather, ask the person to explain his or her thought process and look for ways to build on it further. Instead of brushing an idea aside, you'll find value to advance the discussion, while also showing everyone their input is valued."
Do Say: Based on My Research and Conversations…
If you're introducing a new idea, be sure to explain your reasoning behind it.
"When proposing an idea, quickly summarize what makes you qualified to address it," said Steinitz. "Don't give people a chance to think you haven't done your homework."
Don't Say: I'm Just Thinking Out Loud…
Know what you want to say ahead of time. This phrase implies that you're just speaking off-the-cuff and that you haven't put in the effort to be prepared with fleshed out ideas.
Do Say: This Is What I Think We Should Do
Having open ears and an open mind is an effective leadership trait anyone can develop. By saying, "This is what I think we should do," versus, "This is what we're going to do," you're letting attendees know the proposal isn't set in stone.
This phrase "naturally implies that you haven't totally made up your mind, and that you're open to suggestions or feedback," said Rafael Salazar, owner and president of Rehab U. "People will feel more apt to provide feedback" if you phrase a suggestion this way, he said.
Make Your Money Work Better for You
Don't Say: I Appreciate Your Efforts, but…
Ketan Kapoor, CEO and co-founder of the HR technology company Mettl, said that it's best to steer clear of counter statements.
"Instead of cutting to the chase, most people start talking on a positive note, immediately followed by a negative or counter-statement," he said. "Even though the idea is to convey your opinions without offending the other person, the strategy backfires and does more harm than good. Phrases such as 'I appreciate your efforts on the project, but…' or 'I am not questioning your integrity, however…' play spoilsport in meetings. The first statement only tries to mask the negative second statement, which shouldn't be the case. Instead, keep your tone constructive and gentle when you are trying to highlight an issue." 
Do Say: Here Are the Takeaways
Even if you're running effective meetings, it's easy for attendees to forget what they're actually responsible for at the end.
"Make sure all meetings end with attendees knowing their action items," said Steinitz.
To be even more effective, verbalize the action items at the end of a meeting, and then send up a wrap-up memo where each action item is clearly spelled out.
Don't Say: Let's Have a Follow-Up Meeting
Using this innocuous-seeming phrase can end a meeting on a bad note.
"It means the meeting you're in right now isn't a good use of time," wrote Inc. contributing editor John Brandon on the site. "I prefer when someone says a follow-up meeting won't be necessary because the person responsible for resolving an issue is going to update everyone."
More on Career
Gabrielle Olya contributed to the reporting for this article.
Last Updated: Dec 10, 2018.
About the Author