What You Should Consider When Job-Hopping in 2022 To Increase Your Pay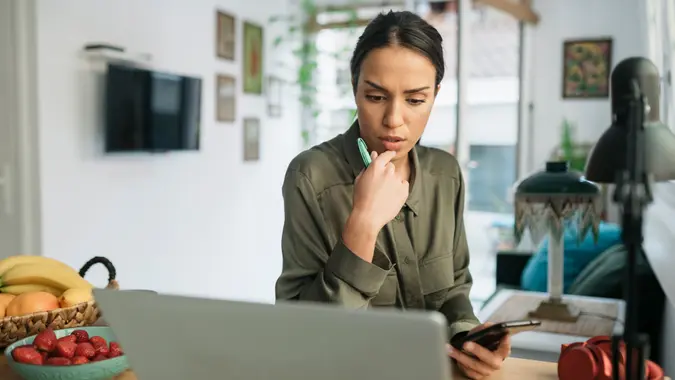 Brothers91 / Getty Images
If you think Dec. 31 closed the door on the Great Resignation of 2021, you should know that the job market does not obey the calendar — the pursuit of greener professional pastures has marched on into the new year.
Think About It: Should You Be Looking To Make a Career Change in 2022?
See: How To Jump-Start Your Job Search and Find the Perfect Position in 2022
"2022 is shaping up to be a great year for a career change," said Christy Noel, author of "Your Personal Career Coach." "Why? Thanks to the Great Resignation and the worker shortage, companies are now more open and flexible on the requirements for open positions. They are looking at and appreciating transferable skills now more than ever. This puts career changers in a much stronger position than in the past. They can go after careers in different industries and expanded roles, applying with confidence, knowing employers need the assistance. If you show them how your experience connects with their needs, more opportunities will be open to you." 
Here's what the experts think about job-hopping in 2022 in pursuit of higher pay and a better life.
If You're Looking: 22 Side Gigs That Can Make You Richer Than a Full-Time Job
A Few Things To Know Before You Take the Plunge
If you do decide that 2022 is the year that you'll finally shift career gears, manage your expectations according to your wage and your industry. According to The New York Times, the sudden reopening of the economy last year gave low-wage workers more collective leverage than ever before. The Great Resignation, according to The New York Times, was their rebellion.
Make Your Money Work Better for You
Despite all that's been written about white-collar professionals reevaluating their work-life balance, most of the turnover was in lower-wage sectors, where the competition for labor has been most intense. Lower-wage workers were much more likely than the larger workforce to earn higher pay faster by leaving their jobs than they would have by staying put. That dynamic didn't play out the same way in industries with higher average salaries, and there's no indication that things have changed this year so far.
Dream Job Alert: These 10 Companies Let You Work From Home AND Have Unlimited Vacation Time

Instead of Searching for a New Boss, Many Will Become Their Own Bosses in 2022
You can chase higher pay in 2022 by leaving one employer to sign on with another — or you could leave behind the concept of an employer altogether and go to work for the person who lives in your mirror. 
Make Your Money Work Better for You
"Freelancing has grown to new levels of success due to the freedom it allows," said Chris Walker, CEO and founder of freelance services site Legiit. "Freelancing as a career allows for creative expression and the opportunity to combine your skillset into an interesting career. If 2020 and 2021 were your epiphany periods, why not take the leap toward the career you desire? If it seems too daunting to leave the 9-to-5 job, you can build your freelancing experience up to the point where you feel comfortable enough to resign." 
One of the reasons that you might consider branching out on your own in 2022 instead of changing jobs is the sheer variety of options that exists in today's freelance market — fields within fields within fields. 
For example, on the Legiit platform alone, freelancers connect with those who would hire them across 15 different subfields in the graphic and design category alone, including NFT art, QR codes, T-shirts, banner ads and book covers. In total, there are 10 umbrella categories — including writing, video, SEO and audio and music — each of which might contain a dozen or more active subfields. 
Make Your Money Work Better for You
Again, that's just one freelance marketplace. There's a lot of work out there for ambitious independent contractors in 2022. 
Read: 6 Career Mistakes To Avoid During an Economic Downturn
Success Will Not Be Distributed Equally Across Industries
Low-wage sectors fueled the Great Resignation. In the white-collar world, most of the jobs that were created in 2021 were concentrated in a few key areas. That theme appears to be continuing into 2022, which means that your success in job-hopping will largely depend on where, exactly, that hop will land you.
"There will be a number of growth sectors," said interview coach and manager Chris Delaney, author of "What is Your Interview Identity?" "We'll see a demand for data scientists whose role is to analyze, process, and model data," Delaney said. "Data scientists will be hired by global brands such as Meta and large businesses such as supermarkets that use loyalty cards."
It makes sense. Companies collected mountains of data in 2020 and 2021 as both commerce and business shifted further into the online space — it stands to reason that those with the skills to manage and interpret it will be a hot commodity in 2022.  
According to Delaney, digital marketing — which was already trending pre-pandemic — is another field worth setting your sights on this year. 
"Now more than ever, there will be a quick uptick in digital marketing vacancies, especially as we slowly move towards working, socializing, and interacting in the metaverse," Delaney said.
The other big growth sector is artificial intelligence, which has by now infiltrated nearly every corner of the economy. 
"AI is everywhere, from AI-programmed interviewers responsible for the hiring process to natural language processing systems in tech such as Alexa," said Delaney, who cited a report claiming that 2 million new jobs will come out of the AI industry in the near future.
Get the Job: Highest-Paying Work-From-Home Jobs
Just Make Sure You're Not Running Toward a Mirage
AI engineering, digital marketing and data science are not the only fields in high demand, but they are all niche specialties — and just because a data scientist can pivot to a better position, doesn't mean that you'll get the same results.
In that way, the Great Resignation has a lot in common with Instagram — there's a whole lot of airbrushing going on and average people often find themselves chasing a utopia that doesn't really exist.  
"If you can't think of any reason why you should leave your job aside from FOMO, then you're probably better off staying where you are," said Chel Gacrama of the personal development site Castnoble. "In this age of comparison, it's very easy to look at other people's career journeys and think that ours should be moving just like theirs are. But a career journey shouldn't always be towards increasingly greener pastures. Sometimes, we can be lucky the first time and land a job that perfectly suits our needs. We were always told to get out of our comfort zone in order to grow, but what if the zone is comfortable for a reason? If you think it is, definitely stay."
More From GOBankingRates
Make Your Money Work Better for You