Why CEO Pay Packages Have Gone Down for the First Time in 10 Years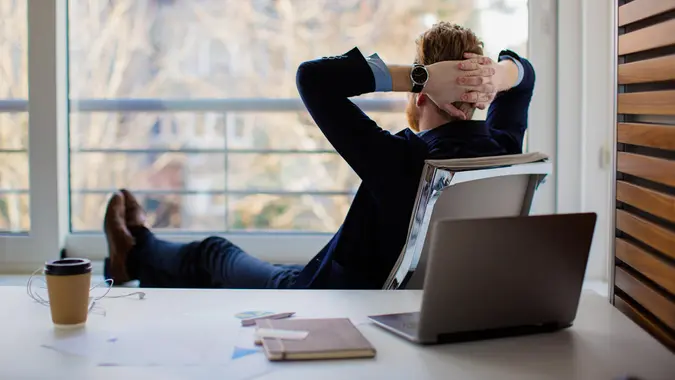 milanvirijevic / Getty Images
In 2021, corporate CEOs earned an average of 399 times a typical worker's pay, according to the Economic Policy Institute. If you had your fingers crossed that they would make it to 400, prepare to be disappointed.
A Wall Street Journal report found that CEO pay packages for two-thirds of America's 500 largest companies fell in 2022 for the first time in a decade after getting richer and richer every year since the early 2010s.
To understand why, you have to understand how large companies compensate their chief executives and how they report executive pay to regulatory authorities.
The Pay vs. Performance Rule
In August 2022, the Securities and Exchange Commission (SEC), which regulates publicly traded companies, adopted a new rule called 402(v) of Regulation S-K.
It ushered in new "pay versus performance" rules, which provide greater transparency about how a company's financial performance correlates with its executive pay. Mandated by the Dodd-Frank Act, the rule was meant to help people make informed investment decisions based on what companies pay their executives compared to the shareholder returns they deliver.
"It is primarily a result of the evolving expectations and demands of stakeholders for greater accountability and fairness in executive compensation practices," said Jeff Mains, CEO of the business consulting firm Champion Leadership Group.
The new rules didn't compel companies to pay their executives less, but it did force them to evaluate and report gains and losses in the stock awards they issue — and that's why it appears that two out of three S&P 500 CEOs received pay cuts last year.
Make Your Money Work Better for You
CEO Pay Is Hitched to the Wagon of Company Stock
Shareholders elect company boards and boards hire CEOs. Naturally, executive pay is structured to incentivize them to make money for shareholders by tying their fortunes to that of their companies.
According to The Business Standard, 70% of CEO compensation in 2022 came from stock or stock option awards. Among the 25 highest-paid chief executives with packages in excess of $31 million, equity awards accounted for 77% of total compensation.
Actual salary accounts only for a small percentage of what makes CEOs rich.
The Journal report found that the median pay package for S&P 500 CEOs dropped from $14.7 million in 2021 to $14.5 million in 2022. The median cash compensation was $3.7 million.
The Launch of the New SEC Rule Coincided With a Bear Market
Traditionally, companies reported executive compensation based on the pay package's value at the time it was awarded. But the 402(v) "compensation actually paid" measure requires an analysis of how real compensation changes in relation to the company's financial performance.
The S&P 500 began declining in early January 2022. On June 13, it officially entered a bear market when losses topped 20%.
With executive pay directly tied to stock performance, most chief executives experienced sharp declines in what the new SEC structure calls compensation actually paid.
"A weak stock market can greatly impact the value of stock options and other equity-based compensation that make up a significant portion of CEO pay," said Adam Garcia, founder of The Stock Dork. "If the market experiences a downturn, the value of these incentives decreases, resulting in a reduction in the overall compensation package. As a result, CEO pay is subjected to downward pressure."
Most CEOs earned less money last year, but not because they received pay cuts.
Make Your Money Work Better for You
Vesting and Benchmarks Create Compensation Roller Coasters
Many companies issue equity compensation on a vested basis — to encourage CEOs to stay with the company, their stock awards gain value over time. In other cases, CEOs unlock new stock awards when the company achieves predetermined performance benchmarks.
For example, in 2021, Expedia CEO Peter Kern received one of the S&P 500's largest pay packages. Valued at around $296 million under the old reporting rules, it will continue vesting through at least 2026. But Expedia stock got pummeled in 2022, suffering losses of roughly 50%. As a result, Kern's compensation package lost an astonishing $237 million of its value.
Alphabet CEO Sundar Pichai's pay package was valued at $226 million under the SEC's traditional reporting standards. But the company's stock plummeted from $145 to $89 in 2022 and Pichai's "compensation actually paid" dropped to roughly $115.8 million.
On the other end of the spectrum, Regeneron Pharmaceuticals stock bucked the bear and increased in price from $627 to $721 in 2022. Its CEO, Leonard Schleifer, saw his compensation package grow in value from $7 million to nearly $100 million as a result.
"This correlation between CEO pay and the stock market underscores the interdependence of executive compensation and corporate performance," said Mains.
In short, CEO pay packages didn't decline, the market did. Only now, new SEC rules force companies to detail exactly how changes in stock prices impact what their chief executives earn.
More From GOBankingRates
Make Your Money Work Better for You