Your Career: Why Going the Extra Mile Still Matters in 2023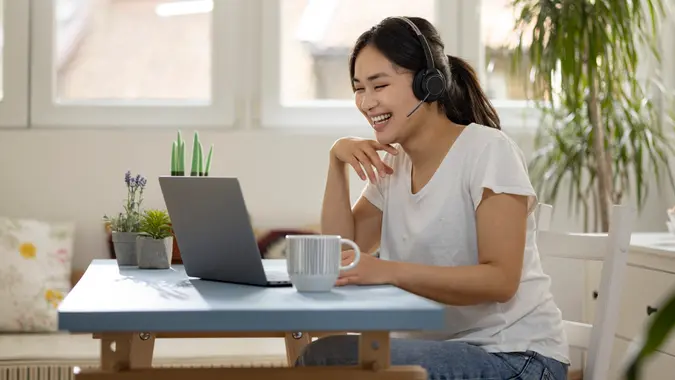 Ivan Pantic / Getty Images
Chances are you might have heard the wild rumor that going the extra mile at work is a thing of the past. This further emphasizes the old adage that you shouldn't believe everything you hear.
Learn: Pros and Cons of Living in a State With No Income Tax
With a Recession Looming: Make These 3 Retirement Moves To Stay On Track
"With the permanent and new hybrid schedules sweeping across the globe — or I like to call it the 'rhythm of work' — there is more opportunity now to either go the extra mile or sit back and coast," said Michael Couck, director of people and places at Telemus.
He said it's still important to prioritize your day, as working from anywhere can introduce different and unfamiliar distractions.
"All of a sudden, a high performer is no longer flying at the altitude needed for growth," he said.
Beyond simply boosting your career, going the extra mile also can help you keep your job.
"Especially given the recent wave of organizational restructures and cost cutting in the face of economic uncertainty, positioning yourself as an indispensable asset with your company is critical," said Joseph Liu, career change consultant and host of the Career Relaunch podcast. "More than ever, employers are seeking employees who bring a level of enthusiasm, effort and energy into their roles to maximize the value [they] provide within the organization."
Make Your Money Work Better for You
Why Effort Matters
You might think you're taking control by slacking off, but Amy Zimmerman, chief people officer at Relay Payments, said you ultimately won't benefit from this behavior.
"There's been a lot of talk about 'quiet quitting' and 'rage applying' and team members taking greater control over their own work productivity as a way to lower expectations," she said. "Unfortunately this isn't a good approach for long-term success at a job or for the long haul over a career."
When you're at work, you have a job to do, and she said doing it well still matters.
"Like it or not, most of us go to work each day and it's called a 'job' for a reason, where we are hired and compensated to perform on behalf of a company," she said. "The best way to grow professionally — and I believe personally — is to show up as your best self each day."
Take Our Poll: How Much Salary Would Buy You Happiness?
Make Your Money Work Better for You
Of course, she said that doesn't mean you need to accept a situation where working crazy hours is the standard or you have to put up with a toxic work environment. If this is your reality, she said there are plenty of companies out there that will recognize, value and reward you for your contributions.
"For many people, doing your best brings fulfillment and a sense of accomplishment that carries over into your non-work life," she said. "We spend considerable time in our lives at our jobs; and, when you do your best, you are usually recognized and rewarded through compensation and promotions."
If you opt to not do your best, she said, your career will be impacted.
"Team members who routinely avoid going the extra mile will miss out on opportunities for greater responsibility and ultimately compensation and promotions," she said. "Or, in many cases, they can also be let go and it will become more and more difficult to find a job if this is a recurring pattern."
Make Your Money Work Better for You
Five Small Ways To Go the Extra Mile To Impress Your Boss
Ready for your star to shine brighter than ever at work? Here are a few easy tips to help you be your best self each day.
Improve Your Emotional Intelligence and Body Language Intelligence
If you work remotely, you're no stranger to Zoom meetings. Couck said you've likely seen fellow employees check out mentally, as it's hard to hide that look when staring into a camera.
"Now, more than ever," he said, "it's so important for employees to brush up on their emotional intelligence and their body language intelligence (BQ). Yes, that BQ is a real thing."
Being cognizant of these behaviors can ensure you're not inadvertently sending the message that you don't want to be in the meeting.
Block Your Calendar
"Your calendar doesn't have to be used for meetings with others," Couck said. "You can use your calendar to block time for yourself."
He said this might sound like basic advice, but many working professionals move between different tasks so much, they're unable to practice strategic thinking.
"A more advanced practice to take things to the next level is plan your entire week on Monday morning or Sunday evening," he said.
In this approach, he said, you'll leave room for unknown variables and share your plan with your supervisor for accountability and alignment.
Take Breaks
While it may sound counterintuitive, Couck said taking breaks is a great way to switch gears and keep yourself at a level of peak performance.
"Take time for a mental and physical rest," he said. "There is no badge of honor for sitting at your desk for eight-plus hours."
Seek Input From Your Manager
"One of the best ways to focus your incremental efforts in the right place at work is to simply ask your manager what good looks like versus what great looks like on any given project," Liu said. "Getting your manager to articulate what actions would make a meaningful difference enables you to understand precisely where to go the extra mile."
He said this is important, because you don't know what your manager is thinking.
"Every manager is different," he said, "so rather than guessing where to go the extra mile, simply ask your manager which specific things you can do to make his or her life easier at work. Then focus your efforts there."
Build Internal Connections Outside Your Team
You likely put most of your effort into getting to know the co-workers you spend the most time with, but Liu said it's also important to branch out.
"Proactively build connections with cross-functional colleagues outside of your immediate team," he said. "Networking beyond your team enables you to raise your visibility and reach and increase the likelihood of you coming to mind for relevant opportunities across the broader organization."
More From GOBankingRates
Make Your Money Work Better for You