This Is Why Your Side Hustle Isn't Making Money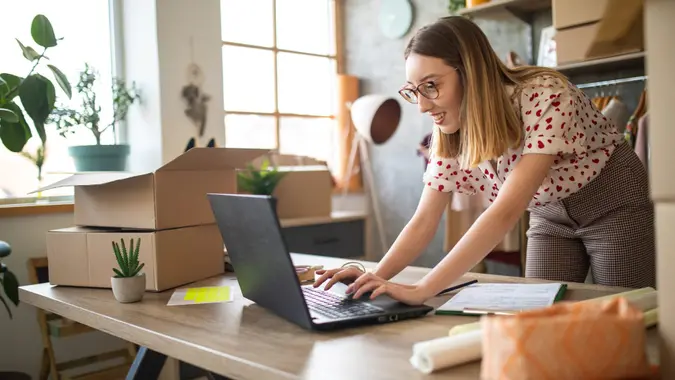 Cicy / Getty Images
If you're looking to launch a side hustle, recent history says you're on the right track. During the pandemic, those with multiple income streams tended to fare much better than people with significant savings. But be warned: You've got a tough road ahead.
To pull it off, you'll need hard work, determination, creativity and a little bit of luck — and even that is no guarantee. No matter the endeavor, those who succeed tend to share a few common traits — but so do those who fail. 
If you've already launched and your side hustle still hasn't reached its full potential, you might be making one of the common mistakes that have prevented many people in your situation from making their passion pay.
These are the pitfalls to avoid on your path to side hustle success. 
Failure To Create Awareness
As a full-time blogger since 2011, Jonathan Milligan has over a decade of success in the original digital age side hustle — and he uses his platform to help others achieve the same results. The founder of MarketYourMessage and BlogYourPassion, as well as the author of "Your Message Matters," he teaches writers and coaches how to use content marketing to create profitable side gigs of their own. Along the way, he has learned that even the best idea is doomed to fail if no one knows about it.
"A successful side hustle starts with a well-crafted content marketing plan to create awareness for your brand," Milligan said. "Make sure to develop a targeted marketing strategy using tools like blogging and social media to reach your audience and drive traffic to your site. This way, potential customers can discover your products or services. Too many side hustlers take their eyes off the importance of consistently publishing content to bring in new leads." 
Make Your Money Work Better for You
Failure To Engage
Creating awareness is a good start — but how you interact with the people you attract and the way you manage those relationships will determine whether or not you reach your potential. 
"Building strong relationships with prospective customers is the key to your side hustle's success," Milligan said. "Don't forget to invest time and effort in growing your email list and nurturing those relationships. An engaged email list allows you to connect directly with your prospects, share valuable content and keep them informed about new products or special offers. This will help you increase the likelihood of turning them into loyal customers."
Lack of Conversion
If Step 1 is making prospective clients and customers aware of your brand and Step 2 is constructively engaging with them, then Step 3 is to actually provide a service or product that's as impressive as your marketing materials.  
"Beware of spending too much time tweaking your website or getting lost in the planning stage," Milligan said. "It's essential to create tangible products and services that can generate revenue. Remember that striking a balance between a well-presented website and offering high-quality products with clear value propositions is crucial for driving conversions and bringing in revenue."
Selling Yourself Short
When they're first starting out, newbies are often so thrilled that people are actually willing to pay them that they lowball their fees because they're scared to run them off.
Make Your Money Work Better for You
"The most common mistake that side hustlers make is setting low rates," said Elisa Bender, co-founder of RevenueGeeks, which helps online entrepreneurs grow their e-commerce businesses. 
Bender said side hustlers — especially freelancers on sites like Fiverr and Upwork — sabotage themselves by charging less than they're worth in order to keep business rolling in. 
"What they tend to do is become less competitive," she said. "They set low rates for the work they offer, so they get a lot of work in return for less money. Doing this only puts pressure on the worker. They don't get the desired result and get burned out in the end."
Treating It as an Afterthought
Finally, there's the roadblock of time. Despite the new undertaking, side hustlers are still stuck with the same 24 hours per day that they had before. Without a plan and a schedule, it's easy to push the side business to the back burner and treat it as something you'll get to after you satisfy your real obligations. It's a mindset that invariably leads to failure.
"One key mistake is an inability to manage time efficiently," said Doug Cunnington, founder of Niche Site Project, which produces tools and templates for generating passive income. "A side gig, by its very nature, is a secondary responsibility, so it's easy for folks to push it aside when life gets hectic. I remember when I first started, I had to juggle a full-time job, a young family and my side hustle, and it took me a while to strike a balance." 
More From GOBankingRates
Make Your Money Work Better for You