Workers Now Expect Salaries of Almost $80K a Year — 8 Jobs To Look For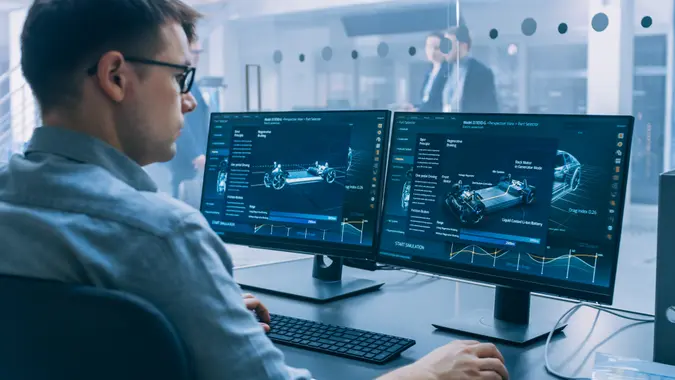 gorodenkoff / Getty Images/iStockphoto
If you're interested in new job opportunities, the upcoming September hiring surge makes it a great time to start looking. However, you should first consider your ideal salary since inflation increases the need to find a high-paying opportunity. Based on a July 2023 survey from the New York Federal Reserve, workers changing jobs wanted a minimum average salary of $78,645 — 8% higher than last year's figure.
H

Fortunately, 2022 wage data from the U.S. Bureau of Labor Statistics (released on April 25, 2023) indicated plenty of careers with average salaries of at least $80,000. Here are eight jobs that could fit your interests and qualifications.
1. Commercial and Industrial Designer — $81,740
Commercial and industrial designer jobs involve determining product requirements, making designs and prototypes and assessing functionality. This career lets you use your creativity and engineering knowledge to design everything from toys to cars. Requirements usually include a design portfolio and a bachelor's degree related to engineering or the arts. Manufacturers and design services are the top employers.
Make Your Money Work Better for You
2. Power Plant Operator — $88,960
Usually employed by utility providers or the government, power plant operators work with control boards and monitor power generation and distribution. This job requires a lot of concentration and the ability to work irregular hours. You can become a power plant operator without a college degree since employers provide extensive training. However, licensing may be required.
3. Registered Nurse — $89,010
Registered nursing is the ideal hands-on career if you'd like to examine, care for and educate patients. If desired, you can specialize in areas such as critical care or cardiovascular nursing. Educational requirements range from a two-year nursing diploma to a four-year bachelor's degree, and you'll need a state nursing license. Hospitals and ambulatory care centers are top employers, but in-home care is another option.
4. Environmental Engineer — $101,670
Working in the office or outdoors, an environmental engineer performs diverse tasks focused on identifying, preventing and fixing environmental problems. An engineering bachelor's degree can land you entry-level jobs in this scientific field. Having fieldwork experience helps too. Many opportunities exist in engineering services, scientific consulting firms and government.
5. Management Analyst — $104,660
If you like the idea of helping companies solve problems and improve their performance, you might enjoy a management analyst career. There are contract opportunities to work as a consultant, or you can serve as an in-house analyst for a company in your preferred industry. This job requires a relevant bachelor's or master's degree, and you'll need significant industry experience.
Make Your Money Work Better for You
6. Financial Analyst — $108,790
A financial analyst career is worth considering if you enjoy deciphering financial statements, recommending improvements, suggesting investments and creating presentations. There are chances to specialize in a particular industry, type of investment or region. You'll likely need a business-related bachelor's degree, and your employer may require securities licenses.
7. Construction Manager — $112,790
Overseeing projects, construction managers handle tasks such as planning budgets, assigning workers, monitoring progress and resolving interruptions. This career may be a good fit if you have a bachelor's degree and hands-on construction experience, and you would like a more business-oriented role. It's also a popular choice if you're interested in being self-employed.
8. Software Developer — $132,930
If you like solving problems, creating programs and learning technologies, software development is an in-demand, high-paying career option. This job often demands a computer-related bachelor's degree, but you can consider alternatives such as teaching yourself or attending coding boot camps. While computer systems design services firms employ many developers, you can find jobs in most industries.
More From GOBankingRates
Make Your Money Work Better for You