96% of Workers Will Be Job Hunting in 2023, New Monster Poll Shows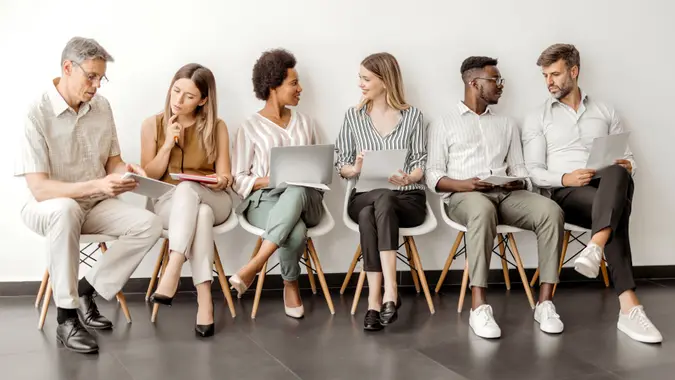 PixelsEffect / Getty Images
It seems like 2023 will be a year of professional renewal for many, as a whopping 96% of workers say they will be job hunting, according to a new Monster survey.
See: 2023's Housing Correction Could Be the Largest Since Post-WWII
Read: Get Your Credit Score On Track With These 3 Tips for Success
Find: How 2023 Recession Will Differ From 2008 and How You Should Prepare Differently
The December Monster poll found that nearly half of all respondents — 46% — expect a higher salary in 2023, largely due to inflation and an increased cost of living.
The main reasons why these Americans are job hunting? Those polled said they need a higher income (40%), are unemployed (35%), or that there is no room to grow in their job (34%). A concerned quarter of respondents (25%) said they are in a toxic workplace environment.
"In speaking with clients and candidates, there seems to still be uncertainty in the job market and so the extent of hiring we saw during the fall/early winter of 2022 from clients had slowed dramatically while candidates were more hesitant to leave their current positions because of the uncertainty," said Runa Knapp, co-founder and chief business development officer of FoundHer recruiters.
Make Your Money Work Better for You
That being said, Knapp added that the first quarter is one of the best times to look for a job.
"At this point a lot of clients have fleshed out their budgets, paid out bonuses and with that might come an exodus of employees on their end. With new jobs to fill, Q1 is one of the busiest times in our industry for job seekers and clients alike," Knapp said.
However, the Monster survey further found that many workers have some pessimistic views regarding what a new job search might entail. Indeed, 66% of respondents said they think it will be difficult to find a new job given the state of the economy, and 11% said they expect a lower salary due to company budget cuts.
Job Hopping Could Be Harder Than You Think
Experts noted that workers need to be aware of the pros and cons of job hopping. While switching to a new job might offer a higher salary and the opportunity to expand skills, there are some drawbacks.
"Some recruiters might view an excessive amount of job hopping negatively; perhaps equating it to a lack of commitment or an unknown character trait," said Knapp. "I like to see at least one employment between 2-5 years and the nature of increasing responsibilities that a candidate took on during that gig."
Make Your Money Work Better for You
Knapp added, however, that there are several reasons people job hop, such as lack of flexibility, not enough pay, needing more of a challenge and more responsibilities.
"So it's hard to really judge based on a resume alone without understanding the story firsthand from a candidate," Knapp said.
Finally, Knapp suggested that new job statistics can be particularly high in January because of people committing to new goals and resolutions to find something better or different.
Take Our Poll: How Do You Think the Economy Will Perform in 2023?
More: You Don't Need a 4-Year Degree To Land These 10 Remote Jobs
"Accordingly, I would expect the numbers to be higher in January and in Q1 as is the cyclical nature of recruiting; even on the client side we receive most of our open roles in Q1," Knapp said. "And while 96% of people are looking for a new job, it will be interesting to see how many people will actually jump ship. Maybe the statistics of joining a gym or workout class are just as high, but how many people will stick to their plan come February?"
Make Your Money Work Better for You
More From GOBankingRates
Make Your Money Work Better for You