Workers Are Willing To Keep Current Pay To Continue Working From Home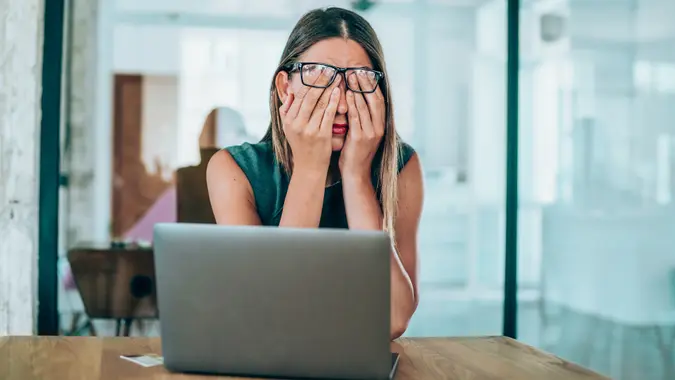 VioletaStoimenova / Getty Images
As pandemic-era restrictions began to ease, many employers started to call their workers back into the office. But people aren't happy, even going as far as to say they would rather leave a job over in-office policies than a pay freeze.
According to the Federal Reserve's Economic Well-Being of U.S. Households report released in May, adults who worked from home at least some of the time were asked about the likelihood of actively looking for another job or leaving their job if their employer required them to work in person each day. Eighteen percent of respondents said they would be very likely to look for another job if their employer froze their pay, while 28% said they would if their employer required them to work in person each workday.
The report noted that for those currently working from home, the likelihood of looking for another job after an in-office work requirement is consistent with that expected of a 2% to 3% pay cut.
The most common reason for preferring to work from home was for a better work-life balance (86%), followed by less time commuting to work (87%). Meanwhile, 73% said they felt more productive when working from home. (Note: respondents were allowed to choose more than one answer.)
As of  October 2022, 19% of employees worked entirely from home, according to the report. This is still significantly higher than the 7% who worked mostly from home in 2019.
Several companies have recently pushed for their employees to return to the office. JPMorgan Chase has dropped its hybrid work policy, and Amazon issued a mandate for its corporate staff to return to the office. Salesforce has also created a return-to-office policy, according to a draft of the company's plan shared in an internal Slack message viewed by Business Insider. The list of companies continues to grow.
Make Your Money Work Better for You
Executives believe that productivity increases when workers are in the office together, hoping to increase in-person collaboration, Insider reported. But some employers are taking aggressive steps to get people back by tracking attendance and threatening to terminate those who don't follow new in-office policies.
More From GOBankingRates