Graham Stephan: How I Make an Extra $100 Every Day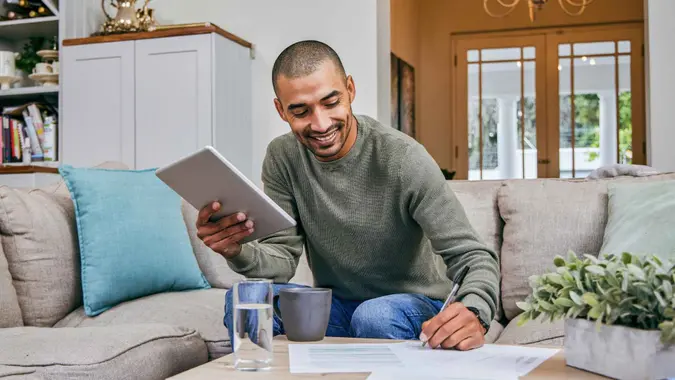 Moyo Studio / iStock.com
Graham Stephan, real estate agent, investor and YouTuber, recently suggested there are realistic ways you can easily make $100 per day in passive income. It does take a little work, but it's all about working smarter, not harder.
"Realistically, passive income is about leveraging your time upfront so that that way, you could continue to earn money in the future even when you are no longer working," Stephan said in a YouTube video.
Here are several ways Stephan says he makes $100 per day.
Dividends
Every time you buy stock, you're buying a piece of the company, Stephan said. This entitles you to a share of their profit. Some companies distribute a share of profits to eligible shareholders in the form of a dividend.
A company's dividend yield (expressed as a percentage) shows how much a company pays shareholders in dividends relative to its share price. Business Insider noted that a good dividend yield varies depending on market conditions, but a good yield is generally between 2% and 6%.
Stephan explained that if you pick several high-paying dividend stocks, then you could potentially make $100 per day with $520,000 invested. If you start off with nothing and invest $15 per day while reinvesting all of the dividends, Stephan said you could reach $100 per day in passive income within 30 years.
Real Estate Investment Trusts
A real estate investment trust, or REIT, is a company that owns and sometimes operates real estate that produces income, such as a rental property. REITs also pay back their investors in the form of a dividend.
Make Your Money Work Better for You
Public non-traded REITs often have a minimum investment requirement of $1,000 to $2,500, reported Forbes, but there are crowdfunding platforms that allow people to invest in REITs with less. However, these require investors to commit to real estate investments for longer periods of time.
Rental Income
Stephan explained that rental income is the most effective way to make $100 per day as fast as possible. But you do need a good credit score — a minimum of 700 — as well as a stable income and enough money saved for a down payment.
Stephan said this isn't entirely passive, and it's not completely hands-off. But if you have the time, this could make you more money for the time you put in long-term, noted Stephan.
Crypto
While buying and holding cryptocurrency isn't necessarily passive income, Stephan says some websites allow you to place your holdings directly on the website and then they pay you back with interest. Stephan said he makes $35 to $40 per day just by keeping his Bitcoin and Ethereum on one of these platforms.
He added that there's still a risk of losing everything, and it does take a few days to get your money off of these platforms.
Index Funds
If you want to put in as little work as possible, Stephan recommends investing in index funds. An index fund is a portfolio of stocks or bonds that you can buy into. Stephan said this gives the best diversification and gives you access to a wide variety of stocks.
Make Your Money Work Better for You
Following the 4% rule, Stephan said if you have $100,000 invested, then that's $4,000 in passive income — per year — for the rest of your life.
Savings
Another way is to cut back on your existing spending and save $100 per day instead. According to the Consumer Expenditure Survey, the average monthly expenses for an American household add up to $66,928 per year, which isn't that far off from the average annual income of $78,743 after taxes.
Stephan said that if you go through your budget and cut out non-essential spending, you potentially up to $1,500 per month.
More From GOBankingRates