Make Money With AI and ChatGPT: How To Earn $1,000 a Month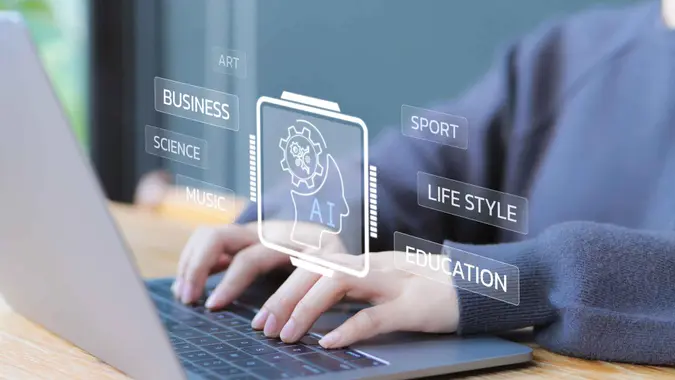 Supatman / Getty Images
You may have heard about Jackson Greathouse Fall, who asked OpenAI's ChatGPT to give him instructions to turn $100 into "as much money as possible." He followed the chatbot's instructions and within days created an affiliate marketing website worth more than $1,378. Another ChatGPT user claimed to make $6,147 in a week.
The message is clear: You can make a lot of money quickly using ChatGPT and other AI platforms. But how? Keep reading to find out.
How To Make Money on ChatGPT: 4 Ways To Earn $1,000
How are people using ChatGPT to make money? AI and ChatGPT do not offer get-rich-quick schemes. But if you are willing to put in the time and couple ChatGPT with your other skills, you can easily earn $1,000 per month or more.
Here's a look at four ways to earn extra income by using ChatGPT.
1. Write Articles With Help From ChatGPT
The average freelance writer earns $68,690 per year, according to ZipRecruiter. That is much more than $1,000 per week.
But what if you could write faster using ChatGPT to help you outline and research? You could earn more money in less time.
You can also use ChatGPT to help you write articles for your affiliate marketing website. This would allow you to earn money from sales of products that you promote on your website. ChatGPT can even help you find lucrative affiliate programs to join.
2. Use ChatGPT for Social Media Management
You can also use ChatGPT to create effective and compelling social media content to help promote your affiliate website. Influencers who are already earning money from social media can use ChatGPT to create more effective content faster.
Make Your Money Work Better for You
With ChatGPT as your assistant, you can also sell your services as a social media manager to other companies. Knowing how to use ChatGPT effectively to create the right type of content is a specialized skill. That skill will become more profitable and in-demand as the program's capabilities grow.
What Is ChatGPT?

ChatGPT is a sophisticated chatbot created by OpenAI. It can hold written conversations, help you research topics and even write content. It learns as you speak with it, growing more sophisticated by the day. The company calls this technology "Reinforcement Learning from Human Feedback," and it makes ChatGPT one of the most sophisticated AI systems for language available today.
3. Use ChatGPT To Create an App or a Chrome Extension
ChatGPT doesn't just help people put words on the screen. It can also help with coding and programming. If you have an idea for an app or a Chrome extension, you can use ChatGPT to help you write the code.
4. Create Effective Marketing Campaigns
You can always benefit from a comprehensive marketing strategy, even if you feel confident in your ability to create content for websites or social media. ChatGPT can help you find your target audience and generate a marketing plan that works, based on input from other successful marketers and the data that ChatGPT already has in its memory banks.
What Else Can You Use ChatGPT For?
Apart from asking ChatGPT for business ideas, you can use ChatGPT for business or personal use in many ways. ChatGPT can help you with research projects, make shopping lists or answer questions. It can often take the place of Google, providing information in a more conversational way than the search engine.
Make Your Money Work Better for You
You may also use it to help you write emails, provide inspiration for social media posts or create fun artwork. Keep in mind that most schools and colleges have rules against using ChatGPT for writing papers.
Many websites also have policies against using AI to write articles. CNET recently had to post substantial corrections when human editors found errors in AI-generated content that was published on the website.
What Is AI?

AI, or artificial intelligence, uses natural language processing, machine learning and other sophisticated computer algorithms to streamline tasks that, previously, had to be done by human beings.

For instance, an AI can sift through vast amounts of data, recognize patterns, draw conclusions, share research and more. AI can use these basic skills to hold conversations, create content, generate art and learn so that it gets more human-like with each interaction.
How To Make Money With AI: 4 Ways To Earn $1,000
Of course, ChatGPT is not the only AI platform out there. If you are wondering how to make money with AI, there are many other ways.
1. Use AI To Build Websites
You can use AI to build websites. You can then sell those sites or use them to generate income through affiliate marketing, Google AdWords or subscriptions. Some examples of AI-based website builders include WIX, Site123 and Webador.
2. Use MemeChat To Sell Your Memes
Did you know memes are big money? You can use the MemeChat app to create and share your own memes and earn money. You can also earn money through the app by sharing memes with someone who hasn't downloaded the app or become a registered user.
Make Your Money Work Better for You
3. Create Your Own Chatbot
If you have experience in natural language programming and machine learning, you can develop a chatbot and sell it to companies. Earning money through AI this way is likely to take time and a college education, or at least several courses to show you how to program AI.
4. Use AI Art Generators
Just as ChatGPT can create written content and songs, AI art generators allow you to create visual art by entering specific parameters. Some examples of AI art generators include DALL-E, DeepDream and NeuralStyle.
How can you make money with AI art? Here are three ways:
Selling your creations as prints or digital copies
Making NFTs from the designs and selling them
Putting your AI art on a merchandise line, such as t-shirts, mugs or tote bags.
Final Take
Learning how to make money with AI and ChatGPT is simple if you know how to use the program and what questions to ask. Whatever your interests, if you have a computer or smartphone you can easily make $1,000 a week or more using AI and chatbots.
FAQ
Here are the answers to some of the most frequently asked questions about making money with AI.
Can AI make you rich?

AI has the potential to speed up tasks like writing or web development. Right now, you're most likely to get rich from AI by programming AI systems.

How much money can you make with AI?

Users claim to make thousands of dollars per week using ChatGPT and other AI programs and apps.

How much can you earn from MemeChat?

For each meme you create that gains approval, you can earn between 5 and 15 INR, or between $0.06 and $0.18 per meme.
You can earn the most money on MemeChat by becoming an OG Creator, which means you make high-quality, original memes consistently.

How can you make money with a chatbot?

You can use chatbots like ChatGPT to help you create a website or social media content, get ideas for successful businesses and more.
Make Your Money Work Better for You
Our in-house research team and on-site financial experts work together to create content that's accurate, impartial, and up to date. We fact-check every single statistic, quote and fact using trusted primary resources to make sure the information we provide is correct. You can learn more about GOBankingRates' processes and standards in our editorial policy.