8 Best Places To Sell Stuff Online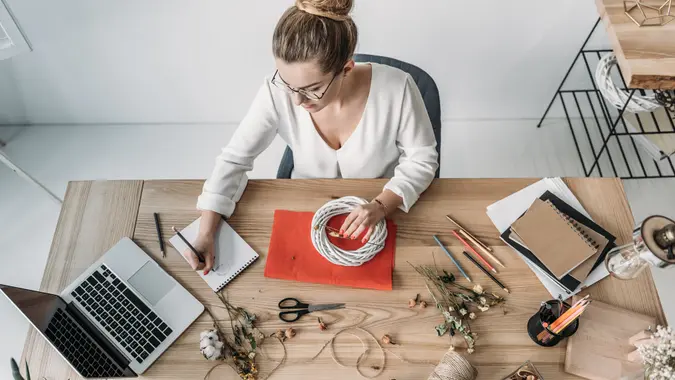 LightField Studios / Shutterstock.com
You have items to sell online, but you're not sure how to go about it. Whether you're trying to clean house and make a bit of money or start an online store, you're not sure where to set up shop.
Thankfully, learning where and how to sell stuff online is much easier than you might imagine. There are plenty of reputable sites to choose from, some of which specialize in a certain niche.
8 Sites Where You Can Sell Items Online
If you're looking for a platform you can use to sell stuff online, keep reading to learn about eight of the best options.
1. eBay
If you don't already have one, you'll need to create an account to start selling on eBay. After you've taken this step, you can start selling just about anything you want, as long as it doesn't violate laws or infringe on intellectual property rights.
As a casual seller — i.e., creating less than 250 listings per month — you'll pay no insertion fee. However, if you exceed this amount, you'll pay a 35-cent insertion fee per listing.
You'll also pay a final value fee. For most items, this is 13.25% of the sale price or lower, plus a 30-cent fee.
2. Amazon
Another massive online marketplace, you can also sell a wide variety of items on Amazon. Do note that some items require a professional seller account, while others can be sold by anyone.
Make Your Money Work Better for You
You'll want an individual account if you plan to sell 40 items or less each month. You'll pay 99 cents per item sold, plus additional selling fees.
If you opt for a professional account, you'll get a variety of added benefits, including access to advanced selling tools and the ability to sell restricted items. This type of account costs $39.99 per month, along with additional selling fees.
3. Etsy
What is the easiest way to sell things online? If you're a crafty person selling handmade items or want to open a shop that sells vintage goods, Etsy is your place.
You'll pay a 20-cent listing fee for each item, along with a 6.5% transaction fee with every sale. The platform has 95.1 million active buyers, so this is an opportunity to get in front of an absolutely massive audience.
4. Poshmark
You cleaned out your closet and found at least a few items with a decent resale value. Instead of donating these pieces, you want to see if you can earn a bit of cash by selling them.
Poshmark is a great platform for this, as it allows you to market your items to its 80 million registered users. Listing items on the fashion marketplace is free. If your item sells, you'll pay $2.95 for anything under $15 and a 20% fee for everything else.
5. Bonanza
If you're looking to start an online shop, Bonanza could be your platform. Designed to help entrepreneurs build a business that attracts repeat customers, the seller-centric site is modeled as an online shopping mall filled with individual sellers' booths.
Make Your Money Work Better for You
As a seller, you won't pay any listing fees or monthly store fees. However, when you make a sale, you'll pay a 25-cent transaction fee, as well as a final value fee that's 3.5% for items under $1,000. For items over $1,000, you'll pay the 25-cent transaction fee, the 3.5% final value fee and a flat 1.5% of the amount exceeding $1,000.
6. Chairish
Figuring out how to sell stuff online can be tough — especially with larger items. Chairish, an online platform that specializes in the resale of home furnishings and art, has you covered.
Whether you're an industry professional, clearing out a loved one's home or simply redecorating your own space, this can be a great place to sell. Choose from several different seller plans that allow you to keep either 70% or 80% of the sale price of each item.
7. Facebook Marketplace
You might be wondering: How can I sell my stuff online for free? Temporarily, Facebook Marketplace could be the answer. Standard selling fees for all orders marked as shipped are waived through June 30. Afterward, you'll pay a selling fee of 5% per shipment or a flat fee of 40 cents for shipments totaling $8 or less.
This can be a great choice if you want to sell using one platform but have a mix of items that can be shipped and require local pickup. You can sell a wide variety of items on the site, so the chances are high that the stuff you want to part with is eligible to be sold on the platform.
Make Your Money Work Better for You
8. Craigslist
Another online marketplace that allows you to sell a wide array of goods, Craigslist can be a great option. Plus, if you're wondering how to sell stuff online for free, this is likely your spot.
With few exceptions, all Craigslist postings are free, so if your item sells, you won't have to share any profits with the site.
How Can I Sell Stuff Online Safely?
If you're selling items online that require an in-person pickup, it's imperative to exercise caution. In most cases, your buyer will be genuine, but there's always a chance they will have sinister intentions.
Craigslist offers several safety tips on its site for sellers, including always meeting in a public place, not selling high-value items, letting a loved one know where you're going, bringing your cellphone with you, having a friend accompany you and trusting your instincts.
Ultimately, you can never be too careful when selling items online. It's important to choose a reputable platform — such as those listed above — to maximize your reach and increase your chances of having a positive selling experience.
Figuring out how to sell stuff online can be a great way to start your own business or earn extra cash on the side. You might realize it requires more work than you originally thought, but if your items sell, the payout will likely be worth your time.
It's also important to remember that different selling platforms offer different experiences. If you try one and aren't satisfied, give another a try, as the process might be entirely different in a good way.
Make Your Money Work Better for You
Information is accurate as of April 25, 2023.