How You Can Clean Up Doing Laundry on the Side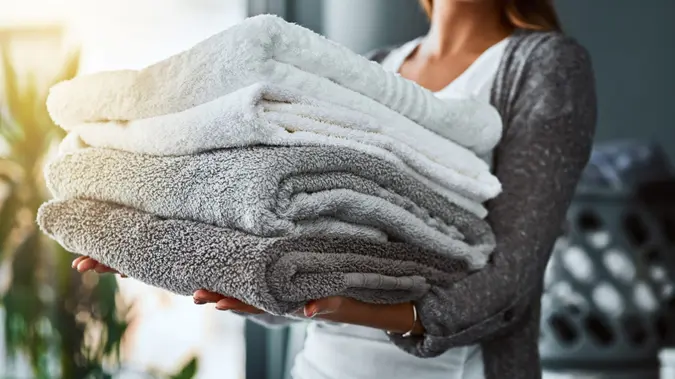 PeopleImages / Getty Images/iStockphoto
You might like doing laundry, but everyone doesn't share this sentiment. Perhaps this has caused you to realize you might be able to turn this chore into a side job.
Side Gig: Earn Up To $200/Hour, No College Degree Required
Learn: How To Build Your Savings From Scratch
Whether they don't have time to do this essential chore or simply lack the desire, many people are willing to pay someone else to do their laundry. Keep reading to find out how to get your laundry side hustle up and running.
Finding Customers
To find customers for your laundry service, you'll need to create a buzz and find ways to reach your target audience, said Chris Hackett, founder of Face Digital, an SEO advisory firm for business leaders and marketers in financial services.
"I recommend leveraging the power of word of mouth by letting friends, family and neighbors know about said laundry services," he said. "They can be your biggest advocates and spread the word to their own networks."
Of course, you won't want to limit yourself to just your current network.
Make Your Money Work Better for You
"I would also tap into local communities by joining online neighborhood groups, local forums or social media platforms specific to your area, engaging with people and offering their services when they're in need," he said. "If possible, I highly suggest partnering up with local businesses such as laundromats, dry cleaners or gyms, establishing collaborations that can refer customers to you for additional services or overflow."
Take Our Poll: What Are You Worth to Your Company?
He said building a solid customer base takes time, so be patient and persistent.
Justin Albertynas, CEO at RatePunk, a browser extension that compares hotel prices live, also knows a lot about starting a side hustle, as this is exactly how his company began.
"Take advantage of online platforms such as freelancing websites, social media or specialized marketplaces to find customers," he said. "Create a compelling profile or website that showcases your skills, services and testimonials from satisfied clients."
Setting Rates
Before launching your laundry side hustle, you'll have to decide how much you'll charge for your services.
Make Your Money Work Better for You
"Pricing can be a tricky aspect; so, to determine the right amount to charge for laundry services, I would recommend researching the market," Hackett said. "This means looking into what other local laundry services are charging and taking note of their pricing structure and the services they offer."
He said you'll also need to consider your operating expenses, such as detergent, electricity and water, as well as your time and effort.
"The pricing has to cover any costs and allow for a reasonable profit," he said.
If you have any specialized laundry skills or offer additional perks — e.g., pickup and delivery — he said you shouldn't hesitate to charge a premium.
"Striking a balance between affordability for customers and sustainability for a business is essential," he said. "I suggest regularly reassessing and adjusting prices as needed to stay competitive and profitable."
Creating a Business Plan
It probably isn't essential for a business as simple as a laundry side hustle, but Hackett said having a basic business plan can set your small company up for success.
Make Your Money Work Better for You
"A business plan acts as a road map, guiding a person's actions and decisions and helping them to define their goals, target audience, services and marketing strategies," he said. "A well thought out business plan can also be a game changer if you're looking to expand your side hustle or secure funding in the future."
Deciding How You'll Operate
One of the biggest decisions you'll have to make is where and how you'll operate.
If you're deciding between opening a physical location or offering a pickup and delivery service, Albertynas recommended at least starting with the latter.
"That way you'll save money on rent [and/or] the space and be able to check the demand in the process," he said. "That will also take off many worries such as permits or licenses necessary off your shoulders."
Next, he said, you'll need to determine the exact laundry services you plan to offer — e.g., wash-and-fold, ironing, dry cleaning or a combination.
"Knowing your offerings will help to communicate them effectively to potential customers, and that's crucial when owning a business," he said. "You have to be very clear with what your product does and the value it provides the user."
Make Your Money Work Better for You
Putting Safeguards in Place
No matter how small your business is, it's always wise to protect your assets.
"I would highly recommend anyone looking into this side hustle to obtain liability insurance to protect themselves in case of accidents or damages to customers' belongings," Hackett said. "It's a small investment, but it brings peace of mind and builds trust with clients, which is key to consistent growth."
If you collect personal information from customers — e.g., addresses and contact information — he said you also need to handle it responsibly.
"This means investing in cybersecurity measures to protect their data from unauthorized access or breaches, such as online data banks that are hidden behind password access," he said. "I also suggest developing clear terms and conditions for all services, outlining things like payment policies, delivery timelines and any guarantees or warranties."
He said this will help manage expectations and avoid potential misunderstandings down the line, while showing your professionalism and commitment to customer satisfaction.
Learning From Your Mistakes
Starting a side hustle is a learning experience, so expect mistakes to be made, Albertynas said.
Make Your Money Work Better for You
"I get it very well now after working on a few side hustles," he said. "I could have given up after the first few — and I had thoughts about it, obviously."
He said he has found himself in discouraging situations — e.g., losing investors, getting canceled by promising partners — but these experiences ultimately taught him lessons that helped him with his next projects.
"When something doesn't go according to plan, don't dwell on it, but also don't just ignore it," he said. "Understand what you did wrong and where you can improve, so you don't find yourself in the same situation again."
Hopefully your laundry side hustle will be a success, leaving you flush with extra cash. No matter what, you should be very proud of yourself, as dipping your toe into entrepreneurship is a huge deal.
More From GOBankingRates
Make Your Money Work Better for You
Make Your Money Work Better for You