Threads vs. Twitter: Which Platform Offers More Money-Making Opportunities?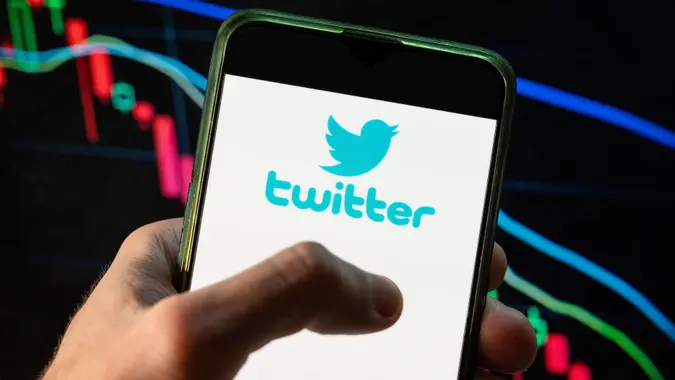 Budrul Chukrut / SOPA Images / Shutterstock.com
In today's rapidly evolving digital landscape, the rise of apps and diverse monetization opportunities has transformed online income generation, empowering individuals to become influencers and content creators.
Notably, social media platforms have played a pivotal role in this paradigm shift, with brands and businesses leveraging these platforms for marketing strategies and fostering brand awareness. Among the myriad options available, Threads and Twitter stand out as popular contenders, each offering unique features and potential money-making opportunities. 
Here's a look at both platforms and a deep dive into whether Threads or Twitter is a better option for income generation.
Also see other ways to make money online.
The Differences Between the Platforms
Threads, a standalone app developed by Instagram, is designed for sharing photos, videos and text updates primarily with close friends. Launched on July 5, Threads offers a more intimate and private browsing experience, but it currently lacks direct monetization features or advertising options. Nonetheless, its rapidly growing popularity presents exciting opportunities for users.
On the other hand, Twitter boasts a broader scope and a well-established monetization ecosystem. 
While both Threads and Twitter offer users the opportunity to connect with others and share content, there are some key differences between the two platforms that are critical when it comes to money-making opportunities. 
Make Your Money Work Better for You
Threads
Longer Character limit
Carousel-style Posts
Private Messaging
Threads provides a generous character limit of up to 500, allowing users more expressive space compared to Twitter's mere 280 characters. This feature is advantageous for businesses seeking marketing opportunities on the platform. 
Threads offers carousel-style posts, enabling users to share a series of photos or videos that viewers can swipe through. This format is valuable to businesses aiming to include more continents within a single post. 
The ability to send private messages is a valuable feature for businesses that want to reach out to individuals who have questions and connect with potential clients directly within the app. 
Twitter
Larger user base
More search functionality
Advertising opportunities
With a longer tenure, Twitter has amassed a massive user base of 368 million monthly users worldwide as of December 2022, while Threads reached an impressive 100 million users since its recent launch.
Twitter enables users to search for specific hashtags, words and phrases, facilitating targeted marketing efforts for businesses and content creators. 
Twitter has a well-established monetization system, offering income generation through sponsored posts and brand collaborations. The Sponsored Tweets program offers income generation through sponsored posts and brand collaborations. The Sponsored Tweets program allows users with substantial followings to get paid for promoting products and services through tweets.
Which Platform Offers More Money-Making Opportunities?
In the final analysis, both Threads and Twitter present unique money-making opportunities based on individual preferences and strategies. While Twitter currently offers more money-making avenues with its revenue-sharing program for content creators and extensive reach, Threads show promise for future profitability, once advertising features are incorporated. 
Make Your Money Work Better for You
"Twitter currently still offers more opportunities to make money than Threads does," said Joe Karasin, owner of Karasin PPC, a digital marketing consulting platform. "Twitter has a revenue sharing program for content creators and has announced that they will be expanding that program with larger amounts given to creators. Threads have limited functionality as of right now, but once advertising is built into the platform, there will be some opportunities to monetize the app."
Eventually, Threads could rise to the money-making capabilities that Twitter offers so long as they make some crucial changes for creators. 
"Twitter's use of hashtags is something that Threads should be incorporating, as they already have it built into the Instagram parent platform," Karasin said. "Being able to more easily group and seek out content has been one way Twitter separated itself from the pack when it first launched and has been a way for creators to hone in on their niches and earn money."
While historically Twitter has offered plenty of money-making options for businesses, Thread's fast-paced growth is likely to soon give the platform a run for its money in this aspect
"As this platform gains traction with users, businesses will be able to enjoy greater exposure for their marketing campaigns," said Jake Hill, CEO of DebtHammer. "Although advertising on Threads isn't allowed yet, Meta is reportedly looking into adding this feature in the very near future and will provide Instagram content tools for ad creation."
More From GOBankingRates
Make Your Money Work Better for You