Warren Buffett: 10 Books He Recommends That Will Make You Rich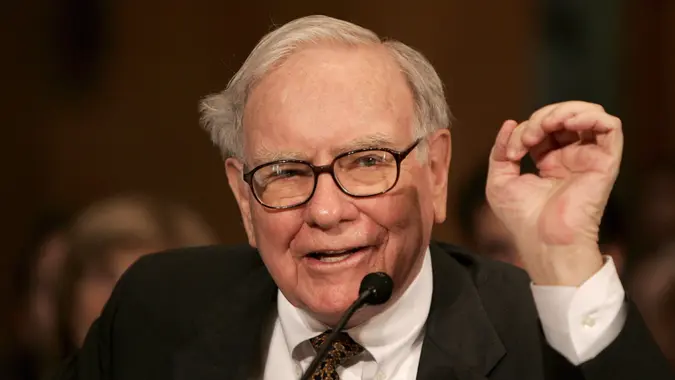 Matthew Cavanaugh/EPA / Shutterstock.com
Warren Buffett, the "Oracle of Omaha," is known for his immense wealth and investing prowess. His investment strategies and principles have guided many to financial success. Equally noteworthy is Buffett's voracious appetite for reading, which he credits as a crucial element of his success. Here are 10 books recommended by Buffett that, when studied and applied, could pave the way to riches.
'The Intelligent Investor' by Benjamin Graham
This classic investing book is Buffett's top pick. Authored by his mentor, Benjamin Graham, the book emphasizes the importance of value investing — purchasing stocks at a price less than their intrinsic value. The book's timeless principles provide an invaluable lens for understanding and evaluating businesses.
'Common Stocks and Uncommon Profits' by Philip Fisher
Buffett holds Fisher in high regard for his understanding of what makes a great investment. This book outlines Fisher's "scuttlebutt" method where he evaluates a company based on conversations with its stakeholders. It's a unique approach that complements Buffett's own value investing philosophy.
'Security Analysis' by Benjamin Graham and David Dodd
Another masterpiece from Graham, this time co-authored with David Dodd, provides an in-depth look into analyzing stocks, bonds, and other securities. It's a comprehensive guide for anyone serious about understanding the principles of value investing.
'Business Adventures' by John Brooks
This collection of New Yorker stories offers a broad perspective on business and its challenges. Buffett recommended it to Bill Gates, stating it's the best business book he's ever read. Each story provides insights into corporate decision-making and resilience, influential factors in Buffett's investment approach.
Make Your Money Work Better for You
'Stress Test: Reflections on Financial Crises' by Timothy F. Geithner
Buffett lauds this book for its candid, behind-the-scenes view of the 2008 financial crisis. Written by the former Secretary of the Treasury, it offers insights into economic resilience and long-term success, themes that resonate with Buffett's philosophy.
'The Outsiders' by William N. Thorndike
This book champions the unconventional approaches of eight successful CEOs. Buffett appreciates its lessons on capital allocation and CEO performance measurement, which align with his belief in contrarian thinking and value creation.
'The Clash of the Cultures' by John C. Bogle
Buffett endorses Bogle's advocacy for long-term, low-cost investing. The book emphasizes the differences between investment and speculation and promotes a value-oriented and patient approach to investing.
'Poor Charlie's Almanack' by Charles T. Munger
Authored by Buffett's long-time business partner, this book is a compendium of wisdom on decision-making and mental models. Its insights align with Buffett's belief in multidisciplinary learning and rational decision-making.
'A Few Lessons for Investors and Managers' by Peter Bevelin
This book distills the wisdom of Buffett and Munger on investment, business, and life. It is a concise guide to their philosophies and offers practical advice on stock analysis and money management.
'Where Are the Customers' Yachts?' by Fred Schwed
This book provides a humorous yet insightful critique of Wall Street's tendency to prioritize its profits over the interests of customers. Buffett appreciates its timeless reminder of the importance of integrity in business.
Make Your Money Work Better for You
Warren Buffett's recommended reading list offers a rich treasury of knowledge on investing, business management, and decision-making. These books encapsulate the principles that have made him one of the world's wealthiest and most respected investors. As Buffett famously said, "The more you learn, the more you earn."
Editor's note: This article was produced via automated technology and then fine-tuned and verified for accuracy by a member of GOBankingRates' editorial team.
More From GOBankingRates