15 Best Food Delivery Services Worth Your Money for 2023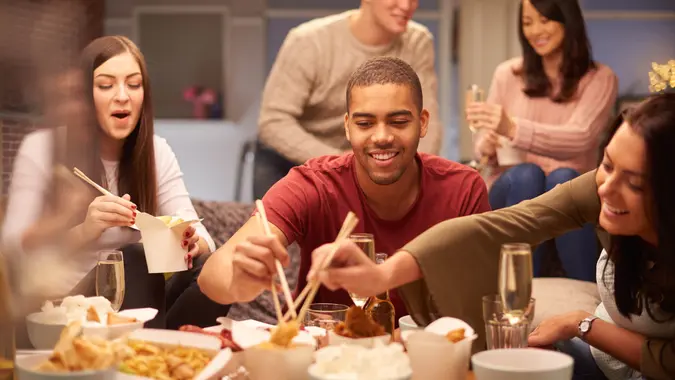 sturti / iStock.com
Being a home chef can be tricky, especially with the rising food costs of fresh ingredients and organic produce. Why not relieve some of your worries about prepping meals, and consider turning to food delivery services for your next meal? It might take the guesswork out of not only grocery shopping, but also what to make for dinner every night. 
Whether you are looking for better ways to make home-cooked meals without the muss and fuss or just can't deal with meal planning, there's bound to be a perfect food delivery service for you. 
See: How To Get Cash Back on Your Everyday Purchases
15 Best Food Delivery Services For You
The following companies are among the best food delivery services out there with your preferred menu options. The good news is that all of the best food delivery services come with a user-friendly mobile app that can guide you through all the aspects of delivery as well as payments, meal prep, dietary preferences, customer service and more.
Here are 15 great food delivery services to consider: 
Uber Eats
DoorDash
Postmates
Grubhub
Cornershop
Bite Squad
Gopuff
Drizly
Shipt
Deliver That
Amazon Fresh
Amazon Flex
Spark: Walmart Delivery
Burpy 
Point Pickup
1. Uber Eats
Uber took the world by storm as a rideshare service. Uber Eats was introduced to provide food deliveries to customers using a similar platform. Uber Eats is straightforward and great for local deliveries from all of your favorite restaurants. Though there are delivery fees and service charges to look out for, it is one of the more popular food delivery apps so it has a wide variety of local favorites as well as national chains available to you. 
2. DoorDash
DoorDash is one of the top food delivery apps. It's widespread and available in most major U.S. cities. You can download the DoorDash app to your phone to make ordering your next meal easy and convenient. Not only can you order food from restaurants, but DoorDash drivers can also pick up groceries or other goods if your local store is in the network. 
Make Your Money Work Better for You
3. Postmates
Postmates is similar to DoorDash, as it can be used for restaurant and food deliveries. However, you can also order groceries, alcohol, drugstore items, retail store goods and more. Though Postmates is not as widespread as Uber Eats or DoorDash, it may be a better option if you want to handle more errands than just ordering dinner. 
Be aware that some changes may be underfoot. Postmates was purchased by Uber last year, and even though the delivery apps currently operate independently, policy changes could happen throughout the transition.
4. Grubhub
Another great delivery option is Grubhub, as it is a well-known name when it comes to food delivery services. Plus, it's available in all 50 states and over 4,000 cities, so you can use it no matter where you are. In some locations, Grubhub even works directly with Seamless, which is good to know if you prefer one or the other. 
5. Cornershop
If you're looking to break up the monotony of delivering restaurant orders, Cornershop is a grocery-based delivery service. It's a division of Uber, so you can expect a similar level of functionality. 
Unfortunately, Cornershop isn't as widespread yet. It's currently available in only 17 states. Residents of California, Texas, Florida and Washington will see the most availability, but it is a growing company so keep a look out near you for more delivery options. 
6. Bite Squad
This option is a smaller version of the more widely known delivery food services such as Uber Eats, Postmates or DoorDash. It's currently only available in 200 cities, but could be a great addition to your food delivery service smorgasbord. It has many great reviews referencing solid customer service, delivery drivers and online ordering experiences. 
Make Your Money Work Better for You
7. Gopuff
Besides meals from restaurants, you can order groceries, alcohol and more from Gopuff. It also promises customers they'll receive deliveries in 30 minutes or less, which may seem like a stretch but food, drink and grocery orders are picked up from a central facility. You'll have to pay a flat fee of $2.95 per delivery, but this is better than many delivery service fees that fluctuate.
8. Drizly
The Drizly app makes it simple to connect with liquor stores near you. You can find delivery options if you're looking to help organize an upcoming party. Though not technically a food delivery service, an alcohol delivery service can also make your life much easier, and better. Be aware that you do have to be 21 or over to order or receive delivery from Drizly.
9. Shipt
The best food delivery services in 2023 are most often from restaurants. Shipt, however, is more involved than other services, as you can also shop for groceries and choose items and get them delivered as well. One bonus is that you can schedule your delivery for a time at your convenience, straight from the app. 
10. Deliver That
Deliver That is a smaller service specializing in last-mile restaurant catering deliveries. The service is limited at this time to around 39 states in the United States and British Columbia. You can get completed meals from restaurants and caterers and have them dropped off right at your door. This is a good option outside of grocery or fast food delivery.
Make Your Money Work Better for You
11. Amazon Fresh
Amazon's same-day grocery delivery business is known as Amazon Fresh. It is similar to Instacart, as you can shop for groceries and get them delivered right to your house. Amazon knows its way around the delivery world, so it's one of the more convenient options to get whatever you need delivered to you on your schedule. 
12. Amazon Flex
Amazon Flex could break up the monotony of restaurant deliveries. Amazon Flex not only do package deliveries, but also occasional Amazon Fresh grocery orders as well, so it can be a good two-in-one option. As with anything involving Amazon, there will rarely be limitations to what options you have for delivery through Amazon Flex. 
13. Spark: Walmart Delivery
Walmart's delivery driver division is known as Spark. It's not as widely available as other delivery services yet, but it is an option in over 600 cities. Spark will send you online Walmart and retail store orders to you through this delivery service. 
Everything is handled through the Branch Wallet app, including payment. If you are a frequent Walmart customer and want to avoid going into the mega-retailer, this could be a great option for you to consider. 
14. Burpy
Burpy is limited to certain areas in Texas, Louisiana, New York, Massachusetts and Georgia. However, if you are a resident of one of these states, you should know that Burpy personal shoppers are trained and certified to shop for your groceries. You can take advantage of their skill set by getting deliveries to your home or office.
Make Your Money Work Better for You
15. Point Pickup
As with some of the other smaller food delivery services, Point Pickup is an option if you're based in the East Coast. Focused on grocery store orders, all you need to do is order your groceries and let the Point Pickup team take it from there. It's a smart way to travel too, when you know where the best food delivery services are.
Final Take To GO
In order to know where to go for the best food delivery services, try a few out from this list to see who is the fastest or saves you the most money. It's good to know who to rely on to conveniently get you the high-quality meal options you need or fast food delivery options you want. 
Cynthia Bowman contributed to the reporting for this article.
Information is accurate as of Nov. 21, 2023.
Our in-house research team and on-site financial experts work together to create content that's accurate, impartial, and up to date. We fact-check every single statistic, quote and fact using trusted primary resources to make sure the information we provide is correct. You can learn more about GOBankingRates' processes and standards in our editorial policy.