How You Can Make Quick Cash by Selling These Hot Items at a Pawn Shop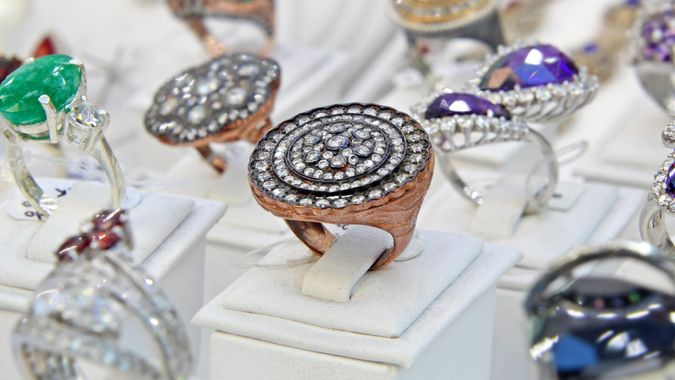 Alexandra Lande / Shutterstock.com
If you're a fan of reality shows like "Pawn Stars" or "Hardcore Pawn," you're already familiar with how pawn shops work. While you can sell almost anything at a pawn shop, certain items are more in demand than others and are more likely to fetch higher dollar amounts. Knowing what to expect can be helpful if you're in a pinch and need a certain amount of cash quickly — say $500.
What Is a Pawn Shop?
There are about 30,000 pawn shops nationwide, most of which are family-owned businesses. You bring in an item to a pawn shop, and the pawnbroker will offer you a short-term loan based on the item's value. If you pay off your loan in time, you get your item back. If you don't pay the loan in time, the pawn shop is free to sell it. You can also sell your items outright.
You can also consider a personal loan from a bank if you don't want to go to a pawn shop. Since only 41% of Americans could meet an unexpected $1,000 expense, pawn shops can help fill the gap.
Pawn Shop Advantages
Pawn shops have several distinct advantages. Pawn shops don't care about your credit, so if you have poor credit, they can be a good option. Also, if you fail to pay back your pawn shop loan, it won't affect your credit score. Another advantage is that you'll be able to get cash on the same day, so if you have poor credit or no credit and need money in a hurry, a pawn shop may work for you.
Disadvantages of Pawn Shops
On the other hand, interest rates are very high, and there are finance charges as well. Pawn shops are regulated by states, so interest rates vary widely, but they can range from 30% APR to 300% APR. Pawn shops only loan you about 25% to 60% of an item's resale value. If you paid $1,000 for a piece of jewelry, you might get a loan amount of between $250 and $600, but you won't get the amount you paid for the item.
The average loan from a pawn shop is $150 and lasts 30 days. About 85% of people do pay back their loans and reclaim their items.
What Can You Sell at a Pawn Shop?
You can sell almost anything at a pawn shop, but some items command higher prices. Keep in mind that if you never pick up your item, the pawnbroker needs to sell it to make a profit. If they have a lot of inventory of whatever you're selling, they might not buy it at all, or you may get a very low offer.
High Demand Pawn Items
Pawn shops know certain things have good resale value, and they're almost always looking to buy these items:
Jewelry
Precious metals
Watches
Firearms
Electronics
Power tools
Musical instruments
Sporting goods, such as bikes
Gaming consoles
Antiques
Smartphones
You can try to negotiate the price they offer you if you think it's too low. Different pawn shops make different offers, with loan amounts varying by as much as 600%. If you have time, visit several pawn shops to get the best offer.
What Can I Pawn For $50?
The following items can usually fetch $50 or more:
Designer sunglasses
Designer belt
Printers
Lawnmower
KitchenAid mixer
Leaf blower
Laptop
Beats by Dr. Dre headphones
Clean items in good condition can fetch a better price, so don't overlook presentation.
What Can I Pawn For $100?
According to Pawn Guru, these items bring in $100:
Hoverboard
Flat-screen TV
Tablet
Bose speakers
Firearm
YETI cooler
Apple watch
Refrigerator
GoPro
Power tools
Jewelry
AC unit
Golf clubs
Game consoles
Certain in-demand items can be worth more than $100. A new, in-the-box Nintendo Switch can net you between $200 and $230.
What Can I Pawn For $500?
Since pawn shops typically offer somewhere between 25% and 60% of an item's resale value, you'll need to pawn an item worth between $835 and $2,000 to get $500.
Jewelry
Concentrate on items with gold, diamonds or platinum. Jewelry is a popular item to pawn because it's small and you can live without it for a while. Pawn shops sell a lot of jewelry, and they often have someone on hand with specific expertise in gold and precious stones. They'll be familiar with things like cut, carat weight and melt value. If you aren't familiar with current prices on jewelry, it might be smart to have your jewelry appraised before taking it to a pawn shop.
Other Precious Metals
Precious metals are easy to pawn because they tend to appreciate over time. This makes them a good risk for a pawn shop.
New High End TVs
If you're looking to pawn a nice, new TV, it needs to be less than a year old to fetch a significant price.
Collectibles
Collectibles can be tricky, with some commanding far more money than others. Some geeky collectors' items are worth far more than $500, so get collectibles appraised before you head out to a pawn shop. On the other hand, some collections aren't worth much at all: your collection of Beanie Babies, vintage band T-shirts or royal memorabilia probably won't get you much.
Learn More: The Ultimate Guide to Selling Pokémon Cards
Coins
Much like collectibles, coins can vary widely in value. A 1913 Liberty Head V Nickel is worth more than $4 million, so be sure you know what your coins are worth before pawning them.
Firearms
Firearms that are registered to you and are in good working order can easily get you a $500 loan.
Original Technology
If you happen to have one of the following, you can probably get $500 for it at a pawn shop:
Original Apple 1 computer–between $175,000 and $475,000
Macintosh 128K–$1,500 to $2,000
Sony Walkman–$1,500
An original, unopened iPhone–$11,000
Final Take
If you need cash in a hurry and you have an item you won't miss, a pawn shop could be a good option for you. Keep in mind that interest rates and finance charges can be quite high, so consider other sources of cash if you can afford to wait a bit.
Unique Side Gigs
Our in-house research team and on-site financial experts work together to create content that's accurate, impartial, and up to date. We fact-check every single statistic, quote and fact using trusted primary resources to make sure the information we provide is correct. You can learn more about GOBankingRates' processes and standards in our editorial policy.