5 Easy Side Gigs To Take on While Searching for a New Job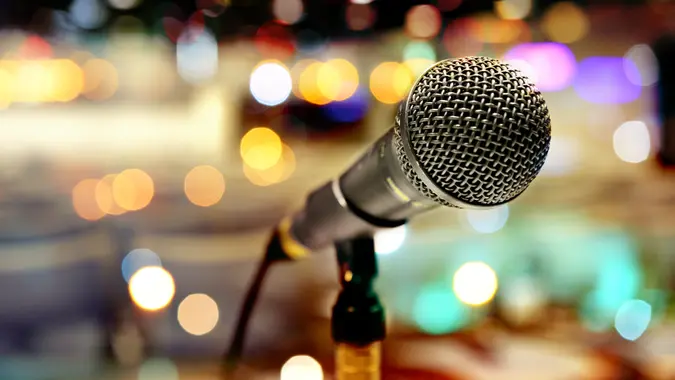 olaser / iStock.com
Looking for a new job? In a recent GOBankingRates survey polling 1,002 Americans, 20% of overall respondents said they had been laid off from their jobs in the last 12 months. Of the sample size surveyed, more than half of Americans said they would be worried about being unable to afford bills and groceries if they lost their job.
Working a side gig can provide those looking for a new job with a steady stream of income each month. If you're going to work a side gig while job searching, however, it's important the side gig is easy enough to maintain and manage. It shouldn't prevent you from being unable to take a phone interview or travel into an office for an on-site interview.
What can you do to make money while job hunting? Check out these easy side gigs to take on while searching for a new job.
Grant Writing
Grant writing is an ideal side hustle for people who want flexible and fulfilling work, said Meredith Noble, co-founder and CEO of Learn Grant Writing.
Noble said it is within reason for a grant writer to earn $5,000 a month. "The median salary for a grant writer as of March 8, 2023 is $76,685 a year," Noble said. "The range typically falls between $61,439 and $94,785."
The amount earned may be even higher depending on the person's bandwidth. "Each person has a different capacity for the amount of work they're able to do," Noble said.
Make Your Money Work Better for You
Voice Acting
Those interested in content creation may consider working a side gig in voice acting. 
David Ciccarelli is the CEO and founder at Voices, the world's leading voice-over marketplace. Voice acting, or voice-over work, may be done on a freelance, part-time or full-time basis. It is also a job that may be done completely from home. 
Using an online marketplace like Voices can help voice actors connect with clients and book jobs. Ciccarelli said income potential ranges from $100 to $2,000 per job. This amount depends on the length of the recording and if the work will air on broadcast television or for non-broadcast uses like voicemail recordings or internal corporate training videos.
Declutter Unwanted Gifts in a Mobile Marketplace
Do you have a bunch of unwanted gifts you don't plan to ever use taking up storage in your closet? Consider selling these gifts, and decluttering your space, through the mobile marketplace OfferUp to local buyers. 
An OfferUp representative told GOBankingRates that, on average, those who use OfferUp as a form of "recommerce" passive income earn an average of $1,000 from selling items. All you need to get started is to join the OfferUp community. Community members may then take a photo of the item they're planning to sell and post it under a wide range of categories to attract interested buyers and earn money.
Start a Small eCommerce Business
Michael Gardon, the CEO of Quotebook, a guided journal, had been recording quotes with his wife before the two were married. During the COVID-19 pandemic, Gardon, with the help of his children, built the product and began selling Quotebook in a Shopify storefront.
Make Your Money Work Better for You
"Ecommerce storefronts can make anywhere from a couple hundred dollars a month to hundreds of thousands of dollars, depending on the product and amount of time and work put in," Gardon said. "Our little Shopify storefront, which is very part-time, makes anywhere from $300 to $3000 per month."
Rent Out Recreational Equipment
Do you own a spare boat or a pool? Is this item not currently being used? Rent it out on a rental marketplace and earn passive income through this easy side gig. 
Those with boats and watersports equipment including kayaks, paddleboards and canoes can list these items on GetMyBoat, the world's largest boat rental marketplace. Val Streif, marketing manager at GetMyBoat, said the average owner on GetMyBoat earns over $15,000 annually. 
Swimply is a gig app that allows people to list their backyard pools for hourly rentals. A Swimply representative told GOBankingRates that the average rate of pools on Swimply is $45 an hour. Pool owners decide how much to list their pool for per hour, set the available times and days and determine amenities that will be included like pool floats or access to bathrooms or fire pits. From there, Swimply does the rest to book the pool for interested parties. 
More From GOBankingRates
Make Your Money Work Better for You