7 Fastest Ways To Make an Extra $500 This Month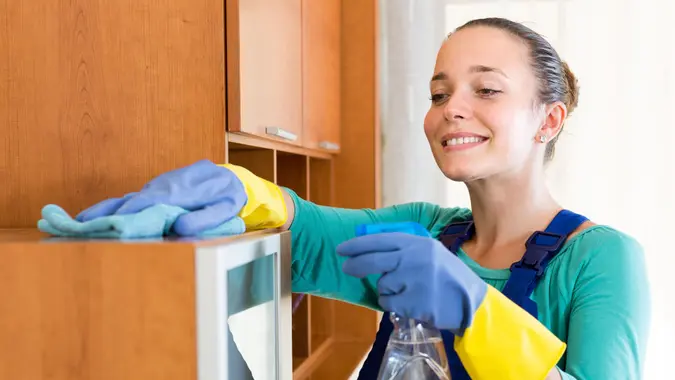 ©Shutterstock.com
If you're looking to scare up some extra cash during the spookiest month of the year, you're in luck. There are more than a few seasonal (and evergreen) gigs that you can do either as a side hustle to rustle up $500 or more, depending on how much you work. 
You can always do the run-of-the-mill side hustles (like dog walking, babysitting and driving for Uber), but consider those that have a bit of a fall twist to them. Here's a look at seven gigs that can make you $500 extra cash in October.  
Offer Leaf Removing Services 
"October is the perfect time to make money by offering local leaf removal services," said Starr Wells, personal finance expert and professional side hustler at ACENTSational Life. "The average starting rate for a fall yard clean up is $50+ an hour. With just a few yards, you could easily make $500 and more in October by cleaning up leaves. Leaf blowers aren't that expensive and can even be found on Amazon for $20. Before getting started, call your local waste management department to find out what is required for the proper disposal of the leaves. More than likely they will tell you to leave them on the curbside in clear heavy-duty trash bags for them to pick up or will tell you the location of a composting dump site."
Make Your Money Work Better for You
Clean Vacation Rentals 
Soon people will be traveling for the holidays. You can help in that process. 
"The quickest and most surefire way to make an extra $500 in October (or any month of the year) is to clean vacation rental properties for checkouts," said Caleb Hannon, co-owner of www.StayLakeNorman.com. "Most vacation rentals rent all year round and pay between $100 to $300 per clean (size of the house depending). Housekeeping for vacation rentals is a lucrative business for full-time cleaners but can certainly assist someone looking for extra cash month-to-month." 
DIY Halloween Decorations 
"For those of us who love DIY projects, you can market your DIY Halloween decorations," said  Rick Berres, owner of Honey-Doers. "Get creative with your projects, and people will love putting up your decorations that nobody else will have during the holiday season. The best part about this side hustle is that it can continue into the holiday season. If people love your decorations, you can lead them right into Thanksgiving decorations for November and Christmas decorations in December." 
Weatherproof Homes for Winter 
"People will need help getting their houses ready for the colder weather, and you could make some quick cash by helping them out," said Kelan Kline, a personal finance expert with The Savvy Couple. "You could [also] offer to do things like painting or carpentry work." 
Declutter Using Facebook Marketplace 
As fall settles in, you may be making some updates to your wardrobe and home. It's the perfect time to declutter — and make a profit off what you no longer use. 
"One of the fastest ways we can make money is to sell things you no longer need online or in buy-sell-trade groups," said Erin Nutter, writer of the blog The DIY Nuts. "We have had great success in our local Facebook marketplace getting rid of kid items, clothes and more. Not only can you make some extra money, but you feel better decluttering your home."
Make Your Money Work Better for You
Participate in Research Studies
School is in session and research projects are in progress across campuses.  
"If you're willing to participate in research studies, you can earn $50-$200+ per study," said  Jeremy Wagner, a financial analyst at Trading Pedia. "Universities and companies are always looking for participants for their studies, so this can be a great way to make some extra cash." 
Bake Halloween Treats and/or Cook Fall Specialties  
"Maybe a parent wants to hire you to make spooky cupcakes for their kid's Halloween party, or someone wants to buy some fall-themed treats for a weekend brunch," said Julie Ramhold, consumer analyst with DealNews.com. "Or maybe you prefer to cook — you can become a private chef of sorts, and sell freezer-friendly meals to busy families for some extra cash. Schedules will often pick up in the fall, and plenty of families would appreciate a lasagna they can pull from the freezer on a Wednesday night and throw it in the oven to keep from worrying about making dinner themselves.
More From GOBankingRates