How the "Gig Economy" Is Fueling America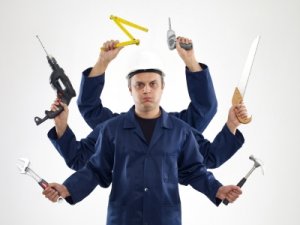 Reflecting on Labor Day 2012, it's easy to say the American labor market isn't what it used to be. Unemployment has been a big problem for several years now without a real solution in sight.
In fact, we reached out to the Republican Party's nominee for VP, Paul Ryan, to ask what one major problem needs to be resolved in the next term to get our economy back on track. He responded with "We got 23 million people out of work, struggling to find work today. Unemployment has been above 8 percent for 42 straight months and the real unemployment rate's more like 15 percent."
More and more Americans, unable to find more traditional employment, are resorting to odd jobs for money. This new trend is being referred to as "the gig economy." But the practice isn't as demeaning as one might think. In many cases, these are odd jobs that pay well. In fact, the gig economy is freeing more Americans than ever from the shackles of a 9-to-5 desk job.
Sponsors of
Labor Day 2012 vs. Labor Day 1982
Much has changed in the last 30 years, to say nothing of the last ten. In 1982, it was common for employees to stay at the same company for 25 years, in search of a pension and a gold watch. In 2012, pensions are largely reserved for public-sector and unionized employees, with most workers preferring the more flexible 401(k) and IRA retirement strategies.
In 1982, the idea that you would graduate from high school, get a good job and keep it for the majority of your working life was not out of the question. Indeed, it was part of the American Dream.
However, now few think that they'll have five jobs over the course of their adult working life, let alone one. Bureau of Labor Statistics studies show that the average American will change jobs 11 different times over the course of a career. The gig economy, however, might have a person doing 11 different jobs during the course of a week. This makes traditional benefits, tied to a single employer, largely irrelevant for millions of mostly young Americans.
Sponsors of
The Odd Jobs Economy
The gig economy is hard to track, though some have speculated that it would eat up a significant chunk of those nominally unemployed. Further, it's common for those who work in the gig economy to make a higher hourly rate for their work than they would if employed at a standard office.
But don't quit your day job yet: The gig economy is missing a number of things that you've come to take for granted from your employer. This includes health benefits, vacation time, sick time and even payroll taxes, all of which must be paid for directly by you. Some experts suggest that you put aside as much as half of what you make from any given job away in a bank account to pay for taxes and benefits that you'll no longer be receiving from an employer.
Top 5 Odd Jobs for Money
Sponsors of
Some part of you is likely wondering what you can do to get into the gig economy. The five highest-paying jobs in the gig economy are as follows:
Writing: This is the king of all gig economy fields in terms of hourly rate. Further, freelance writing lends itself to a number of styles. Best of all, no matter what you're an expert in, someone else isn't and needs your knowledge.
Marketing: When the economy slowed down five years ago, many marketers lost their jobs. They now ply their trade on a freelance basis.
Graphic Design: Most people know at least one guy who does freelance graphic design. That's because this is a growing freelance field where animation experience will really open doors.
Public Relations: Another field where layoffs have been a blessing in disguise is public relations. With a solid portfolio, it's not hard to get into the gig economy in PR.
Medical Transcriptionist: Pull up any Craigslist in the United States and you're going to see tons of ads for medical transcriptionists. The best part is that many don't require you to report to an office.
Other popular (and lucrative!) jobs in the gig economy include search engine evaluator, subtitler and translator. There's also the prospect of taking whatever you do and opening your own business. The point is that if you're feeling trapped in a cube, there's never been a better time to quit your day job and start working for yourself.