How Many Side Gigs Are Too Many?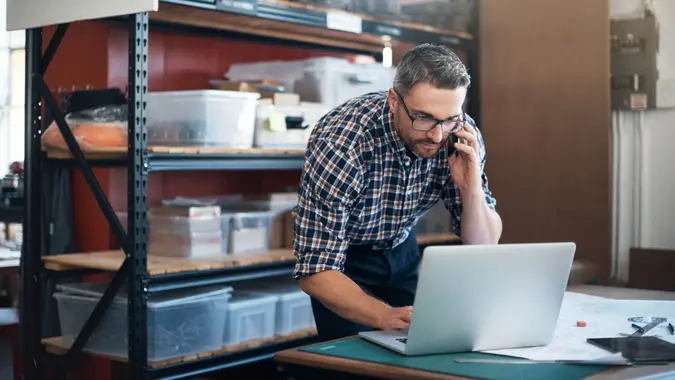 shapecharge / iStock.com
For many Americans, side hustles serve a variety of purposes. Working a few extra hours each week can help cover bills or pay down debt. Others find that working a side gig gives them the chance to explore their passions and interests outside of their full-time jobs.
In 2022, more than nine in 10 working Americans work in some kind of side hustle, according to a survey by Insuranks. About 38% said they work at least one side job, and an equal percentage work two. One-fifth of Americans work three or more side hustles. 
While not all side work requires a significant investment of time or energy, there is a fine line to tread when it comes to potentially overextending your bandwidth as the result of working too many jobs. Ask yourself the following questions to figure out whether you're in over your head with too many side hustles.
Are You Earning Good, Consistent Money?
While you don't necessarily need to earn tens of thousands of dollars each month, you should be able to make good money from what you're selling or the services you're providing in the hustle. 
Make Your Money Work Better for You
You also should receive pay on a consistent basis. If you are working a side gig where the pay is inconsistent or you have to constantly remind your employer to pay you, you might want to consider branching off into gigs where there is more financial stability. 
Can You Manage Your Time?
Good time management skills are critical when working in a side gig. On average, those who work in side hustles spend 13 hours a week focusing on those jobs, CNBC reported. Some individuals set aside a few hours each day in the morning or evening, after their full-time jobs, to focus on their gig work. Others designate free days of the week to do it, like Saturday.
Make sure you use the time allocated for the side hustle without, any interruptions. If you find yourself worrying about existing commitments that might interfere with the side job, consider organizing your calendar to work around these activities or even recalculating the hours you need to work each week. Then, you can better maintain work-life balance.
Does the Side Gig Interfere With Your Full-Time Job?
The last thing you want is for your side work to negatively impact your full-time line of work. If you find your performance begins to slip at your full-time job, there's a good chance this could be because you're spending too much time focusing on your hustle. This is especially true if you have more than one side gig.
Make Your Money Work Better for You
Is the Side Gig Too Demanding?
Some side hustles, such as driving for rideshare services, have clearly defined start and stop times. Others, such as freelancing as a designer, may have more demanding workloads. 
You should make sure your workload is manageable. If it isn't, you may start to fall behind in your freelance work and even in your full-time job. Set boundaries accordingly and make sure you're focusing on work that needs to be done instead of busy work.
Do You Have Proper Work-Life Balance?
Juggling multiple side gigs with a full-time job sometimes means shelving some of your basic needs in favor of work. When you don't have the proper work-life balance, you might suffer from a lack of sleep, struggle to maintain relationships with friends and family members, indulge in an unhealthy diet or find yourself perpetually stressed out.
Even if you love your side hustle, you can easily suffer from burnout if you don't take the time to recharge on a regular basis. Revisit your schedule to see where you can set aside some time for self-care and rest. This will help ensure that you keep from falling behind.
Make Your Money Work Better for You
More From GOBankingRates