How To Make Money on Twitch: 10 Ways for 2023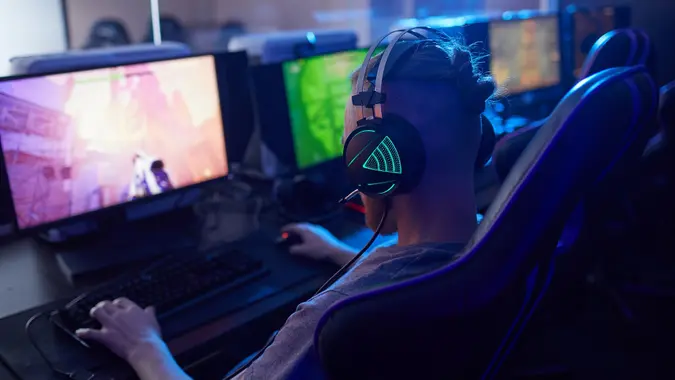 AnnaStills / iStock.com
Millions of people tune in every day to watch streams on Twitch. Contrary to popular belief, making money on Twitch isn't reserved only for channels with millions of subscribers. Twitch offers a variety of methods you can use to make money playing video games and streaming, even if you don't have a major following. Read on to learn more about how to make money on Twitch. 
How To Make Money on Twitch: 10 Easy Ways
Many Twitch users wonder how to make money on Twitch. Here is a look at 10 different ways.
Collect bits
Subscriptions
Affiliate codes
Ad revenue
Third-party donations
Sponsorships
Sell your own products
Licensing
Coaching and gaming lessons
Cross-promotion
Keep reading to learn more about each of these ways to find the one best suited for your skill set.
1. Collect Bits
The easiest way for new Twitch streamers to earn money is to enable bit donations. Bits are a form of virtual currency on Twitch that viewers can purchase and use to support their favorite streamers. Any streamer can collect bits, no matter the number of followers or subscribers they have, and streamers receive $0.01 for each bit donated. While this might not sound like much, viewers can earn and save bits for free, making donations easier to collect for beginners. 
Make Your Money Work Better for You
2. Subscriptions
The most famous way to earn money on Twitch is through subscriptions. When viewers become subscribers, they pay a monthly fee to support the streamer and gain access to various benefits. The streamer receives a portion of the subscription fee as revenue. Depending on your streaming stats, you could earn up to 70% of what each subscriber pays every month directly. 
Not everyone is eligible to earn money from Twitch subscriptions. Twitch has specific requirements to qualify for their Partner or Affiliate programs, which enable streamers to earn money from subscriptions.
How To Become a Twitch Affiliate

To become a Twitch Affiliate, streamers need to meet certain criteria set by Twitch, including:

Reaching a minimum of 50 followers.
Broadcasting for at least 500 minutes over a span of seven days.
Streaming on at least seven unique days within a 30-day period.
Maintaining an average of three or more concurrent viewers.

Once accepted as an Affiliate, streamers gain access to monetization features, including earning revenue from subscriptions. 
3. Affiliate Codes
Affiliate marketing is another easy way for beginners to monetize their content. By partnering with companies or joining affiliate programs, streamers receive unique referral codes or links that they can share with their viewers. When viewers make a purchase using the streamer's affiliate code or link, the streamer earns a commission or a percentage of the sale. Streamers can promote relevant products, games or services during their streams and encourage viewers to use their affiliate codes.
Make Your Money Work Better for You
Be sure to disclose any use of affiliate codes transparently and authentically to maintain trust with your audience.
4. Ad Revenue
Twitch now offers ad breaks that streamers can activate during their broadcasts. The revenue generated from these ads is shared between Twitch and the streamer. The specific revenue split may vary based on the streamer's partnership status, such as being a Twitch Affiliate or Partner.
Streamers can control the frequency and duration of ad breaks. They can also choose to run ads manually or have them triggered automatically. Like making money from subscriptions, you'll need to at least meet Affiliate standards to earn ad revenue.
5. Third-Party Donations
You can maximize your Twitch donations by creating third-party donation options outside of the Twitch platform. Linking a PayPal, Ko-Fi, Venmo or other tip account allows users to support your stream with just a few clicks. This can be easier than earning or buying bits through Twitch to donate. It also allows you to collect donations when you aren't actively streaming. 
6. Sponsorships
Sponsorships are a way for streamers to earn significant amounts of money by shouting out or advertising products during their streams. Streamers can negotiate sponsorship deals directly with interested companies. They can also work with agencies that connect streamers and sponsors.
Make Your Money Work Better for You
Sponsorships provide streamers with additional income and can help foster long-term relationships with brands that align with their content and audience. Twitch is also currently testing in-house sponsorship features for some Partner streamers. 
7. Sell Your Own Products
You don't need to partner with a company to be an affiliate and make money from sales on Twitch. Twitch's "Just Chatting" streaming option is a great place to connect with an audience and showcase products that you sell through links in your channel description. For example, if you have a digital eBook all about cooking, streaming a few of your favorite recipes can be a great way to earn new sales through Twitch. 
8. Licensing
If you have unique content or highlights from your streams, you can explore licensing opportunities with media outlets, YouTube channels or other platforms. This allows others to use and feature your content, generating revenue through licensing agreements.
9. Coaching and Gaming Lessons
In a world where professional gamers can earn millions of dollars a year, many streaming hopefuls are willing to pay to learn how to excel at popular games. If you are good at playing a particular game or have expertise in a certain area, you can offer coaching services or lessons to viewers. This can be done through one-on-one sessions, group sessions or video-on-demand services. 
Make Your Money Work Better for You
10. Cross-Promotion
Many viewers tune into Twitch to enjoy the thrill of live gaming. However, the personality of the host is what builds a community, inspiring viewers who connect with you to seek you out on other platforms. Consider uploading gaming clips or highlights to a third-party platform like YouTube or TikTok to double your monetization opportunities. 
The Bottom Line
While you don't need to have millions of subscribers to earn money on Twitch, your main focus should always be on producing quality content. Staying engaged and coming to your stream prepared with a list of topics to discuss can make it easier to connect with your audience and produce return viewers. Cultivating an audience will help you unlock additional avenues for earning money on Twitch, including Affiliate ad revenue and sponsorships. 
FAQ
Here are answers to some frequently asked questions about how to make money on Twitch.
Is it worth being a Twitch Affiliate?

Creating a lucrative Twitch channel can take a lot of work, but it can be a good side hustle for earning extra cash if you can build a loyal following.

How do beginners make money on Twitch?

Beginners can make money on Twitch by collecting bits, setting up third-party donations and offering gaming or coaching lessons.

How much does a Twitch streamer make?

Streamers with a loyal following can make $3,000 to $5,000 per month from subscribers. Some of the top Twitch streamers make even more.

How much do small Twitch streamers make?

Twitch earnings are different for every streamer and those that have small followings might earn around $50 or $100 a month. Those that qualify for the Affiliate program might earn more through subscriptions and ad revenue.

How many views on Twitch do you need to get paid?

To get paid on Twitch, you will need to qualify for the Partner or Affiliate programs by meeting their set criteria:

-Have a minimum of 50 followers.
-Broadcast for at least 500 minutes over a span of seven days.
-Stream on at least seven unique days within a 30-day period.
-Maintain an average of three or more concurrent viewers.
Make Your Money Work Better for You
Ways To Get Rich Online
Andrea Norris contributed to the reporting for this article.
Information is accurate as of May 25, 2023. 
Editorial Note: This content is not provided by any entity covered in this article. Any opinions, analyses, reviews, ratings or recommendations expressed in this article are those of the author alone and have not been reviewed, approved or otherwise endorsed by any entity named in this article.
Our in-house research team and on-site financial experts work together to create content that's accurate, impartial, and up to date. We fact-check every single statistic, quote and fact using trusted primary resources to make sure the information we provide is correct. You can learn more about GOBankingRates' processes and standards in our editorial policy.
Make Your Money Work Better for You