Money Fears Have 46% of Gen Z Working a Side Gig, New Study Shows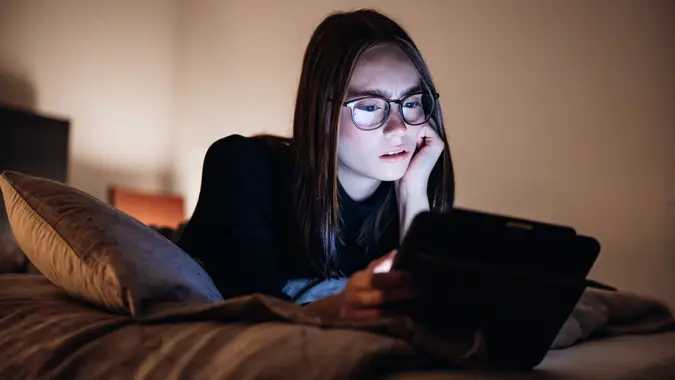 Finn Hafemann / iStock.com
Side hustles are a good way to make some extra cash, but more people, especially younger generations, are working another job just to make ends meet. A new Deloitte survey shows that 46% of Gen Zs and 37% of millennials across the globe currently have a full- or part-time job in addition to their main one, CNBC Make It reported.
In both generations, more people have side jobs than a year ago — 3% higher among Gen Z and 4% higher among millennials. "Side jobs are on the rise for Gen Zs and Millennials as they struggle to make ends meet," Michele Parmelee, global people and purpose leader at Deloitte, told CNBC Make It.
"While money is the top reason for having a side job, respondents also see it as a way to monetize their hobbies, unplug from their primary job, expand their networks, and in some cases, develop skills for a new career path," Parmelee added.
The survey found that the most popular side gig is selling products or services online, followed by food delivery or ride-hailing, artistic outlets or becoming a social media influencer. 
The biggest motivator for picking up a side job is money, noted CNBC Make It. Approximately 38% of Gen Z and 46% of millennials said they worked another job due to finances. Just over half of each generation say they live paycheck to paycheck because of the current cost of living.
Make Your Money Work Better for You
Prices increased 4.9% between April 2022 and April 2023, the smallest 12-month increase since April 2021, according to data from the Bureau of Labor Statistics. Inflation is going down, but Americans continue to struggle.
Take Our Poll: Are You Concerned About the Safety of Your Money in Your Bank Accounts?
Make Money With AI and Chat GPT: How To Earn $1,000 a Month
A new Gallup poll showed 61% of respondents said recent price increases caused severe or moderate financial hardship. Inflation has the biggest impact on those making less than $40,000 per year, as 29% say they're experiencing extreme financial difficulties.
More From GOBankingRates
Make Your Money Work Better for You