How To Resell as a Side Hustle Business in 2023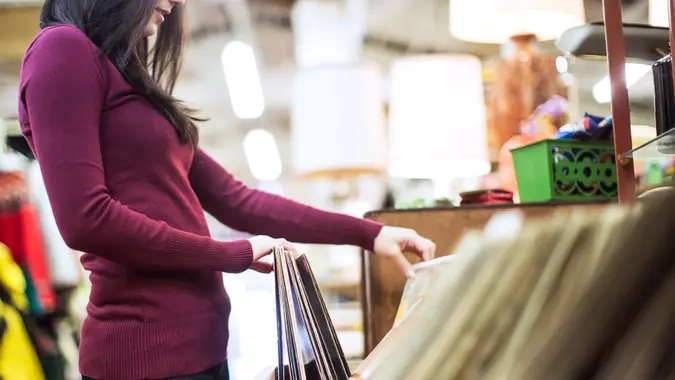 RyanJLane / Getty Images
Side hustlers believe the key to making money is spending money. So if you're planning to start a reselling business to make some extra cash, you'll need to know what items to sell and what online marketplaces to use. Because reselling or flipping items can equal a lot of upfront costs and effort, how can you come out ahead with both buying and selling? Keep reading to learn more. 
Reselling as a Side Hustle: A Step-by-Step Guide 
At first, you may not have a lot of money to invest in a reselling business and that's OK. There's a workaround. When you are looking to start selling online or for items to buy and resell, here are some steps you can take to get the ball rolling:
Step 1: Start small
Step 2: Choose your online marketplace
Step 3: Budget your time
Step 4: Outline potential costs
Step 5: Calculate your potential profit
Step 1: Start Small
If you are going to run a small business from your home or some other online side gig endeavor, make sure to grow it slowly as opposed to taking on too much at once. The secret to being successful in the reselling business is to start small. Don't try to buy a ton of inventory upfront. Instead, consider selling some of your own household items that you no longer want or use. This can become easy seed money for your budding business.
Step 2: Choose Your Online Marketplace
While you could have a yard sale or estate sale, they wouldn't offer a great reach. For maximum exposure, research and choose some sites to resell your stuff. When it comes to listing your items for resale online, there are plenty of options such as eBay, Etsy, Facebook Marketplace and more. 
Make Your Money Work Better for You
As a reseller, you will want to choose a few platforms you are comfortable using. EBay can be a profitable place to resell smaller, easy-to-ship items. Facebook Marketplace, on the other hand, is the best place to locally resell large, heavy items. If you list your items on every site you can find, you might spread yourself too thin and could forget where you are buying and selling items.
Step 3: Budget Your Time
If you're doing this business as a side gig at first, you likely don't have unlimited time to invest in it. The good news is that you can put as much or as little time as you want into it, and creating a time budget can help organize your priorities. 
If you find items that need repairing or refinishing, keep a log of how much time it takes you to get them ready for resale. Make sure you factor this labor into the final cost.
Rob Stephenson, the owner of Flea Market Flipper, has been reselling for 25 years. He said that while reselling doesn't have to take a huge time commitment, one of the most valuable lessons he's learned is to be consistent with sourcing items and listing them.
Step 4: Outline Potential Costs
There are some costs you should keep in mind when you start a resale business. Unfortunately, there's no way around the fact that you will need to spend a little money to make money. Often you need to continuously set money aside to buy more products. Money spent on inventory is affected by where you shop, how much you keep on hand and how quickly you move it.
Make Your Money Work Better for You
Buying items for resale isn't the only cost you'll have to factor in, here are other things to consider:
Set aside extra money for fees and taxes
Be aware of percentages taken by sites for each item sold
Shipping costs
Stephenson said that on eBay, the selling fee is roughly 10% per item, but you can build those fees into your selling price to offset them.
Step 5: Calculate Your Potential Profit
Of course, the reason you'll start this business is to earn money. Estimating what your potential financial gains are can help determine if this endeavor is worth it for you.
Stephenson said that back when he resold items as a side hustle, he invested five to 10 hours per week and made $40,000 per year. This equals about $3,300 a month in profits.
How much you'll make reselling depends on various factors, such as what you sell, the fees you pay and your profit margin.
Jim Pendergast, senior VP for AltLINE Sobanco, recommends aiming high and sticking to the 1-4 rule to maximize profits and defray expenses. "For any item you purchase, sell it for four times your purchase price, and any gadget that you can't sell for four times the amount, put aside," he said. "Though you (ultimately) may not get the amount you want, by charging four times as much, you'll have wiggle room for your new expenses."
Final Take To GO 
Though there are no guarantees with side hustles, reselling your items or items you have flipped can become lucrative if you invest the right amount of time, money and patience upfront. It's important to seek advice from those who have had success in this area before, but also trust your gut. With this kind of budding small business, much like anything, you get out of it what you put into it. 
Make Your Money Work Better for You
FAQ
Here are the answers to some of the most frequently asked questions regarding reselling.
What does reselling items mean?

Reselling items just means you are selling an item again. Typically the reselling model means you sell an item at a markup from what you purchased it at for profit.

Is it a good idea to resell?

Yes, reselling can be a good idea if you are looking to make some extra cash. To begin, you should start small by selling unused or unwanted items from around your house online to see how it goes. This will be a low-cost way to get your feet wet in some online marketplaces.
Cynthia Measom contributed to the reporting for this article.