If Your Side Gig Is Coming to an End, Here's How To Find Your Next One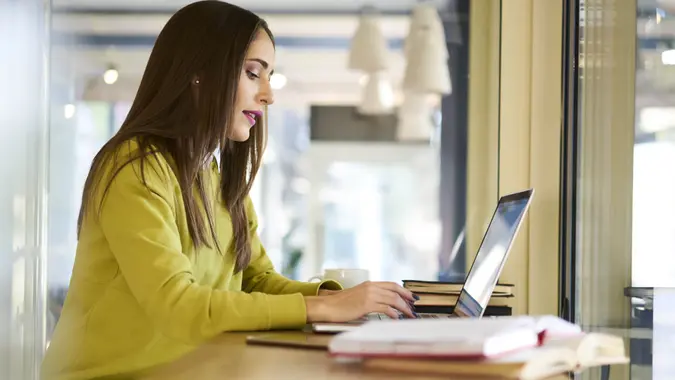 ©Shutterstock.com
Not every side hustle is meant to continue on indefinitely. Some side gigs are projects with clear end dates or short-term contracts. If you find your side job is coming to an end, you may find yourself wondering how you'll go about landing a new one.
See: 15 Cheap, Beautiful Places To Retire
Read More: 9 Bills You Should Never Put on Autopay
Here's how to strategically find your next side gig and ensure this opportunity is the right fit for your future.
Set Aside Time Each Week To Job Hunt
Catherine Lang-Cline, president and co-creator of Portfolio Creative, was a side hustler on and off for about 15 years. One of her strategies for finding new gigs was setting aside some time each week to look at places that might need her services.
"I made a list, found a contact and went back to reference that when a job was wrapping up," said Lang-Cline. 
Make Your Money Work Better for You
Join Freelancer Platforms
Visit industry job boards — those in your industry, your clients' industries and freelance job aggregators — and post your credentials.
If you are already using freelancer platforms, Tatiana Dumitru, founder of PreTee Creative, recommends sending proposals to different jobs that specifically match your expertise. Make sure to include examples of previous work you've done that's relevant to the project. 
Take the GOBankingRates Poll: Have Gas Prices Affected Your Driving Habits?
Freelancers who get a project should ask their clients to leave a review, too. Dumitru said you can share the review on your social media pages or LinkedIn profile. Dumitru also has an Instagram account that is portfolio-specific. 
"I use it to post work I've done in the past, along with specific hashtags and some reviews. This lets me showcase my portfolio, as well as my accolades. If someone sees my page and wants to get in touch, all they have to do is DM me or tap my website link," said Dumitru.
Reach Out to Staffing Agencies
Start emailing people at specific companies who hire freelancers in your field. Part of Lang-Cline's freelancing strategy was letting creative staffing firms know about her availability. Some of her favorite gigs were found through staffing companies. 
Make Your Money Work Better for You
"I had two companies that I enjoyed working with," said Lang-Cline. "Once they knew when I was going to be available, they could look and see if any projects I might be interested in were coming up."
Clean Up Your Website and Social Media Accounts
Once you start putting yourself out there, it's a good idea to clean up your existing website and social media accounts. Kachet Jackson-Henderson — content creator, business coach and marketing consultant at The Kachet Life — said chances are that people are going to research you, usually via a quick Google search. If they land on your site, portfolio page or social media account, it should have a professional touch to it.
"Make sure you have accurate information about your offerings, availability, most recent work, any awards or accolades and contact information," said Jackson-Henderson.
Network 
There are several ways freelancers can network to find their next side hustle, including attending in-person and virtual events. As you network, Jackson-Henderson recommends being clear on your offerings and niche. 
"This is not just what services you provide, but also the results you can get for your clients," said Jackson-Henderson. 
Make Your Money Work Better for You
If you'd like to take networking to the next level, Jackson-Henderson recommends joining a mastermind group. This allows you to meet others that you can potentially collaborate with to serve clients in an even more integrated way.
Reach Out to Your Inner Circle
You don't have to find a new gig alone. Lang-Cline said to contact friends, family members, coworkers and acquaintances and let them know that you're looking for work. 
"The net is much larger if you incorporate the help of others spreading the good word. If you are awesome to work with, they will be proud to share your information," said Lang-Cline.
Susana Boey, a freelance brand strategist and copywriter, said it's a common mistake to discount trusted people in our networks when looking for leads and new gigs because their work may be unrelated to what we're looking for. Doing this often leads to forgetting about the human aspect of networking. These people may not work in the same industry, but they have lives and connections outside of work.
"Your inner circle is a gold mine because these are the people that most want to see you win, and you may be surprised to find how many leads come out of the woodwork once you communicate how they can help you," said Boey.
Connect With Previous Professional Contacts
If your side hustle is coming to an end, it doesn't hurt to get back in touch with previous employers with whom you did freelance work together. 
Not sure what to write in an outreach message? Jackson-Henderson recommends sending a friendly email to check in, get reacquainted and let them know you're for hire. This allows you to stay top of mind and it's a natural, non-salesy way of putting yourself out there.
"I would contact all of the places that I worked with in the past and let them know that my current project was ending and if they needed help soon, give me a call," said Lang-Cline.
More From GOBankingRates
Make Your Money Work Better for You