Looking for a Side Gig You Can Do From Home? Here's Why You Should Consider Domain Investing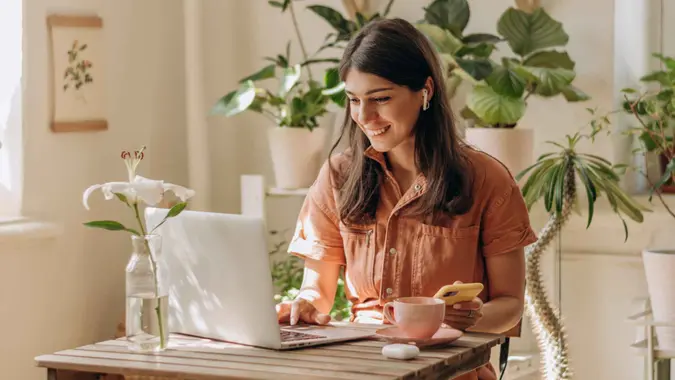 Tatiana Buzmakova / Getty Images/iStockphoto
A side gig is a great way to bring in extra income. And there's no shortage of side hustles that you can take on, but one that you might not have considered before is domain investing, also known as "domaining." This side gig you can do from home involves buying and selling a domain name — a web address used to access a webpage — for profit.
"Domains essentially provide online 'real estate' for companies, businesses and individuals wanting to lead people to their webpage," said James Iles, domain investment community manager for GoDaddy.
Here's a closer look at how you can get started with domain investing and tips for turning it into a lucrative side business.
Getting Started
Before making your first investment, take the time to educate yourself about how domain investing works.
"Beginners should turn to expert resources, such as GoDaddy's DomainAcademy, to get a foundational knowledge of domain names, valuations, and methods of buying and selling," Iles said. "There are lots of resources available online for domain investors to learn more and connect with experts in the space. GoDaddy and Namebio.com both provide several databases for domain investors to look into recent and historical domain sales, estimate the valuation of a domain and more."
Once you've established foundational knowledge, you can begin purchasing domains through online marketplaces, private acquisitions or online auctions. And unlike some other side gigs, domain investing is something you can start doing with very little upfront costs.
Make Your Money Work Better for You
"Domain investing has a very low barrier to entry and quality domains can be purchased for anywhere from $10 to $50 up to thousands of dollars," Iles said.
As for how much time you should expect to dedicate to domaining, Iles said that's really up to you.
"The best thing about domain investing is that you can spend as much or as little time on it as you want," he said. "The most time-consuming part will be at the beginning, ensuring that you are properly educating yourself on how to best invest.
"The majority of domain investors do it as a side hustle and spend anywhere from 30 minutes to a few hours on it each day," Iles continued. "As with anything, the more time you spend on it, the more familiar you will become with patterns and what to look for, and ultimately, the more successful you'll likely be."
How Much You Can Expect To Make
The amount of money you can make from domain investing really depends on the investor.
"Similar to investing in real estate or stocks, profits with domain investing vary widely," Iles said. "Some individuals who do it as a side gig earn a few hundred or few thousand dollars, while others earn up to five or six figures each year. To get to those figures, it takes a mature portfolio and foundational knowledge, but it certainly can be done."
Tips for Choosing Valuable Domain Names
To be profitable, you have to make informed decisions about the domains you purchase.
Make Your Money Work Better for You
"A domain's value is primarily based on two factors — quality and desirability," Iles said. "To help beginners understand what I mean by that, I always use the analogy of real estate. If a property is high quality and has a good location (desirability), it is very valuable. The same is true for a domain name online.
"While it is hard to say exactly what to look for when investing in a domain, valuable domains are normally short and have keywords that are either commonly used, trending or of interest/relevance to specific companies," he continued. "A large proportion of domain sales are .com, too, thanks to its real-world usage and adoption."
Choosing the right domain can pay off handsomely in some cases.
"A great example of this is the largest publicly disclosed domain sale — Voice.com, which actually sold for $30 million," Iles said.
Potential Downsides
While domain investing is generally a low-risk, low-commitment side gig, there are some potential downsides. For starters, domain investing is a form of investing after all, so there is always a chance that it won't pay off.
"As with any form of investing, it is very important for beginners to research and establish a foundational understanding of domain investing before starting," Iles said. "It is easy to get excited about a particular domain name that you think will become valuable, but doing the research ahead of time and learning what you should look for is key to being successful."
Make Your Money Work Better for You
It's also important to be aware of the types of domains to stay away from.
"A risk that new domain investors are often susceptible to is registering or purchasing domain names containing trademarked terms," Iles said. "This is strongly frowned upon and may result in legal trouble for you as the registrant."
Another potential downside is that you may not get the immediate payout you could get with more traditional side gigs.
"Domain investing can be relatively low risk but does require time for investors to build the quality and quantity of their portfolios," Iles said. "Quick 'domain flipping' is possible, but traditionally, domain investors are holding onto domains for months or even years to really allow the domain to build up value and to allow the right buyer to come along. Domain investing, without the proper foundational knowledge and understanding, can be a difficult side hustle to make a regular income from."
More From GOBankingRates