4 Side Gigs for Recent College Graduates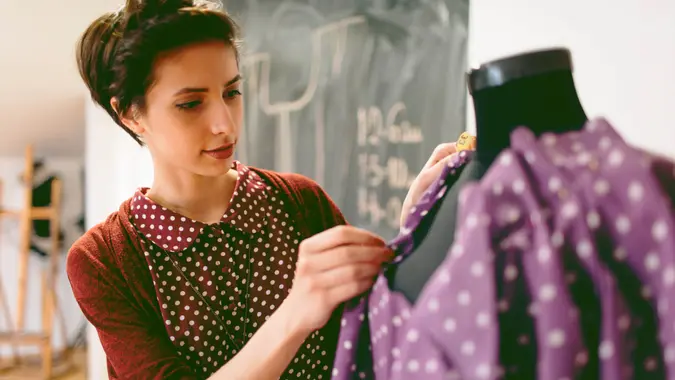 vgajic / Getty Images
Congratulations to the class of 2022! Students who recently graduated with college degrees may be currently on job hunts for their first full-time positions. As post grads prepare to start their careers, it may be beneficial to work an additional side hustle. 
Here It Is: Our 2022 Small Business Spotlight
Read More: 22 Side Gigs That Can Make You Richer Than a Full-Time Job
While side gigs aren't exactly new advice, new grads do benefit from working relevant jobs in their fields instead of resorting to more laundry list options such as delivering food or driving rideshares.
No matter what you majored in, there's a way to focus on activities that highlight your skills and can help boost your resume and land you a great job. Here are a few side gigs recent graduates may consider exploring.
Writing
Recent graduates with majors in marketing or communications have several side hustle opportunities available to them. 
Make Your Money Work Better for You
Scott Gibney — education and career consultant at Gibney Solutions LLC — said marketing majors may provide social media solutions to local businesses. Similarly, communications majors can recommend and develop public relations strategies to small businesses. Those who majored in journalism can start their careers as freelance writers by pitching magazines, media outlets and local newspapers with relevant story ideas. 
A writing side hustle offers a recent college graduate the opportunity to start building up experience and a portfolio of clips. The sooner a college graduate can establish a portfolio, the more their chances improve for getting noticed in their desired field.
"Many students wait until their junior year to look for jobs or internships to get experiential training which can be included on their resume," Gibney said. "But, in this competitive age, the time to start planning this search should now begin in the freshman year." 
Take Our Poll: Do You Tip For Service?
Coding
If you majored in computer science, consider working in a role where you help with coding for a local merchant's website or support other technology. This is a side hustle you can work from the comfort of home that offers value to both introverts and extroverts.
Make Your Money Work Better for You
Work at a Local Gallery or Playhouse
One question Gibney is often asked is which side gigs are best for art, music and theater majors. How can creatives get started in their respective fields? 
Look for opportunities all around you. If you graduated with a major in art, you may consider providing support to a local gallery with exhibits or tours. Illustrators may consider a side hustle where they can focus on graphic design and work with a few clients on new logos or refreshing older designs. 
"Theater degree candidates can introduce themselves to production staff at the local playhouse, offering to help with the business aspects of a production or to introduce acts," Gibney suggested.
All of these roles give recent graduates the hands-on experience they need and allow them to maximize their side hustles. Gibney said students will be able to develop problem-solving skills, enhance their professional network and build their resumes with experiential training and skills that companies are seeking.
Make Your Money Work Better for You
Make Your Own Side Hustle
Don't see a side gig in this list that fits your skill set? Consider creating your own side hustle. This gives students opportunities to help local companies and merchants while showing future employers their innovative sides.
Gibney uses the example of a student who graduates with a fashion degree. The side gig might be offering to create and host a fashion show at a local dress shop.
When considering the best side hustle options, Gibney said college students should first take into consideration how this activity can play a positive role in getting a job. To do this, students should focus on their major and career goals. Successful side gigs — such as those in relevant fields like writing, coding, design or a side hustle built from scratch — allow students to show potential employers how they take academic theory learned in school and successfully apply it to real-life activities.
More From GOBankingRates
Make Your Money Work Better for You